Faculty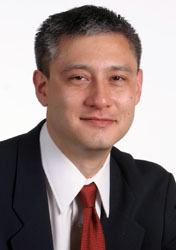 John Matsusaka
Professor of Business, Law and Political Science
Last Updated: Wednesday, June 21, 2017
Email:
NOTTEACHING
Telephone

:
(213) 740-6495
699 Exposition Blvd.

Los Angeles

, CA

90089-0074

USA
Room:
BRI 101L
SSRN Author Page:
Link
Download vCard
Download Curriculum Vitae
---
John Matsusaka is an expert on initiatives and referendums, politics, budgeting, mergers and acquisitions, and corporate diversification. He is the Executive Director of the Initiative and Referendum Institute at USC, which studies and tracks ballot measures and propositions throughout the country.
Matsusaka has been a National Fellow at the Hoover Institution at Stanford University; John M. Olin Professor of Economics at the Stigler Center at the University of Chicago; and has had visiting appointments at the University of California, Los Angeles and the California Institute of Technology. He graduated from the University of Washington and earned his MA and PhD from the University of Chicago.
Matsusaka's publications include "For the Many or the Few: The Initiative, Public Policy, and American Democracy" (University of Chicago Press, 2004) and "Direct Democracy Works," (Journal of Economic Perspectives, 2005).
Works in Progress
"Managerial Accommodation, Proxy Access, and the Cost of Shareholder Empowerment" (with Oguzhan Ozbas, 2013).
"Direct Democracy," in Elgar Companion to Public Choice (2d ed.) (forthcoming).
"Disentangling the Direct and Indirect Effects of the Initiative Process." - (PDF)
"Direct Democracy and Social Issues." - (www)
Books
For the Many or the Few: The Initiative, Public Policy, and American Democracy, University of Chicago Press, 2004. (Reviewed in Journal of Politics, Perspectives on Politics, and Public Opinion Quarterly.)
Articles and Book Chapters
"Ballot Order Effects in Direct Democracy Elections." 167 Public Choice 257 (2016).
2012 Ballot Propositions." In The Book of the States 2013. Lexington, KY: The Council of State Governments, 2013.
"Disobedience and Authority," with Anthony M. Marino and Jan Zabojnik, 26.3 Journal of Law, Economics, and Organization 427 (December 2010). - (www)
"When Are Outside Directors Effective?," with Ran Duchin and Oguzhan Ozbas, 92.2 Journal of Financial Economics 195 (May 2010). - (www)
"50+ Years of Diversification Announcements," with Mehmet E. Akbulut, 45.2 Financial Review 231 (May 2010). - (www)
"Popular Control of Public Policy: A Quantitative Approach," 5.2 Quarterly Journal of Political Science 133 (2010). - (PDF)
"Aggressive Enforcement of the Single Subject Rule," in 9.4 Election Law Journal 399 (with Richard Hasen) (2010). - (PDF)
"From Families to Formal Contract: An Approach to Development," 90.1 Journal of Development Economics 106 (with Krishna B. Kumar) (2009). - (PDF)
"Direct Democracy and Public Employees," 99.5 American Economic Review 2227 (2009). - (www)
"Direct Democracy and the Executive Branch," in Direct Democracy's Impact on American Political Institutions (with Shaun Bowler, Amihai Glazer, Palgrave Macmillian, eds.) (2008).
"M&A in the U.S.A.: Lessons from the Last 100 Years," in Institutional and Policy Reforms to Enhance Corporate Efficiency in Korea (with Lee-Jay Cho, Somi Seong, Sang-Hyop Lee, eds.) (Korea Development Institute, 2007).
"Public Choice Principles of Redistricting," 129 Public Choice 381 (with Thomas W. Gilligan) (2006). - (www)
"The Endogeneity of the Initiative: A Comment on Marschall and Ruhil," 5.4 State Politics and Policy Quarterly 356 (Winter 2005).
"Direct Democracy and Fiscal Gridlock: Have Voter Initiatives Paralyzed the California Budget?," 5.3 State Politics and Policy Quarterly 248 (Fall 2005). - (www)
"The Eclipse of Legislatures: Direct Democracy in the 21st Century," 124 Public Choice 157 (July 2005). - (www)
"Direct Democracy Works," 19.2 Journal of Economic Perspectives 185 (Spring 2005). - (www)
"Decision Processes, Agency Problems, and Information: An Economic Analysis of Capital Budgeting Procedures," with Anthony M. Marino, 18.1 Review of Financial Studies 301 (Spring 2005). - (www)
"Subversion of the Many by the Few: Some Scientific Evidence on the Initiative Process," 13.2 Journal of Contemporary Legal Issues 511 (2004). - (Hein)
"Direct Democracy: New Approaches to Old Questions," 7 Annual Review of Political Science 463 (with Arthur Lupia) (2004). Selected Emerging Research Front paper by Thompson Scientific, April 2006, as "one of the most cited recent papers in Social Sciences." - (www)
"Budget Referendums and Government Spending: Evidence from Swiss Cantons," 87 Journal of Public Economics 2703 (with Lars P. Feld) (December 2003). - (www)
"Corporate Diversification, Value Maximization, and Organizational Capabilities," 74 Journal of Business 409 (July 2001). Awarded Merton Miller Prize for "most significant" paper in JB in 2001. Featured in MIT Sloan Management Review, Winter 2002. - (www)
"Internal Capital Markets and Corporate Refocusing," with Vikram Nanda, 11 Journal of Financial Intermediation 176 (April 2002).
"Problems with a Methodology Used to Test the Responsiveness of Policy to Public Opinion in Initiative States," 63 Journal of Politics 1250 (November 2001).
"Political Resource Allocation: Benefits and Costs of Voter Initiatives," 17 Journal of Law, Economics, and Organization 413 (with Nolan M. McCarty) (October 2001).
Other Works
FACULTY IN THE NEWS
The Washington Post
January 18, 2018
Re: Edward Kleinbard
Edward Kleinbard was quoted about the benefits Apple will reap after it pays an initial tax to repatriate its foreign profits. "On the one hand, this is a record payment. On the other hand, it shows how successful they've been at gaming the system" around the world, said Kleinbard.
RECENT SCHOLARSHIP
Edward Kleinbard
November, 2017
Edward Kleinbard wrote an op-ed, "Beware the Fine Print — a GOP Tax Cut for Small Businesses is More Like a Giveaway for the Rich", posted to The Los Angeles Times on November 13, 2017.
Gillian Hadfield
November, 2017
Gillian Hadfield's paper, "Privatizing Law: Is Rule of Law an Equilibrium Without Private Ordering?," was recently listed on SSRN's Top Ten download list for seven eJournals/topics.
Rebecca Brown
November, 2017
Rebecca Brown attained SSRN's designation as being in the top 10% of Authors on SSRN by all-time downloads.