Student Organizations
To speak with a representative from a student organization please email the USC Gould Student Bar Association at
sba@lawmail.usc.edu
.
The student-run organizations at USC Gould reflect the diversity, altruism and leadership of our student body while offering numerous opportunities for extracurricular learning, networking, community service and socializing.
All students are members of the Student Bar Association, which ensures your voice is heard by the school's administration and helps new enrollees adjust to the law school experience. Students also are encouraged to form new organizations or plan social or academic events at the school.
Art Law Society
The Art Law Society explores the effect of law on the expression, sale and display of art, focusing on visual art and ancient antiquities/cultural property.
American Constitution Society (ACS)
The American Constitution Society (ACS) believes that law should be a force to improve the lives of all people. The group works for positive change by shaping debate on vitally important legal and constitutional issues through development and promotion of high-impact ideas to opinion leaders and the media; by building networks of lawyers, law students, judges and policymakers dedicated to those ideas; and by countering the activist conservative legal movement that has sought to erode our enduring constitutional values. By bringing together powerful, relevant ideas and passionate, talented people, ACS makes a difference in the constitutional, legal and public policy debates that shape our democracy.
Armed Forces Law Society (AFLS)
Open to all students, the Armed Forces Law Society provides education and resources on veterans' and military legal issues, assists veterans through pro bono work and coordination of education benefits, and offers networking opportunities.
Armenian Law Students Association (ALSA)
The Armenian Law Students Association provides mentorship and networking opportunities, offers a forum to discuss common interests, fosters academic and professional advancement, and promotes Armenian culture.
Asian Pacific American Law Students Association (APALSA)
The Asian Pacific American Law Students Association promotes equality and social progress for Asian Pacific American students on campus and throughout the greater legal community nationally.
Black Law Students Association (BLSA)
The Black Law Students Association provides guidance, assistance and support academically, professionally and socially through mentorship, community study materials, mock exams for 1Ls, group study sessions, community service projects and outreach, events and guest speakers, an annual banquet and networking opportunities. All students are welcome.
Blockchain Law Society
The Blockchain Law Society brings together students, professors, attorneys, and members of the local business community to learn and discuss the impact of Blockchain technologies on industry and the law, including cryptocurrencies, distributed ledger technologies, initial coin offerings (ICOs) and cross-border transactions.
Business Law Advisor (BLA)
The Business Law Advisor (BLA) is a business law practice journal that provides advice on current issues faced by corporate clients and their respective legal advisors. USC is the first law school in the nation to offer a practitioner-focused advisory. Each semester, students will choose a business-related topic, conduct research, and write a 5-7 page advisory article that may be published in BLA. This opportunity is an excellent way for students interested in business law to write about contemporary business and legal issues in a format understood and utilized by attorneys in their everyday practice, as well as to gain recognition by having their name and work appear before USC alumni working in law firms across the country. Students will receive one C/R/DF unit of credit as part of their work for BLA.
Business Law Society
The Business Law Society enhances students' practical knowledge and skills in commercial transactions by hosting panel discussions and other events with corporate leaders, creating workshops and online resources, compiling databases and publishing newsletters.
Connecting Angelenos to Resources and Essential Services (CARES)
CARES revolves around helping those in need through on-site advocacy at various Department of Public Social Service offices in Los Angeles County. The group provides training on advocacy techniques and welfare benefits.
Criminal Law Society
The Criminal Law Society provides resources and opportunities to encourage students to better position themselves for careers in the field of criminal law, including informational meetings, guest lectures, discussion panels, employment forums, fundraisers and social events.
Energy & Environmental Law Society (EELS)
The Energy & Environmental Law Society brings together students interested in environmental and energy law, green energy policies and social justice issues, offering events with prominent law firms and attorneys, tours with nonprofit and public environmental organizations, networking events with local energy firms and community service activities. The group also organizes social activities and explores overlapping legal disciplines, including real estate law, land use controls, water law and construction law.
Entertainment Law Society (ELS)
The Entertainment Law Society helps prepare students for the wide range of legal careers within the entertainment industry through exposure to professionals who discuss current topics and trends in the field, networking events with alumni and career development opportunities, including educational and networking programs with the USC School of Cinematic Arts, and hands-on experience through internships.
Entrepreneurship & Venture Capital Association
Entrepreneurs and venture capitalists depend on lawyers in all aspects of their businesses, and the Entrepreneurship & Venture Capital Association connects students to information, contacts, events and other tools to expand their knowledge and experience for success in these sectors — including approaches for building their own businesses and networks.
Federalist Society
The Federalist Society for Law and Public Policy Studies unites conservatives and libertarians dedicated to the principles that the state exists to preserve freedom, that separation of powers is central to our Constitution, and that the judiciary's duty is to say what the law is, not what it should be.
Gould Christian Fellowship (GCF)
Gould Christian Fellowship (GCF) seeks to provide a spiritual home for students at the law school and foster an environment in which students can grow in the Christian faith together. GCF connects students to local churches, holds regular meetings for Bible study or prayer, and hosts other types of fellowship.
Health Law Society
The Health Law Society aims to raise awareness of what this area of the law encompasses as well as to facilitate discussion and exploration of trending legal issues in the health care field. The group provides students with the opportunity to connect with industry leaders through panels, mixers and a mentorship program with health care attorneys. It also promotes on-campus mental and physical health through initiatives such as outdoor yoga sessions, volunteer opportunities and study breaks.
Intellectual Property & Technology Law Society (IPTLS)
The Society addresses all facets of intellectual property law and the rapid changes in technology driving its evolution, encompassing patent, trademark, copyright, trade secrets and other areas that form the foundations of practice areas such as entertainment law.
International Law & Relations Organization (ILRO)
The group advances student pursuits and interests in international law and relations by promoting understanding and relationships across nations, supporting the JD/LLM Partnership Program, holding international-career panels and hosting notable guest speakers.
International Refugee Assistance Project (IRAP)
The Iraqi Refugee Assistance Project helps Iraqi refugees escape from harm and persecution by providing legal representation and policy advocacy, as well as helping them navigate the rules and processes of resettlement in the United States.
Jewish Law Students Association (JLSA)
The Jewish Law Students Association fosters involvement in the Jewish community at USC and in Los Angeles, offering programming of social, cultural, religious and legal significance. The organization also brings in notable speakers, sponsors academic programs and community service events, and holds networking events.
Latino Law Students Association (LLSA)
The Latino Law Students Association provides academic support, scholarships and community service opportunities for Latino law students, as well as networking events and an alumni director to foster professional ties long after graduation. The organization is open to all law students.
Legal Aid Alternative Break (LAAB)
Established in the wake of Hurricane Katrina, Legal Aid Alternative Break enables students to build legal experience during spring break by volunteering to help vulnerable communities in the Gulf region. Winter break opportunities are also available throughout Southern California.
Music Law Society (MLS)
The Music Law Society aims to expose students interested in music and entertainment law to the gamut of current trends and issues within the field, focusing on building the foundation of practical knowledge and skills needed to excel in their respective careers and the industry in general. The group aspires to not only enhance law students' familiarity with the intricacies of legal issues in the music industry, but also to provide networking and career-building opportunities not found anywhere else. This is achieved through alumni events, panel discussions with experienced professionals in the music industry, as well as mixers with other organizations and programs at USC.
National Lawyers Guild
Through the USC student chapter of the National Lawyers Guild, members promote public interest lawyering, serve as legal observers at protests in the Los Angeles region, support USC workers in improving their employment conditions and participate in activities organized by the Guild's Los Angeles chapter.
OUTLaw
Outlaw promotes equality, social progress, and the interests of gay, lesbian, bisexual, trans, intersex, and questioning students on campus and throughout the greater legal community by engaging in both local and national networking efforts, offering mentorship to 1L students, and exploring legal issues within the LGBTQIA space.
The People's Law
The People's Law is a nonpartisan group of students who aim to increase social awareness of and involvement in our nation's political process. The group believes that access to clear and easy-to-read information is vital to a "government of the people, by the people, [and] for the people." They host a blog where they post "decoded" and simplified versions of legal documents, with the goal of demystifying laws, regulations, legal opinions and executive decisions, making them easier to understand and accessible to everyday people.
Phi Alpha Delta
The preeminent law fraternity, Phi Alpha Delta advances integrity, compassion and courage through service to the student, the school, the legal profession and the community.
Public Interest Law Foundation (PILF)
The Public Interest Law Foundation promotes social justice lawyering, equal access to the law and the empowerment of underrepresented communities by providing pro bono clinic opportunities at local organizations, hosting lectures and events on key issues, and supporting students in public interest work over the summer through a grant program.
Real Estate Law Society
The Real Estate Law Society offers social, networking and professional development events that expose students to real estate practice and introduce them to Los Angeles-based leaders in the field.
South Asian Law Students Association (SALSA)
The group serves as a forum to exchange thoughts and ideas about South Asian American and South Asian legal issues, offers a support and referral network, and provides continuing education about legal, cultural and political happenings in South Asia.
Sports Law Society
The Sports Law Society hosts events featuring sports law professionals, helps identify career opportunities in the field, and provides networking opportunities and an environment in which students can socialize and discuss relevant issues.
Street Law
Street Law enables members to share the law's importance with others by developing an ethic of community involvement and connecting them with area middle and high school students to provide mentorship. Street Law also hosts a Mentor Day when local students visit USC.
Women's Law Association
The Women's Law Association supports the advancement of women in the legal community and society at large, providing resources and support that include a peer mentor program, panel discussions with female leaders in various legal fields, and frequent alumni and social events.
Recent News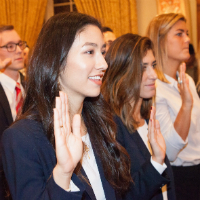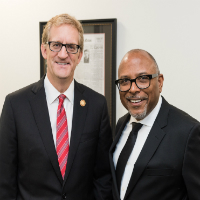 Start with "Yes"
November 27, 2017
During "Conversation with the Dean," alumnus Paul Richardson (JD1990) shares career insights