2023 Commencement

USC Gould School of Law
Friday, May 12, 2023
USC University Village Great Lawn
Congratulations USC Gould School of Law class of 2023 graduates! The law school will be hosting two separate ceremonies, one for JD students and one for Graduate & International Programs (G&IP) students. Both events will take place on Friday, May 12, 2023 at the USC University Village Great Lawn.
The G&IP ceremony is for students who have earned or are graduating with a Master of Laws (LLM), Master of Laws in Alternative Dispute Resolution (LLM in ADR), Master of Laws in International Business and Economic Law (LLM in IBEL), Master of Laws in Privacy Law and Cybersecurity (LLM in PLCS), Master of Comparative Law (MCL), Master of Dispute Resolution (MDR), Master of International Trade Law and Economics (MITLE) or Master of Studies in Law (MSL) in December 2022, May 2023, and August 2023. Students earning a standalone graduate certificate do not participate in Commencement ceremonies at the university or the law school.
JD Schedule
10:30 a.m. PT - JD Check-in at the USC Village Great Lawn entrance
11:30 a.m. -1:30 p.m. PT - JD Ceremony at the USC University Village Great Lawn
G&IP Schedule
1:30 p.m. PT - G&IP Check-in at the USC University Village Great Lawn entrance
2:30 p.m.- 4:30 p.m. PT - G&IP Ceremony at the USC University Village Great Lawn
Locations
The USC University Village is adjacent to the USC campus. Click here for a labeled campus map. Click here for a map of the USC University Village.
The JD and the G&IP commencement ceremonies will both take place at the USC University Village Great Lawn.
Arrival
JD students should arrive at the USC University Village Great Lawn no later than 10:30 a.m. to check-in.
G&IP students should arrive at the USC University Village Piazza no later than 1:30 p.m. to check-in.
Keynote Speakers
JD Keynote Speaker
Senator Mazie K. Hirono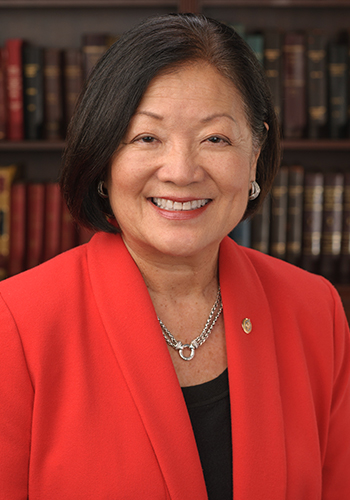 Mazie K. Hirono was elected to the United States Senate in 2012 and sworn in as the nation's first Asian American woman senator and the first woman senator from Hawaii. Throughout her career, Hirono has championed Hawaii families as well as communities whose voices are not often heard in Congress.
Hirono currently serves on the Senate's Committee on Armed Services, the Committee on Energy and Natural Resources, the Committee on the Judiciary, the Committee Small Business and Entrepreneurship, and the Committee on Veterans' Affairs. She is also chair of the Armed Services Subcommittee on Readiness and Management Support, where she is leading the fight to modernize the country's military infrastructure.
In the Senate, Hirono is a leading champion for women's rights and reproductive freedom, voting and civil rights, the Native Hawaiian community, and early education. In 2021, Hirono introduced the COVID-19 Hate Crimes Act, legislation signed into law to help communities combat the rise in anti-Asian hate and violence.
Born in Fukushima, Japan, Hirono was nearly eight years old when her mother brought her and her siblings to Hawaii to escape an abusive marriage and seek a better life.
Hirono served in the Hawaii House of Representatives from 1981 to 1994 and earned a reputation as an advocate for consumers and workers. After being elected as Hawaii's lieutenant governor in 1994, Hirono led the creation of Hawaii's Pre-Plus Program to expand access to quality, affordable early education. In 2006, Hirono was elected to the U.S. House of Representatives, where she served three terms before being elected to the Senate.
Hirono received her bachelor's degree from the University of Hawaii at Manoa and JD from Georgetown University. Following law school, she worked in the antitrust division of the Hawaii attorney general's office.
G&IP Keynote Speaker
Karen Wong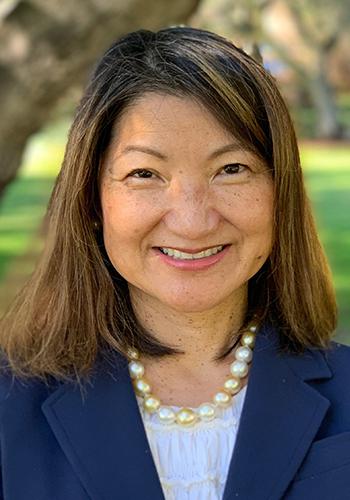 Karen Wong is a retired partner of Milbank LLP, a global law firm where she was the first Asian American partner in its Los Angeles office and senior member of the Global Energy, Projects and Infrastructure Group. In her over 30 years of practice at Milbank, she focused on the representation of sponsors and financing parties in connection with the development, acquisition, financing and restructuring of energy and other infrastructure facilities in Asia and North America. She was a pioneer in the renewable energy industry and helped establish Milbank's preeminent renewable energy practice. During her career, Wong led numerous development, financing and acquisition transactions in the energy sector, and worked on many first-of-its-kind projects, including several which garnered "Deal of the Year" accolades. She served as the hiring partner at Milbank Los Angeles, and the firm's Diversity Committee. She graduated with her JD from the USC Gould School of Law in 1986 and started her legal career at Jones Day.
Wong has been active at USC since her undergraduate years. She was one of two student leaders who, along with a group of alumni, formed the predecessor organization to the Asian Pacific Alumni Association (APAA). She served as a member of the APAA's Board of Directors for six years, including as its president. In addition, she is the immediate past chair of the law school's Board of Councilors and serves as a mentor to Gould law students. She is also a member of the USC Associates Board of Directors and served on the Board of Governors of the USC Alumni Association for four years.
Wong is currently a member of the Board of Directors of Synova LLC, a company that is focused on commercializing its patented plastic recycling technology. She is also consulting with two start-up companies — one developing a $6 billion methanol and clean hydrogen project in Louisiana and a second developing a $1 billion sugar cane to ethanol project in California.
br>
Tickets
The law school does NOT require tickets to attend its Commencement ceremonies. Ceremony seating will be available for all family and friends.
Cap and Gown
Renting Info:
All graduates can place their regalia rental orders online. The website to order is: http://colleges.herffjones.com/college/_usc/
Graduates are encouraged to pre-order their cap and gown rental. The bookstore will have a limited supply of regalia available for walk-ins beginning May 8th.
Pre-order and walk-in orders are available for pick-up beginning May 8th. Distribution of regalia will be held outside on the bookstore patio.
If you have pre-ordered your regalia, you'll need your ID (student or government issued). It always helps to have your order confirmation from Herff Jones.
All caps are one size fits all. Students can keep their cap and tassel as a souvenir.
All rented regalia should be returned directly after the ceremony at a designated regalia drop off bin.
If you are a JD student, please make sure you receive the RED doctoral gown, a DARK PURPLE (not lavender) hood and YELLOW (not black) tassel.
If you are an LLM, LLM in ADR, LLM in IBEL, LLM in PLCS, MCL, MDR, MITLE or MSL student, please make sure you receive the BLACK master's degree gown, a DARK PURPLE (not lavender) hood and a BLACK tassel.
Purchasing Info:
Sashes:
All students in all degree levels can wear sashes.
Standard sashes are $49.99, available in store and online at https://www.uscbookstore.com/sashes
Custom sash pricing begins at $75. Deadline to order a custom sash is March 23rd in order to receive it in time for Commencement.
Feel free to email questions to the bookstore grad team at gradproducts@usc.edu
Diploma Covers, Announcements, and Rings
You will be given a complimentary diploma cover from the law school during the graduation ceremony.
Official graduation announcements, rings, and diploma frames are sold by Herff Jones and should be ordered through USC's Commencement Accessories webpage.
Attire
We strongly advise all graduates to wear flat, comfortable shoes in order to navigate the grassy area and the steps leading up to the stage.
Parking and Public Transportation
Parking will be available free of charge and is on a first come, first served basis. The closest parking to the USC University Village will be the Royal Street Structure and the USC Shrine Parking Structure. Click here for a campus map.
Guests with disabilities who possess a red (temporary) or blue (permanent) handicapped placard may park in designated disabled parking spaces in any parking structure.
If you are traveling by public transportation the Metro Expo line is a recommended option. The Metro Expo line will be running on its usual schedule and stops immediately south of campus at Exposition Boulevard and Trousdale.
LA Metro will be running trains all day for commencement attendees to use. Fares are sold on TAP cards, so you'll need to buy them at ticket vending machines or from a Metro representative. For more help with planning your trip to USC via Metro, use the handy LA Metro trip planner.
Guest Seating
Guests will be able to secure seats on a first come, first served basis. We ask that your family and friends take only the seats they will use so that we are able to provide seating for everyone. Law school staff members will be available to answer questions and direct your guests.
Wheelchair Seating
If someone in your group will require wheelchair seating at the law school ceremony, please contact the law school Events Office events@law.usc.edu by Wednesday, May 3. Wheelchair seating must be reserved through this office in advance and is limited to (2) people per graduate in an effort to accommodate all requests.
If your guest will require a wheelchair, you will need to provide one or rent one in advance. The law school and the University will not have wheelchairs.
Balloons and Air Horns
Balloons and air horns will NOT be permitted in the general area.
Photographer
A professional photography service, Grad Images, will be at the ceremony taking pictures of each graduate. Several days after the ceremony, the photographer will send, via regular mail and email, free color proofs to each graduate with an offer to purchase prints.
GradImages
Social Media
Please share USC Gould commencement photos and stories with #GouldGrad.
Rain Contingency Plan
The ceremony will take place rain or shine. If severe or inclement weather is at risk of becoming hazardous, a rain contingency plan will go into effect. Details of the rain plan will then be posted on the law school website and an email will be sent to all graduates. If you have questions regarding inclement weather prior to event day, contact the law school Events Office at events@law.usc.edu.
USC's Main Commencement Ceremony
The USC main commencement ceremony is open for all 2023 law school graduates. It will take place in Alumni Memorial Park on Friday, May 12, 2023 and begins at 8:30 a.m. PT. Further information regarding the main ceremony can be found here.
You are not required to attend the University ceremony, but if you are a JD student and would like to participate in the main ceremony, please contact the law school Events Office at events@law.usc.edu to register. G&IP students who would like to participate in the main ceremony may email giprsvp@law.usc.edu to register.
Please note: The University has allocated a set number of seats for each school. Students must line up and walk in together as part of the ceremony if they would like to sit with their school and classmates. No late or walk-up seating will be allowed in the designated school seating areas on the morning of the event.
You can also attend the main ceremony as a member of the general audience. Seats for these sections are first come, first served.
USC Health and Safety Protocols
As public health guidance may be updated, please refer to the following USC website for the most up-to-date COVID health policies and safety information: https://coronavirus.usc.edu/category/latest/
Questions?
For questions regarding commencement, please contact the USC Gould Events Office at events@law.usc.edu.
RECENT NEWS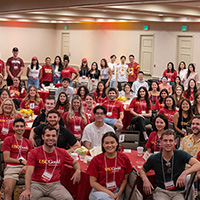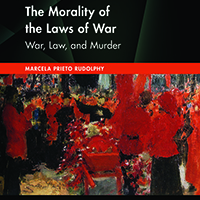 Facing the tragedy of war
September 13, 2023
Professor Marcela Prieto's new book, "The Morality of the Laws of War," argues for strengthening international law to el...