Alumni Judges Admit Bar's Newest Members

USC Gould School of Law
Tuesday, December 7, 2010
97 recent graduates sworn into state, federal bars

-By Lori Craig

Months after crossing the stage at commencement to collect their diplomas and shift their mortarboard tassels, 97 recent USC Law graduates completed the final rite of passage to enter the profession of law at the Bar Admission Ceremony in Town and Gown on Dec. 3.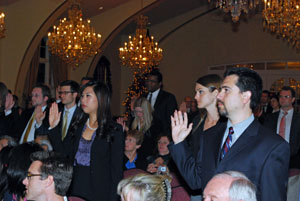 Surrounded by a crowd of 200 of their family members, friends and former professors, the alumni, who passed the California Bar Examination in July, were sworn into the state and federal bars. Administering the oaths were two alumni judges: the Honorable Valerie F. Salkin '92, Los Angeles Superior Court Judge, and the Honorable Vijay C. Gandhi '97, United States District Court judge for the Central District of California.

"That really is no small task, as California has one of the most difficult and challenging bar examinations," said USC Law Dean Robert K. Rasmussen, noting that USC Law's bar passage rate is better than 90 percent. "This is one of my favorite traditions here at USC; not only do we get to celebrate your accomplishment in passing the bar, but you get to be sworn in by two USC Law graduates."

Salkin offered 10 recommendations for the new lawyers to consider, including "find a mentor/be a mentor," "don't stop learning" and "use your education to inspire and educate others." Most importantly, she said, "believe in yourself."

"If you do, others will believe in you, too," Salkin said, before swearing the lawyers into the state bar. "And if you know yourself and if you have confidence in yourself and in who you are, there is no limit to what you can accomplish.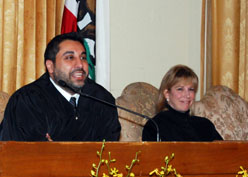 Judge Vijay Gandhi '97, left, and Judge
Valerie Salkin '92
"So go forward, believe in yourself, never ever give up, and make today be the beginning of a new journey, a great adventure and a life lived well and with purpose; and a career lived well and with purpose."

Gandhi took a more cautionary tone, urging the lawyers to actively protect their reputations to avoid the "slow, gradual destruction" he has seen too often.

"[Your professional reputation] is going to become one of your most valuable assets," Gandhi said. "Throughout your career, you will have many jobs. You will earn money, you will sometimes not earn money, but one thing will always persist, and that thing is your reputation. … It will either open doors of opportunity for you, or it will close them. The worst part of the latter – it will close them, and you won't even know why."

Gandhi used several anecdotes of sloppy, dishonest or arrogant lawyers to bolster his advice of "Don't be that person."

Treating others with courtesy and respect – whether they are managing partners or secretaries – defines you, Gandhi said. He said he has seen a number of young lawyers "go down in flames because they forgot how to be civil."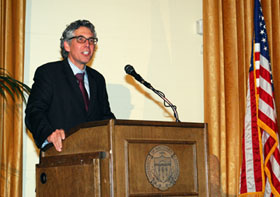 USC Law Dean Robert K. Rasmussen
"Don't forget," he said. "Don't be that person."

Along with maintaining gracious relationships with others, Gandhi advised the lawyers to focus on honesty – "be forthright" – and diligence.

"You will sometimes come across more eloquent lawyers, you'll come across more aggressive lawyers, and – for you law review folks out there – you will come across smarter lawyers," Gandhi said. "But time and time again you see the lawyer who has exhaustively prepared win the day."
-Photos by Maria Iacobo

Read More
RECENT NEWS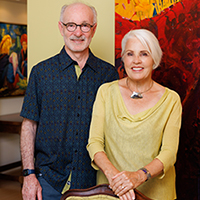 Shaped by education
January 23, 2023
Opportunity for future students motivates John (JD 1979) and Alaine Weiss to include USC Gould in their estate plans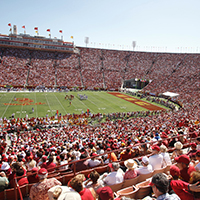 From torts to sports
January 20, 2023
Alums Richard Rosenblatt, Ted Russell team up on Autograph, a new venture bringing Web3 to entertainment and sports