LL.M. program provides foreign lawyers chance to learn about U.S. law

USC Gould School of Law
Wednesday, December 15, 2010
Lawyers boost competitive edge in home countries through one-year USC program
By Steffi Lau

Each year about 120 students from all over the world leave their home countries to study law at USC.

Through the one-year LL.M. program, lawyers from other countries have a chance to better understand American law. For many, the advanced degree will give them a leg up in their home countries where English language skills and knowledge of American law can be valued in the legal field. For those who hope to stay in the U.S., the fusion of their multilingual skills and knowledge of both American law and foreign law can make them a valuable asset for American firms.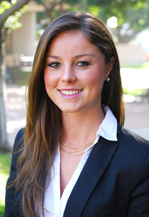 Ane Saraiva
Ane Saraiva, social chair of this year's LL.M class, hopes that the LL.M degree will give her an edge over other attorneys when competing for a job. She said that in her native Brazil, there are few openings for lawyers
"In Brazil, there are a lot of lawyers. For a girl who just graduated without family members who are lawyers, it can be so difficult to get a good job. The LL.M program adds something to your resume," she said.

LL.M students take an introductory course about the American legal system and can choose to focus on a specific area of law, including corporate law, international law and business law, taking classes with J.D. students. About a quarter of the students each year are sponsored by their firms and companies back home.

In most countries, an undergraduate degree in law qualifies one to be a lawyer. Ninety-nine percent of the LL.M students already have law degrees from their native country and are simply seeking to gain a deeper understanding of American law.

Getting a Leg Up

Anne Marlenga, assistant director of Graduate & International Programs, notes that knowledge of American law is becoming increasingly important.

"A lot of firms overseas have American clients so there is more demand overseas to understand American law lately," Marlenga said.

The increasing demand may be one factor behind the dramatic increase in applications.

According to Marlenga, in the past three to four years, the number of applications to the LL.M. program has increased 30 to 50 percent. This year's class is the ninth LL.M class and contains 127 students. The first class had only 12 students.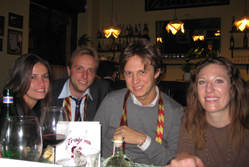 Dinner with Italian LL.M alumni in Milan. Left to
right: wife of LL.M grad (Christine Mazzilli),
Massimo Amoruso (LL.M 2008, MCL 2009),
Attilio Mazzilli (2007), Anne Marlenga
Marlenga said that LL.M programs have become more and more widespread over the years. Ten years ago, many law schools didn't offer LL.M. programs, but today, every top-ranked law school does.

The benefits of the program aren't just limited to learning American law.

"It gives them an edge up in the job market wherever they go because they are able to understand different legal systems. Another benefit is learning legal English and legal writing. And beyond that, it's good for networking opportunities because students meet lawyers from all over the world," Marlenga said. "So when they go back to their home countries and have legal work involving a different country, they know someone in that country they can tap into as a resource. The networking opportunities benefit them forever."

According to Marlenga, in Asia, these connections are especially handy as Japanese, Korean and Chinese firms often deal with each other.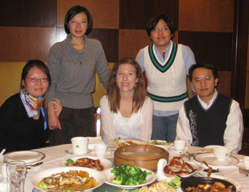 Anne Marlenga in Beijing with LL.M alumni,
left to right: Fang Wang (2010), Pengxu Liu
(2010), Marlenga, Qing Chang (2010), Ji
Min Zhuo (2007)
Manami Shigeta, a student from Japan, can attest to the usefulness of the degree. Shigeta worked in the legal department of Olympus Corporation, negotiating contracts with foreign distributors. She took a leave of absence to come to USC, saying that the degree will help her advance her career more quickly.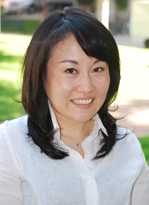 Manami Shigeta
"Our company has many subsidiaries all over the world so understanding of American law and English communication is very important," Shigeta said. "International business transactions are mostly based on the American legal system, therefore it is very important for business people to know how the American legal system is organized and established."

Shigeta and Saraiva both said that since their respective countries operate under civil law as opposed to the American common law, learning American law is an adjustment.

Pushing For More Diversity

Each year, the law school enrolls students from about 25 different countries. However, Marlenga noted that the majority is usually from Asia or the Pacific Rim which she attributes to the West Coast's proximity to the region. Additionally, USC's name is also very well-known in Asian countries and USC has offices in Tokyo, Seoul, Taipei, Hong Kong and Shanghai.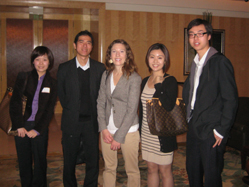 Anne Marlenga in Shanghai with LL.M alumni,
left to right: Yiqi Cai (2009), Kuo Jen Chung
(2007), Marlenga, Yuan Tian (2009),
Tianshun Liu (2009)
"In choosing an LL.M. program, many students seek diversity, as it enriches the learning experience," Marlenga said. "There are many opportunities in classes to discuss legal systems in students' home countries."

In an effort to attract a more diverse pool of applicants, Marlenga is visiting twelve different countries over the course of nine months, making stops in South America, Europe and Asia. She started with Venezuela in September and will tie up her recruiting efforts in Germany in May. The goal is to garner more name recognition for USC, particularly in the non-Asian countries where the law school is continuing to increase its exposure.

Marlenga noted that as LL.M. programs become more competitive, more schools are seeking to diversify their classes.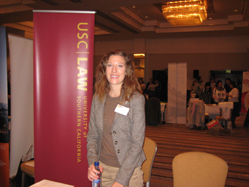 Anne Marlenga at the World Grad Tour
fair in London.
"LL.M. programs are becoming more popular, and as we compete for the best students, a lot of schools are getting out recruiting more," she said.

The USC Law Experience

One thing that sets USC's program apart is its dedication to making its international students feel at home.

Shigeta said she chose USC's LL.M program for its friendliness to international students.

"They make it very comfortable for international students to accustom to law school life in the U.S.," she said. "They provide us with a lot of information and provide us with extracurricular activities so we can communicate with other international students and J.D. students and gain good friends."

Saraiva also commended the graduate and international programs office for smoothing the transition.

"They gave us information about getting an apartment in L.A., getting a license, studying for exams, etc., which may be simple for others but difficult for someone coming from a different culture," said Saraiva, who hopes to take the bar exam in New York, where she wants to work. "What I like about USC is that they're not just worried about the way you're doing in school, but how you're doing as a whole."



Read More
RECENT NEWS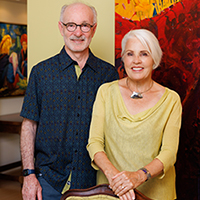 Shaped by education
January 23, 2023
Opportunity for future students motivates John (JD 1979) and Alaine Weiss to include USC Gould in their estate plans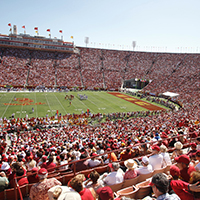 From torts to sports
January 20, 2023
Alums Richard Rosenblatt, Ted Russell team up on Autograph, a new venture bringing Web3 to entertainment and sports