JD/MBA Student Puts Dual Skill Set to Use
Thursday, January 27, 2011
Paul Del Piero '12 and a team of students win Venture Capital Investment Competition
by Steffi Lau

Look at Paul Del Piero's schedule and you might find what appears to be a redundancy: he's taking not one, but two Mergers and Acquisitions classes.

But in fact, there is nothing redundant about these classes. Del Piero is a third year JD/MBA student and is taking Mergers and Acquisitions in both the Marshall School of Business and the law school.

He recently put his knowledge to use at the Venture Capital Investment Competition at the Marshall School in November. Del Piero was the only JD/MBA on a team of five MBA students. Together, they won first place out 20 USC teams and will go on to represent USC in Silicon Valley next February.

The VCIC is a 24-hour reverse business plan competition. Rather than pitching to a panel of investors, a handful of real-life entrepreneurs pitched to student teams who simulate the role of venture capital groups and must choose one entrepreneur to fund. Teams were judged based on their rapport with the entrepreneurs, presentation, executive summary and term sheet, reasoning, and depth of questioning and analysis.

Though it would seem Del Piero might use only his business knowledge during the competition, he found his legal skills came in handy, especially as the sole JD/MBA on the team. His legal knowledge helped him draft the first offer term sheet, a document he coincidentally had been learning to write in his contract drafting class at the same time (which he happened to get the highest grade in.). Beyond that, his legal acumen has been useful in more general ways.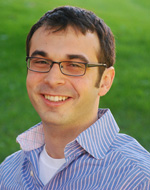 Paul Del Piero
"You can spot issues that other people wouldn't see without a legal background, like if there are potential lawsuits here or if there is protection of intellectual property, stuff you wouldn't pick up unless you were a lawyer," Del Piero said.

Del Piero says that because the competition is in Silicon Valley, the heart of the venture capital industry, the schools there might have an edge. However, he is confident in his team. Each team member has significant experience either in the venture capital industry or in small startups.

Del Piero himself has experience in both. Currently he interns for Hollywood-based angel investing group AngelVision Investors. He also has his own startup, a result of winning the 2010 New Venture Seed Competition put on by the Greif Center for Entrepreneurial Studies last spring. Del Piero won first place in the competition, earning himself $10,000 to fund his startup, a legal forms automation service for conservatorships.

He and his partner have developed software that allows people to fill out legal forms in plain English, which then populates the forms. The inexpensive software essentially allows clients to avoid paying thousands of dollars for an attorney to fill out the necessary legal forms by translating legal jargon into layman's terms.

His idea for the startup was inspired by his work at the conservatorships clinic at Bet Tzedek between his first and second year.

"I thought it was ridiculous how much conservatorships cost and how many people went without it just because they couldn't afford it," he said. "I wanted to offer an alternative for people who couldn't afford an attorney and couldn't qualify for the clinic."

For now, Del Piero's eyes are on the venture capital industry, where he'd ideally like to be in a partner track position at a venture capital firm. His passion for the venture capital industry is clear.

"You get to pick winners. It's a lot of excitement and thrill," he said. "But you also get to be on the cutting edge of technology and science and interact with really smart, really talented people, and get to create companies and products that change the way we live. Who would have thought 10 years ago that we would be logging on to Facebook to post a status update or Tweeting in 140 characters?"

Though he intends to go into the venture capital industry, he says he isn't ruling law out.

Del Piero chose to come to USC because it's one of the rare schools where he can attend both a top business school and a top law school. He also says USC has been extremely accommodating as USC law encourages an interdisciplinary approach whereas he's heard other schools make it tough to do a JD/MBA.

The benefits of the dual program are many.

"I like the people. I like being able to go back and forth and creating connections between law schools and MBA students," Del Piero said. "I like the dual perspectives it gives. For example, I'm taking Mergers and Acquisitions at both schools. They're two very different classes and we learn very different things, but without one, you can't have the other."

The program has also lent him some perspective, with the JD and MBA students at different places in their careers. While Del Piero might be of an average age at the law school, out of 500 full-time MBA students at the business school, he is the second youngest student. He appreciates being able to see the different ways the JD and MBA students approach things.

Having both an insider and outsider perspective about law has been invaluable to him.

"Another great thing about the dual program is that if I'm going to be lawyer, I won't just be a lawyer working at an office," he said. "To me, the clients are real, the people are real, there are people behind every decision. It humanizes the experience."

This philosophy of making law less intimidating was the key source of inspiration for his startup.

"I'm in it to help people first and foremost. Yeah, I will make money which is great to pay student loans since I now have four years of it. But I believe first and foremost that everyone should have access to the legal system."

Without his dual perspective, the inspiration for his startup may not have even been possible.

"I absolutely, without a doubt, owe it to that," he said. "I wasn't afraid to do it, I wasn't complacent in the status quo. Having a dual degree makes me schooled in both things, but also makes me a little bit of an outsider in both things and like I said, I saw the status quo and it wasn't acceptable. It's time to change it so why not, why can't I?"

RECENT NEWS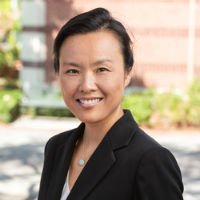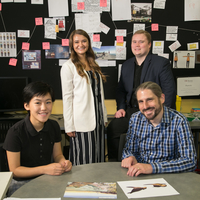 The Legal Rules of The Games
June 27, 2019
Gould's Intellectual Property and Technology Law Clinic helps student game developer navigate copyright issues.