Supreme Court Justice Lectures on Constitutional Law
Wednesday, February 2, 2011
1Ls get chance to learn from Justice Anthony Kennedy
by Steffi Lau
What better person to learn constitutional law from than a Supreme Court justice?

On Tuesday, Feb. 1, 1Ls from two Constitutional Law classes had exactly that opportunity when Supreme Court Justice Anthony Kennedy delivered a guest lecture at USC Law. Kennedy covered constitutional law, separation of powers and history, sprinkling in jokes and anecdotes along the way.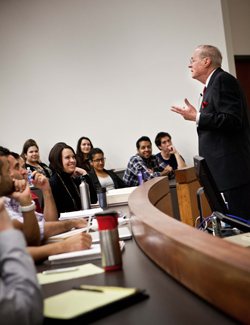 Justice Anthony Kennedy with students
Kennedy, a former Constitutional Law professor, was no stranger to teaching. His ability to teach and keep the class engaged was clear.

He talked about Article I, Section 8 of the Constitution which grants Congress the power to pass all laws necessary and proper for carrying out the enumerated list of powers.

To much laughter, he joked, "In high school, they called it the Elastic Clause, but it sounded to me like an ad in Vogue."

The class stared at him with such rapt attention that Kennedy had to remind them to whip out their textbooks.

"Did you bring your Constitution to class?" he asked. The room was quickly filled with the sound of more than 100 students rummaging through their bags to pull out their books.

"When I used to teach, my students would stare at me and I would say, 'It's not written on my shirt,'" he said.

He referred to a lot of history, touching on the founding fathers' intentions and how they related to the law.

On the Federalist Papers, he said, "It's brilliant. It's one of the greatest political documents written in history. And they wrote it over a summer."

"This idea that we are one nation, one people, was powerful. The word 'union' has a rhapsodic, poetic, inspirational, aspirational quality."

He also shed light on the meaning of "happiness" in the Constitution.

"Do you know what happiness meant to Jefferson? The principle definition of happiness was the feeling of esteem you get from fulfilling your civic duty," Kennedy said.

His extensive historical knowledge impressed students.

"It was really inspirational to see such an amazing legal mind at work, especially one with such a clear affinity for law and history," Starrett Berry '13 said. "His grasp of history and its ramifications for legal systems today was really amazing. It was really inspirational to have such a paragon of the legal system show us what a true grasp of law is like."

His words were a mix of educational, humorous and inspirational.

"Democracy presumes each generation is a trustee for the next," he said. "You will soon be the trustees of freedom."

Toward the end of his lecture, he took questions. One student asked whether the justices paid attention to the news media when making their decisions.

Kennedy answered no. "Courts make decisions with political consequences, but contrary to popular belief, we don't make them in a political way. In my office, I have a window facing the lawn and I see the protestors with their signs and I never know what side they're on," he said, eliciting laughter.

This revelation was refreshing for many, countering speculations that the justices are affected by current events.

"Everyone sees the Supreme Court as being extremely political," Matt Roberts '13 said. "But he showed how the court has a different way of looking at things. They really are just focusing on the legal question, not on the 24-hour news cycle. It was good to hear that they are not focusing on politics, contrary to what people think."

The lecture even inspired some to read up more on the law.

"It was really inspiring," said Sasha Gilger '13. "Not many law students can say they got to hear a lecture from a Supreme Court justice. It makes me want to go read the Constitution, as dorky as that sounds."

Julian Lean '13 summed up the once-in-a-lifetime opportunity best. "There's no better person to learn the Constitution from."

RECENT NEWS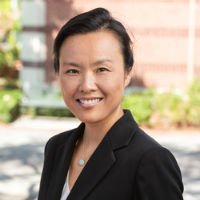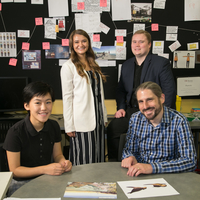 The Legal Rules of The Games
June 27, 2019
Gould's Intellectual Property and Technology Law Clinic helps student game developer navigate copyright issues.