Rifkin '11 Offered Coveted Clerkship with Lebanon Tribunal

USC Gould School of Law
Tuesday, February 5, 2013
USC and Harvard law grads are only Americans to receive fellowship
USC Gould School of Law graduate Brian Rifkin '11 has accepted a competitive one-year fellowship working with the Special Tribunal for Lebanon Chambers in The Hague.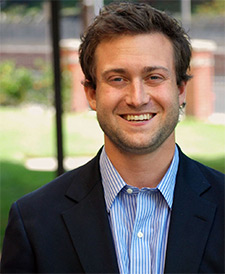 Brian Rifkin '11
Rifkin, who starts his new job this summer, will work as a law clerk in Tribunal President David Baragwanath's office, assisting appeals judges with legal research, writing and analysis and monitoring developments in international law. He may also work on reports to the United Nations Security Council as well as be involved with diplomatic consultations.

"I am excited and honored to be chosen for this position," said Rifkin, who worked as a law student in USC Gould's inaugural International Human Rights Clinic in 2011 on cases pending in the Extraordinary Chambers in the Courts of Cambodia, which tries former Khmer Rouge leaders. "I am interested in working toward justice for international crimes and know that this opportunity will build upon the training I received during my clinical experience at USC Gould."

The Special Tribunal for Lebanon was created to investigate and prosecute those responsible for the 2005 terrorist attack in Beirut, which killed former Lebanese Prime Minister Rafic Hariri and 22 others in related attacks. It is the first international tribunal to declare terrorism to be an international crime. Since forming in 2007, USC Gould and Harvard Law alumni have been the only American law graduates to secure this competitive fellowship with the Lebanese Tribunal.

"This is a tremendous honor for both Brian and USC," said USC Gould Dean Robert K. Rasmussen. "I consider it a priority to prepare students with the legal knowledge and skills required for working in a globalized world. This is precisely what students obtain by enrolling in our International Human Rights Clinic, and it is because of the strong reputation of the Clinic that we were invited to send a former student to fill this fellowship position."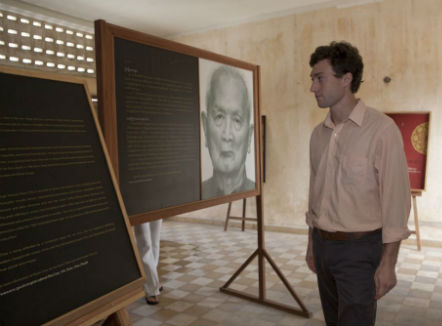 Brian Rifkin visits a genocide memorial site in Cambodia in 2011. In background, Brother #2 to Pol Pot, currently on trial before the Cambodia Tribunal for atrocities against humanity.
Rifkin, a litigation associate at Simpson Thacher & Bartlett in New York, brings unique experience to his new job. In 2011, after graduating from USC Gould, he served as a judicial intern to Judge Rowan Downing at the Cambodia Tribunal in Phnom Penh, working on the Cambodian Killing Fields trials involving some of history's worst crimes against humanity.

"My experience at the Cambodia Tribunal cemented my desire to work in the area of international law," Rifkin said. "I hope these international criminal tribunals achieve a measure of justice for victims and advance important moral and legal principles. Working with lawyers and judges from around the world has taught me a great deal about their own systems, their education, and their political and legal outlooks. I look forward to more of the same at the Special Tribunal for Lebanon."

USC Gould Prof. Hannah Garry, founding director of the IHRC, said Rifkin is highly qualified for the position with the Lebanon Tribunal. "I am very proud of Brian in being offered this prestigious fellowship. Having worked closely with him in the Clinic, I know that he has the qualities required for excelling in such a position and that he will seek to maximize his learning experience in The Hague."

Exposed to stories of the Holocaust at a young age and growing up in a community attuned to human rights issues, Rifkin has always had a keen interest in justice for victims of atrocities.

"From the time I was a child, I was continually reminded that I have a special responsibility not to ignore similar crimes committed in my time," Rifkin said. "Working in the International Human Rights Clinic and with the tribunals has given and should continue to give me an opportunity to do work I am passionate about."

As an undergrad, Rifkin majored in international relations with a focus in global security at Brown University. He studied international and intra-state conflict resolution, particularly justice for victims of human rights abuses.

Before starting at USC Gould, Rifkin worked at Latham & Watkin's Paris office as a paralegal. In law school, he served as Senior Submissions Editor on the Southern California Law Review and graduated Order of the Coif.

"I am very much looking forward to this opportunity to contribute to the advancement of a system of international justice," said Rifkin. "I am particularly grateful to Professor Garry, Dean Rasmussen, and USC for their support."


RECENT NEWS