Mental Health in Film

USC Gould School of Law
Thursday, November 19, 2015
Saks Institute and Media Institute for Social Change host discussion

-By Gilien Silsby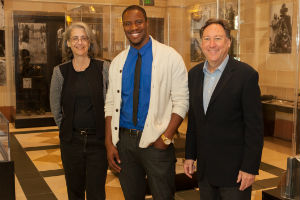 Elyn Saks discussed mental health with the cinema school's Michael Taylor (right) at an event curated by Saks Scholar Osahon Tongo (middle).
USC's Saks Institute and Media Institute for Social Change hosted a discussion recently on how mental health issues are depicted in film.
The collaboration, which was part of Mental Health Awareness Week at USC, included a short screening of the documentary, "Walking Man" as well as three films on mental health struggles and triumphs. The event, known as Odyssey of the Mind, was curated by Osahon Tongo, a Saks Scholar and USC graduate cinema student. Melissa Miller, a Saks post-doc scholar, was instrumental in securing the speakers associated with "Walking Man."
In the film "Walking Man," Eric Norwine, a 2012 graduate of USC's cinema school, and his father, Mark, chronicled their journey to spread awareness about mental health. The powerful documentary captured the pair walking 200 miles across Missouri, educating students about mental health issues and sharing their own story with others.
The Norwines, and the director of "Walking Man," Josh Salzberg, described how the film was produced as well as challenges making the film. Elyn Saks, director of the Saks Institute for Mental Health Law, Policy and Ethics, and Michael Taylor, director of the Media Institute for Social Change (MISC), moderated the discussion.
The 70-minute "Walking Man," is culled from more than 100 hours of footage and offers an intimate platform for addressing the far larger issue of mental health, said Eric Norwine.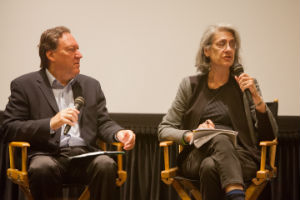 Michael Taylor, director of the Media Institute for Social Change, co-moderated a discussion with Elyn Saks about "Walking Man," a powerful documentary about a USC cinema school graduate's journey to spread awareness about mental health issues.
"Our hope with the film is to really provide hope for people who might be going through similar things and say, 'You're not alone. And there is hope for a better future, a better chance to really just live,'" Eric Norwine said.
After the "Walking Man" discussion, three short films were screened and discussed. Post-Traumatic Stress Disorder and other mental health challenges provided the thematic center for "Present Trauma," directed by Mark D. Manalo.
The two other shorts, including, "Happy Bird" by Osahon Tongo and "Glass People," directed John Berardo, were all MISC-produced projects, highlighting the Institute's dedication to promoting responsible and socially impactful storytelling.
When making Happy Bird, Tongo consulted staff psychologists at USC's Engemann Student Health Center to ensure the accuracy of his story, which was partially inspired by a past relationship with an individual who suffered from borderline personality disorder. The evening ended with live music, and original artwork, much of it produced and curated by USC alumni.
Read More
RECENT NEWS