PCJP Director and Student Win CLAY Award

USC Gould School of Law
Tuesday, May 10, 2016
Heidi Rummel and Scott Mills were recognized for their work with juvenile resentencing
-By Gilien Silsby
USC Gould Prof. Heidi Rummel and Post-Conviction Justice Project student Scott Mills '16 were awarded the 2016 "California Lawyer Attorney of the Year" by the Los Angeles Daily Journal newspaper and California Lawyer magazine.
The pair was recognized at a recent ceremony in San Francisco for their groundbreaking legal work in the resentencing of the first juvenile offender under the California Fair Sentencing for Youth Act and his subsequent release on parole.
"It was extremely fulfilling to be part of this case," Mills said. "I have learned so much working with my professors from both a legal and personal standpoint."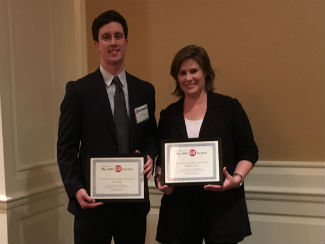 Scott Mills and Heidi Rummel at the CLAY awards ceremony in San Francisco.
The client, Edel Gonzalez, served 24 years in prison for aiding and abetting a murder committed by adult codefendants. He was the youngest person in Orange County to receive a life sentence without possibility of parole.
The California Fair Sentencing for Youth Act, signed into law by Gov. Jerry Brown in 2012, allows juvenile offenders sentenced to life without the possibility of parole to petition the court for resentencing after serving 15 years.
In December 2013, a judge gave Gonzalez a new sentence with the possibility of parole. Once eligible for parole, Gonzalez benefited from Senate Bill 260, that went into effect in 2014, requiring parole commissioners to consider the diminished culpability of youth at the time of their crime. The legislation was co-sponsored by USC Gould's PCJP, with Rummel and PCJP students helping to draft the bill.
Rummel, who co-directs the PCJP, also testified at legislative hearings Sacramento, and PCJP students met with legislators to urge its passage.
"The legislation has created hope among many who faced hopeless sentences – Edel's release makes it tangible for the many youth offenders serving life without parole," Rummel said.
Read More
RECENT NEWS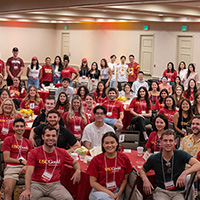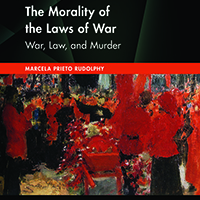 Facing the tragedy of war
September 13, 2023
Professor Marcela Prieto's new book, "The Morality of the Laws of War," argues for strengthening international law to el...