News
Summer Law & English Program Kicks Off
Tuesday, Jul 19, 2016
Program for international law students enters 13th year
-By Erin Bailey
The 13th annual Summer Law & English (SLE) program for international students kicked off last week at the USC Gould School of Law.
The four-week program offers international law students the opportunity to learn the foundational principles of the U.S. legal system from USC Gould's adjunct instructors and work on specialized English vocabulary and legal writing.
Rising enrollment figures reflect the popularity of the program, which started with 20 students about a decade ago. This summer, the program welcomes 153 students from 27 countries, representing a 13.3 percent increase over last year's class of 135 students.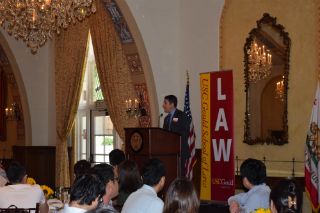 Vice Dean Donald Scotten welcomes students to the 13th annual Summer Law & English program.
Of the 153 students, 94 will continue on to the USC Gould School of Law's LL.M. program (1-Year, 2-Year and Online formats) in the fall. The other 59 students will complete SLE and will then return to work in their home countries, finish their undergraduate law degrees, or go on to attend LL.M. programs at other law schools including those at Cornell, Fordham, George Washington, Harvard, NYU, UC Berkeley and UCLA.
"We hope that the program will give those who are going on to LL.M. programs a head start, to have an understanding of what American law practice is about. For those of you who are not going on to a LL.M. program, we believe the program will still be very helpful because you will go back to your own country and really have a better understanding of your home country's law with a comparative perspective," Donald Scotten, Gould's Vice Dean of Administration, told the students.
SLE is designed primarily for students who have already earned or will soon earn their first law degree (LL.B. or equivalent) outside of the U.S., and includes a range of students from recent undergraduates to accomplished attorneys, government officials, and other lawyers in corporations and private practice.
As the students hail from diverse geographical and professional backgrounds, one of the real values of the program is networking. "You're going to learn a lot from one another, you're going to learn a lot from the professors that we've scheduled to be teaching you, but really the value is going to be the relationships you build with each other. The relationships you make today and for the next month may be life long," said Scotten, who will be leading LL.M. lectures on business organizations in the fall.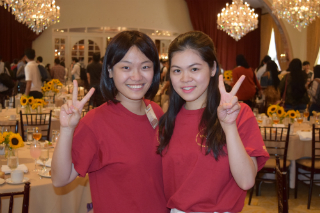 International students Yiwen Feng and Yelu Xu enjoying the welcome luncheon.
The students gathered for the first time last Monday and attended an orientation session and welcome luncheon at the Town & Gown ballroom, where they interacted with other students and their instructors.
In addition to legal English, students will spend each morning taking law classes that include lectures on U.S. constitutional law, intellectual property law, entertainment law, taxation and alternative dispute resolution. Classes are taught by top practitioners in the Los Angeles legal market who have experience with corporations, the judicial system and private practice.
The curriculum also includes LL.M. preparation instruction to assist the students in SLE who will be starting an LL.M. program at USC or another school in the fall.
Students will benefit from the cultural diversity and social attractions of Los Angeles. The program will sponsor trips to Santa Monica, the Getty Museum and a Los Angeles Dodgers baseball game, as well as an educational tour of a courthouse in southern California. "Los Angeles brings people together," said Scotten. "Enjoy your time here."
RECENT NEWS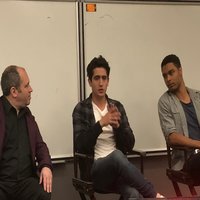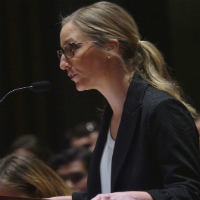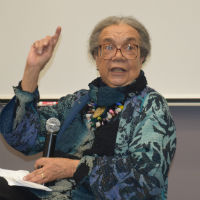 Follow the Need
April 3, 2018
Children's rights pioneer Marian Wright Edelman inspires at USC Gould