News
The Entertainment Law Society Holds First Panel of the Year
Friday, Sep 30, 2016
Law students get a sneak peek at life within the entertainment industry
-By Belia Mercado
USC Gould's student-run organization, the Entertainment Law Society (ELS), presented its first panel discussion of the year, "So You Want to be an Entertainment Lawyer: Talent Representation & Hollywood Dealmakers."
The panel – all USC Gould alumni - featured professionals from leading entertainment law sectors, including Kelly Vallon '13, an attorney for Ziffren Brittenham LLP's music group; Scott Oranburg '14, a television and legal affairs executive at William Morris Endeavor Entertainment; and Fred Toczek '89, an attorney who represented Seth Rogen in his $8.4 million for The Interview.
The event kicked off with the speakers describing how they broke into the entertainment field.
"I always knew I wanted it. I loved film and the entertainment business, so this was a perfect choice," Toczek said,
In addition to representing Rogen, Toczek is known for his equal pay advocacy for child actors and representation of Daniel Radcliffe in the 2001's Harry Potter and the Sorcerer's Stone.
As alums, the experts spoke on the benefits of USC Gould, and how the school helped them gain the skills necessary to be in the entertainment law profession.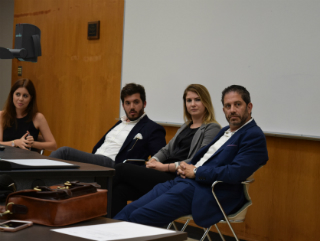 Legal experts speak to Gould students
"USC had a lot of great classes that helped me learn things that I actually use today," said Vallon, who has represented a variety of clients within the music industry including artists, producers and song-writers. "The professors are really great resources if you're trying to reach out to certain people".
Vallon's advice for students interested in breaking into entertainment law is to, "start reading the Hollywood Reporter, Billboard and Deadline, because the more you know about what is going on, the more you can have a good conversation with someone in the business".
Time management is essential to working in an entertainment boutique, she said. "You have to manage time on your own. It's always about working on a million things and then recalibrating your priorities."
Toczek told students to be assertive when going after a job or internship. "You have to be incredibly persistent, because if you're not willing to do that, there are hundreds of other people who are for that spot."
Toczek also encouraged students to gain experience – even while in law school. "Start getting involved with representing actors and musicians under someone's guidance. I think that shows how you have some understanding of the business."
Of course, the entertainment profession is not all fun and games. Oranburg mentioned how his proudest achievement at William Morris was simply "surviving".
"In the industry, there's a lot of rejection, a lot of broken deals, and a lot of personalities to manage," he said.
RECENT NEWS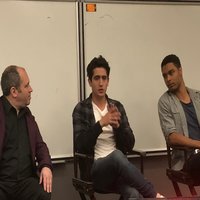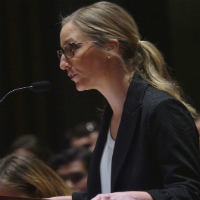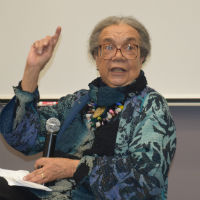 Follow the Need
April 3, 2018
Children's rights pioneer Marian Wright Edelman inspires at USC Gould