News
New Lawyers Take Their Oaths
Friday, Dec 9, 2016
Recent Gould grads passed the bar at highest rate in five years
Members of the USC Gould family were all smiles this week after learning that recent graduates had scored a California bar passage rate of 88 percent among first-time takers.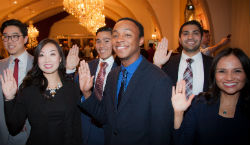 Recent Gould alumni were sworn into the California and federal bars on Dec. 2.
The achievement was especially gratifying, given that this year's pass rate for first-time takers was better than last year's 87 percent, and was the school's highest in five years.
"You deserve the heartiest of congratulations," Dean Andrew Guzman told alumni, friends and family, who gathered on Dec. 2 in USC's Town and Gown, where the recent graduates were sworn in as attorneys to the California and federal bars.
"I am so proud of you on this important and happy occasion as you take your final step toward a career in law," Guzman continued, noting that the ceremony marked his first as dean of the law school. "This is a big treat for me."
Considered the nation's most difficult bar exam, California's exam spans 18 hours over three days.
"This exam really tests your motivation," Guzman said. "These results are tremendous."
U
SC
Gould was second only to
Stanford Law
's 91%. Bar passage rates among other top
California
law schools were 84% at Berkeley Law, 82% UCLA Law, and 81% at UC Irvine Law. The California bar exam pass rate was 56 percent for first-time takers, down four points from last year.
Michael Figgers '16 was among the jubilant Gould grads celebrating with classmates who passed the California bar. He said the faculty and coursework at Gould prepared him to endure the grueling exam, especially the one-hour essays. However, he added that the "sense of camaraderie" among his classmates also helped fuel his success.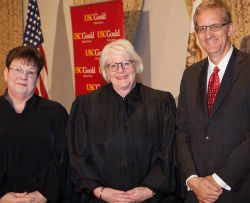 The Hon. Mary Thornton House, The Hon. Virginia Phillips and Dean Andrew Guzman
"Most indispensable was the support of my classmates," said Figgers, who is currently one of the attorneys serving USC's Office of General Counsel. "It was almost like we shared a sixth sense. We seemed to always know when the others needed a boost."
It was the camaraderie of the evening that the Hon. Virginia A. Phillips noted in her remarks before delivering the oath of admission to the United States District Court for the Central District of California. "This is a great accomplishment," she said. "The memory of the moment that you passed the bar is one of those rare things that unites all of us in the legal profession."
The Hon. Mary Thornton House, who administered the California State Bar oath, concurred. "For all of you here, this day will be reflected upon as you get older as one of the most joyous occasions in your life," she said. "It is also one of the most solemn and sacred acts of your future professional legacy."
In addition, Judge House urged the new lawyers to: "Remember to always consider ethics within every decision made or advice given. Prepare your cases with passion. Maintain your integrity at all times, because your reputation will only be as good as your last bad act. And, have compassion for yourself and for all others."
After the ceremony, Talin Haroutounian '16, who had just taken her oaths alongside twin sister Sarin, paused to reflect. "This is the first moment that it's felt real -- our last step before we officially became lawyers," she said. "It's such a good feeling!"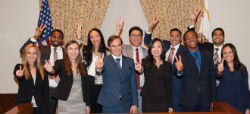 From "I do solemnly swear..." to "Fight On!"
RECENT NEWS