News
Nine Decades of High Standards
Friday, Jan 6, 2017
By Anne Bergman
Judges. University deans and professors. Partners at prestigious firms. Top attorneys at multi-national companies. These are just some of the leadership positions held by alumni who've served as editors of the Southern California Law Review (SCLR) over its 90-year history.
Established in 1927, SCLR publishes six times a year, and each issue normally contains several comprehensive articles written by renowned legal scholars and several notes (shorter articles) written by Gould students. Under the guidance of the editor-in-chief and additional officers, who are elected each spring, the 60 student editors work in teams to ensure the issues arrive on deadline but also are fully checked for accuracy and adherence to law review style.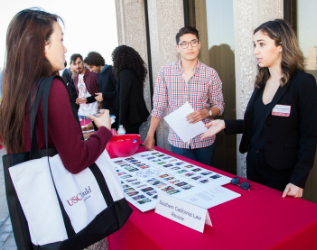 Southern California Law Review Editor-in-Chief Laurie Tomassian '17 and Managing Editor Ken Oshita '17 recruiting newly admitted students to join their editorial board.
Their long hours and dedication pay off in myriad ways, from the initial thrill of seeing an article or note published, to shaping public debate on a controversial topic, or ultimately being cited in a court brief. Yet one of the significant payoffs may be less quantifiable.
"One of the big benefits to participating in the Law Review is the opportunity for organizational leadership," says Professor Ronald Garet '81, SCLR's faculty adviser. "Our Law Review collects talented and strong-willed people with ambition and high standards. It takes a person with exceptional ability to get everyone to play nicely with
one another."
Lisa Kloppenberg '87 agrees. When she reflects on serving as SCLR's editor-in-chief, she says it was "like a real-life work experience." Now dean of the law school at Santa Clara University, she says, "One of the greatest leadership lessons I learned was to defer to the wonderful people on my team. I was working with really smart people. And it's just like being a dean in that you don't want to order people around — it's more of a collegial effort. There might be some difficult conversations, but in the end. it's a group effort and you have to empower your colleagues."
Kloppenberg's editorial team included: Vince Gonzales (now senior environmental counsel for Southern California
Gas Company), John Iino (now managing partner of Reed Smith's Los Angeles office and global co-chair of
the firm's Japan Business Team), Karen Lash (deputy director for the Office for Access to Justice, U.S. Department of Justice, and executive director of the White House Legal Aid Interagency Roundtable), and Duane
Okamoto (now senior attorney at Microsoft).
Her own SCLR experience also helped Kloppenberg prepare for the clerkship she held early in her career with
Hon. Dorothy Nelson LLM '56, a judge on the United States Court of Appeals for the Ninth Circuit and dean of Gould from 1969 to 1980. "I think that working on SCLR helped on the job market and for earning the clerkship," Kloppenberg says. "There is that significant sense of responsibility that was honed on the Law Review when you're handling someone else's creative work, as well as the attention to detail."
One of the additional challenges for serving as editor is ensuring that the scholarly legal journal remains current. The 2016-17 team of Editor-in-Chief Laurie Tomassian '17 and Managing Editor Ken Oshita '17 wants to increase the journal's online presence and encourage first-year students to submit topical and cutting-edge articles to SCLR's digital supplement, "Postscript."
"I also want to show incoming staffers that editing is important, not just personally or professionally," says Tomassian. "I want to show them that there's a larger purpose because these SCLR articles can change laws — these articles have an influential impact."
Beyond serving as editors, Garet also thinks the students who author the notes are taking advantage of a "terrific
Established in 1927, SCLR publishes six times a year.
opportunity." He says, "When a student takes classes in torts or constitutional law, they are learning what other people think. But when the same student writes a
Law Review
note, that student is no longer just a consumer. That student is producing their own ideas on law and legal policy."
Given the preeminent authors who've been published in SCLR, Garet believes that the journal boosts Gould's reputation in the academic and legal worlds. "We are publishing world-class scholars, including from our own faculty, often early in their careers," he says. Garet ought to know. His very first piece of legal scholarship was published in the SCLR in 1983, when he was an assistant professor at Gould. "It was a very constructive experience for me," he recalls.
Additional Gould faculty who have been published in the journal include Professors Jonathan Barnett, Rebecca Brown, Alex Capron, Ariela Gross, Daniel Klerman and Stephen Rich as well as Dean Andrew Guzman. An article by Prof. Edward Kleinbard will be published in the upcoming Volume 90.
In addition to the SCLR, USC Gould publishes two highly regarded student-edited honors journals, The Southern California Review of Law and Social Justice (RLSJ) and the Southern California Interdisciplinary Law Journal (ILJ). Like SCLR, RLSJ and ILJ provide opportunities for student leadership and student authorship, and publish influential articles by leading scholars in a number of disciplines, judges, and practitioners.
RECENT NEWS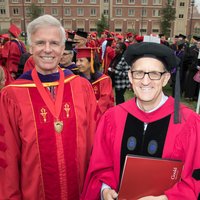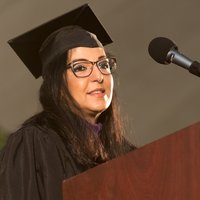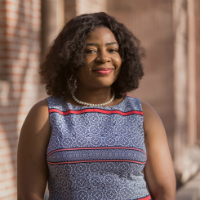 Another Person's Shoes
May 8, 2018
Nigerian lawyer Sharon Obuns wants to use her LLM degree to raise awareness for the benefits of mediation