News
Justice Journeys
Wednesday, Mar 29, 2017
How did 24 Gould students spend their spring break? Giving back.

By Anne Bergman
Fifteen Gould law students journeyed to Louisiana over spring break to volunteer with local social justice organizations. The week turned out to be a pro bono whirlwind, with students fulfilling their desire to help a largely underserved population, expand their cultural horizons, and simultaneously forge a bond with their fellow Gould students.
Each year, as part of the student-run Legal Aid Alternative Break program, Gould students coordinate to spend their winter and spring breaks helping those in need of legal assistance.
Over the week, Sarah Walkowicz '19, Julia Michels LLM '18, and LAAB President Matthew Miller '18 joined forces with Equity in All Places to address the school-to-prison pipeline. "This is a problem that's especially acute in New Orleans," said Miller.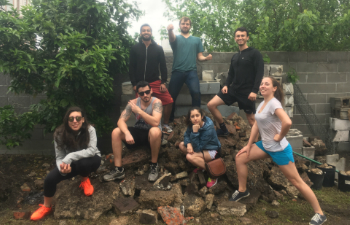 (from left front row) Taline Gettas '18, Eric Pittaluga '19, Gaganyjot Sandhu '19, Elvira Razzano '19, (from left back row) Samridh Ahuja LLM '18, John Melde '18, and Alexander Pinto '19 rolling up their sleeves at Recirculating Farms, which is run completely by lawyers.
For international student Michels, volunteering ended up becoming a mutually beneficial enterprise. "l got to work in the public interest sector for the first time," she said. "I also gained some valuable experience in U.S. legal work."
Members of LAAB also worked with Justice and Accountability Center of Louisiana (JACL), an organization that tackles deficiencies in the post-conviction phase of the criminal justice system. Miller said JACL provides reentry services to past offenders, including expungements, which allow past offenders to shed the stigma of their pasts. "Our students worked with past offenders in various stages of the expungement process," he said.
Student volunteers also assisted the Louisiana Environmental Action Network (LEAN), which works to ensure companies comply with the Clean Water Act in the waterways around Louisiana. "The fact that petrochemical refineries and industrial shipping use the same water that provides fish and drinking water for the local population, makes compliance an important public health issue in Louisiana," Miller said.
For first-year student Neusha Etemad, who also joined LAAB on their winter break sojourn to the San Francisco Bay Area, the trips have exposed her to "different areas of the law." She said they also helped her "to learn to adapt to a new work setting within a week's time."
As part of the experience with LEAN, LAAB students also attended a public hearing to deny an after-the-fact permit to an oil company that carved a trough through an oyster fishery.
And some of LAAB's students even exchanged their laptops for some shovels, when they joined the Recirculating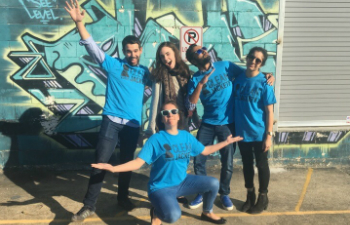 Matthew Miller '18, Razzano, JACL Supervisor Savannah Wheeler, Ahuja and Gaganyjot Sandhu '19
Farms Coalition (RFC) to help remove rumble from a new farm site. Miller said that RFC operates an urban farm and advocates for zoning laws that would allow urban residents across America to grow their own food. Miller believes RFC is "probably the only farm in America run completely by lawyers."
2L John Melde said the trip to Louisiana made him feel like he was helping to close the justice gap. "I enjoyed making a difference in a city like New Orleans, which has a population somewhat neglected by federal and other public assistance."
Gould students who wanted to spend their spring breaks closer to home, also had the opportunity to give back. Nine law students embarked for Visalia on the "Justice Bus" with Equal Justice Works and spent two days working with the Family Services of Tulare County, UFW Foundation, and Tulare County Public Defender. The students helped more than 30 clients with criminal record clearance, naturalization and immigration options.
RECENT NEWS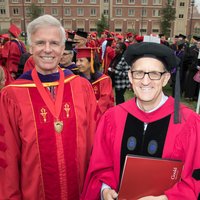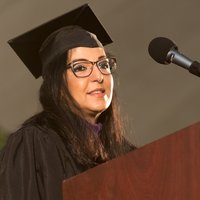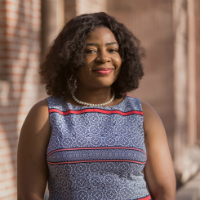 Another Person's Shoes
May 8, 2018
Nigerian lawyer Sharon Obuns wants to use her LLM degree to raise awareness for the benefits of mediation