News
USC Law Professor Emily Ryo Awarded Prestigious Carnegie Fellowship
Wednesday, Apr 26, 2017
Legal scholar and sociologist recognized for exceptional promise, creativity and achievement
Emily Ryo, a rising star at USC Gould School of Law in the field of immigration and criminal law, has been awarded a 2017 Andrew Carnegie Fellowship, one of the most prestigious and generous fellowships for researchers in the social sciences and humanities.
Recognized for her "exceptional promise, creativity and achievement," Ryo is the only faculty member at the University of Southern California, and one of just 35 in the United States, honored with a 2017 Andrew Carnegie Fellowship.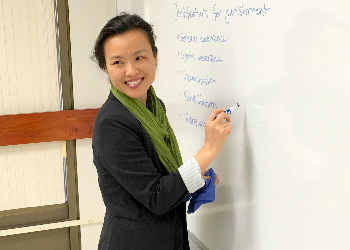 USC Law Professor Emily Ryo was awarded a prestigious Carnegie Fellowship
Ryo was selected for her innovative and cutting-edge research on unauthorized migration, the legal attitudes of noncitizens, and immigration detention. As a Carnegie Fellow, Ryo will work on a large-scale empirical study of the nature and consequences of U.S. immigration detention. One of the study's goals is to investigate what immigration detention teaches noncitizens about the U.S. legal system, democratic values, and the rule of law.
"As a researcher, Professor Ryo grapples with some of the most challenging problems of the 21st century," said USC President C. L. Max Nikias, who nominated Ryo for the award. "I am confident that her future work on immigration enforcement, detention, and democracy will make an even greater contribution to our understanding of the complex forces underlying compliance with immigration laws."
The Andrew Carnegie Fellowships, announced today, provide $200,000 to 35 scholars, journalists and public intellectuals. The recipients were selected based on the originality, promise, and potential impact of their proposals.
The fellowships "support high-caliber scholarship in the social sciences and humanities, making it possible for the recipients to devote time to research and writing that addresses pressing issues and cultural transitions affecting us at home and abroad," according to Carnegie Corporation of New York, which established the Andrew Carnegie Fellows Program.
"I'm truly honored to receive the Carnegie Fellowship," said Ryo. "I hope that my work as a Carnegie Fellow will help us to reconceptualize immigration enforcement as more than just a legal compliance tool. Today, we tend to think of enforcement practices such as detention simply as a means of forcing people to obey our laws. But every interaction that a noncitizen has with our immigration system and legal authorities is an occasion that either engenders trust in our legal system or breeds legal cynicism, which can have profound implications for our democracy and governance," Ryo explained.
"Professor Ryo is a gifted and dedicated scholar whose research is not only impactful but groundbreaking," said USC Gould Dean Andrew Guzman.
An empirical legal scholar, Ryo has published widely in leading sociology and law journals. Her award-winning studies on unauthorized migration have been recognized as paradigm-shifting. Most recently, she led the first empirical study of long-term immigration detention and immigration bond hearings in Southern California. Her work has been covered by numerous media.
Ryo received a J.D. from Harvard Law School and a Ph.D. in sociology from Stanford University. She served as a law clerk to the Hon. M. Margaret McKeown of the Ninth Circuit Court of Appeals, and practiced law at the international law firm of Cleary, Gottlieb, Steen, and Hamilton.
RECENT NEWS