News
USC Gould Hosts Teen Court
Friday, Jun 16, 2017
Roosevelt High School students hold hearing at USC
As the 13-year-old defendant sat in the witness box, he quietly answered one question after another from the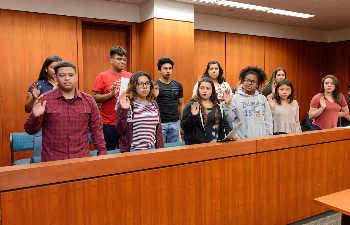 Teen Court is sworn in at Ackerman Court at USC Gould
courtroom. Who are his friends? Why are his grades low? What kinds of sports does he play? And most importantly – why did he inappropriately interact with a classmate, the action that brought him to court.
It was not a prosecutor or defense attorney posing the questions, but students from Roosevelt High School in Boyle Heights. The students are part of Teen Court, an alternative early-intervention program that allows eligible juvenile offenders to be questioned, judged and sentenced by a jury of their peers. The Teen Court program was launched at Roosevelt High in 2008, giving hundreds of high school students first-hand experience in criminal justice.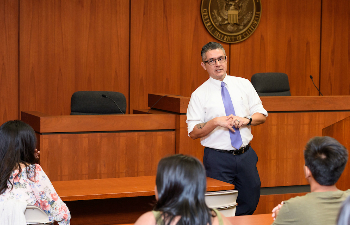 Carlos Castillo is the Law & Public Service teacher at Roosevelt and director of the Teen Court program
Roosevelt High's final hearing of the year was held at USC Gould School of Law, where students were treated to a tour of the law school, lunch with law students and use of the Ackerman Courtroom for the hearing.
USC Gould Latino Law Student Association (LLSA) supports the Teen Court program by helping students understand the justice system and render verdicts. USC Gould student Ariana Sanudo-Kretzmann '18, the community service chair for LLSA, met with a jury of high school students and aided them in weighing several factors before finding the defendant guilty, and providing sentencing recommendations.
"The students are so impressive," said Sanudo-Kretzmann. "They take this seriously, and are passionate about being fair and making good suggestions."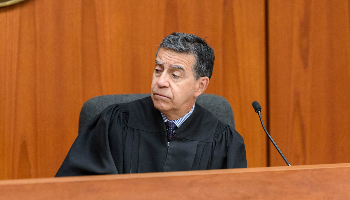 Judge Jose I. Sandoval presided over the Teen Court proceeding at USC
Judge Jose I. Sandoval presided over the Teen Court proceeding at USC as he has for the past decade. He skillfully strikes a balance between making the defendant feel comfortable and exposing students to the courts.
"I look forward to Teen Court, and believe it not only teaches high school students about the criminal justice system, but gives defendants a second chance," said Judge Sandoval, who grew up in East Los Angeles. "Being judged by your peers can be quite powerful."
Juvenile defendants don't attend the Teen Court in their own schools because, as in the court system, they can't be judged by people they know. During the trial, the judge and the student jury question defendants, and ultimately render a verdict and suggest a sentence.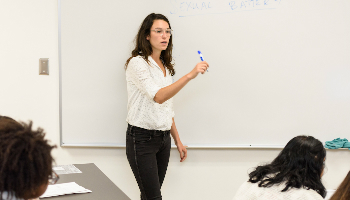 Ariana Sanudo-Kretzmann '18
"I was very interested in Teen Court because you see the law from new and different perspectives," said Amy Morales, 16, who will be a junior at Roosevelt in the fall. "I really liked being part of the jury and trying to make a difference in someone's life by hearing the cases."
As a bonus, she learned how to ask hard questions and speak in front of a group.
"I have interest in law school and criminal justice," she said. "I wanted to get more experience with what happens in law and how it works. Maybe I'll go to law school one day."
That's one of the goals of the Teen Court program, said Carlos Castillo, a Law & Public Service teacher at Roosevelt and director of the Teen Court program.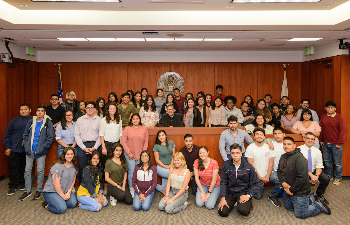 Roosevelt High School's Teen Court
"It's really a win-win," Castillo said. "Defendants are held accountable but get a second chance because most are freed from a record. Our students learn how to look at facts, ask questions and ultimately make difficult decisions, but helping their peers at the same time."
Dean Andrew Guzman understands the importance of USC giving back to the community. "I'm proud of our law students," he said. "By sharing their passion for how our justice system works, they are not only sparking an interest in the law among local high school students, but providing support to our local and surrounding communities."
RECENT NEWS