A Team Player

USC Gould School of Law
Monday, October 9, 2017
ESPN's Paul Richardson '90 will join Dean Guzman on Nov. 2

By Anne Bergman
He's met Archbishop Desmond Tutu at the World Cup. He's watched the Super Bowl from the field. He was even been part of the team that hosted former First Lady Michelle Obama at a military veteran's event. Yet Paul Richardson (JD 1990) says he's "leaving room for the best career highlights to still be ahead."
Richardson has plenty of opportunities to add to his career highlight reel, as he serves as ESPN's senior vice president of human resources and was formerly chief diversity officer (CDO) at The Walt Disney Company, helping to create competitive advantage through the company's diversity and inclusion practices.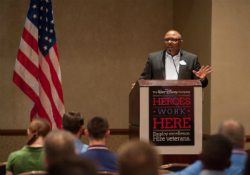 At Disney, Paul Richardson (JD 1990) and his team launched many successful initiatives, including "Heroes Work Here" for veterans.
As Disney's CDO, Richardson viewed diversity as not just a human resources initiative, but "a critical ingredient of our strategy," he said. At Disney, Richardson and his team launched many successful initiatives, including "Heroes Work Here" for veterans. In fact, the company recently received the Freedom Award from the Department of Defense for its support of employees serving in the National Guard and as reserves.
Richardson's path to a career began in Los Angeles within the legal department at the Times Mirror organization, where he worked for 12 years supporting Human Resources as his principal client. "Eventually, I took on a special project in HR to roll out the company's enterprise-wide diversity initiative, and I never quite returned to the legal department," he recalls.
From Times Mirror, Richardson served in HR leadership positions at Paramount Pictures and media agency Universal McCann, before he joined ESPN in 2007, adding the role of CDO for The Walt Disney Company in 2011.
Despite a career rooted in the media sector, Richardson says that as a law student he was "industry agnostic." But, he adds, the "Gould experience was critical in developing the skills to be a good lawyer, listener, thinker and teammate."
For him, the value of the Trojan Network wasn't just about finding the right mentor. It was about forging connections with his fellow students.
"These folks were incredibly bright and many have gone on to have amazing careers both within and beyond the practice of law," Richardson says. "Being a good team member and leader with the ability to persuasively and clearly communicate has proven invaluable through the years."
This article originally appeared in the Spring 2016 issue of USC Gould's alumni magazine.
Dean Andrew Guzman will host a conversation with Richardson on Nov. 2 at the law school. To RSVP, visit: 2017conversations.eventbrite.com
Read More
RECENT NEWS