Commitment to Excellence
Monday, October 30, 2017
The Southern California Law Review honors three of its editors
Being published in the prestigious Southern California Law Review is a significant achievement, as it's an opportunity to shape public debate and influence court decisions for years to come. And, if you're a USC Gould student, it's even more significant of an achievement to receive one of the review's two awards, the Scribes or the Holbrook.
Established in 1927, the
Southern California Law Review (SCLR)
publishes six times a year, and each issue normally contains several comprehensive articles written by renowned legal scholars and several notes (shorter articles focused on a novel area of the law) written by Gould students. Under the guidance of the editor-in-chief and additional officers, who are elected each spring, the 60 student editors work in teams to ensure the issues arrive on deadline but also are fully checked for accuracy and adherence to law review style.
This academic year, 3L Irina Dykhne received the Scribes Award for Volume 90, recognizing her note "Persuasive or Deceptive? Native Advertising in Political Campaigns." The Scribes Award recognizes the best submission for each volume. SCLR will publish Dykhne's note in January 2018.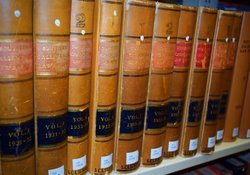 Established in 1927, the Southern California Law Review publishes six times a year.
Dykhne, who serves as an
SCLR
executive senior editor, became interested in the topic after working in film development before law school at several production companies in L.A. "I have always been very passionate about media, communications, and entertainment," she said. "This topic was an opportunity for me to learn about the legal issues around a method of audience communication that I knew very little about, but which we all interact with every day."
The Holbrook Award recognizes editorial board members whose commitment to excellence is "above and beyond," according to 3L Milene Vega, who is the SCLR's first executive online editor. Holbrook Awards for Volume 90 went to 3L Emily Arndt and Victoria McLaughlin (JD 2017).
Vega explained that serving on the editorial board "stays on your resume forever." Publishing a note, she added, "means that the author will always be on the record and searchable in Lexis and WestLaw. Plus, it can serve as a writing sample when applying for clerkships."
Gould alumni who have served as SCLR editors have gone on to become judges, university deans and professors, partners at prestigious firms and top attorneys at multi-national companies among other leadership positions.
RECENT NEWS