A Decade of Waging Justice
Wednesday, November 1, 2017
Two alumni saw an urgent need and founded an organization to protect exploited workers
Seamstresses. Janitors. Truck drivers. Line cooks. Day laborers.
These are just some of the workers who would have gone unpaid if not for the efforts of the Wage Justice Center in Los Angeles. Founded 10 years ago by two 2005 USC Gould graduates, Matt Sirolly and Melvin Yee, the WJC has recovered more than $14 million in wages for over 6,000 workers.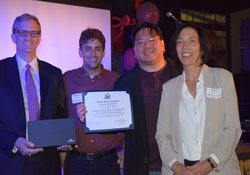 Prof. Clare Pastore presented Dean Andrew Guzman (pictured far left) with the Wage Justice Center's inaugural founders award, named for WJC Founders Matt Sirolly and Melvin Yee (both JDs 2005).
Sirolly and Yee started the nonprofit just two years after graduating from Gould, as they saw an urgent need to protect workers who were being exploited within Los Angeles' underground economy.
Since then, the WJC has evolved from a scrappy grassroots organization into a sophisticated legal resource with nearly a dozen staff members. Their cases can range from small settlements for exploited individuals, to larger class action cases involving significant penalties against large entities. The WJC also trains young lawyers to pursue wage justice cases, including Zach Genduso (JD 2017), who is currently serving as an attorney fellow.
In October, the Wage Justice Center marked its 10th anniversary, hosting a celebration in downtown Los Angeles and honoring USC Gould with the first Sirolly/Yee Founders award, which recognized the school's leadership in public interest.
The law school is where the duo launched their social justice careers. Under the guidance of Gould Prof. Clare Pastore – a leading member of the California public interest community – as students, Sirolly and Yee volunteered at legal clinics through the Public Interest Law Foundation (PILF) and received PILF summer grants to further their experience working in the nonprofit sector.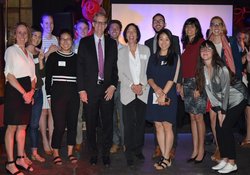 USC Gould faculty, alumni and students celebrated the WJC's 10th anniversary.
In a full circle moment at the celebration, Pastore, who joined the WJC board in 2008, presented the founders award to Dean Andrew Guzman, who accepted for the law school.
"When we thought about what institutions and people influenced the founding of Wage Justice Center a decade ago, USC Gould School of Law immediately and naturally rose to the top of our list," said Kerith Dilley, the WJC's executive director. "It was so fitting to celebrate a decade of wage justice by recognizing Gould."
"Yes, we educate fine corporate lawyers at Gould, but we also have a long history of serving the public interest," Pastore said, citing as examples, the Legal Aid Foundation of Los Angeles, which was founded at the law school in 1929; the Western Center on Law and Poverty, created at Gould in 1967; and the Immigrant Defenders Law Center, founded in 2015 by a Gould alumna.
"Dean Guzman is continuing that effort," Pastore said, noting the school's new scholarships in public interest, as well as the recently launched public interest certificate program.
"Alumni such as Matt Sirolly and Melvin Yee represent the best tradition of Gould lawyers: those who see a problem and make a significant contribution to solving it," Guzman said. "Our alums do that in the business world, in government, and in the nonprofit sector. We are proud to highlight our tradition of training lawyers with a passion to improve the community."
RECENT NEWS