Faculty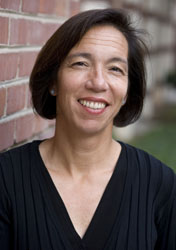 Clare Pastore
Professor of the Practice of Law
Last Updated: Wednesday, June 21, 2017
Email:
cpastore@law.usc.edu
Telephone

:
(213) 821-4410
Fax

:
(213) 740-5502
699 Exposition Blvd.

Los Angeles

, CA

90089-0074

USA
Room:
448
SSRN Author Page:
Link
---
Clare Pastore teaches Poverty Law, Suing the Government, Civil Procedure, Professional Responsibility, and the Access to Justice Practicum, while continuing to practice as a leading member of the California public interest community. Her research interests center on poverty and access to justice issues, and she is co-author of the leading Poverty Law textbook. She is a regular speaker on poverty, access to justice, and public interest law.
Pastore has received frequent state and national recognition as an outstanding advocate and teacher. In 2013, she was one of ten educators nationwide to receive the Elizabeth Hurlock Beckman Award, which recognizes educators "who have inspired their former students to make a significant contribution to society." In prior years, she was selected as a Wasserstein Fellow by Harvard Law School as part of its program recognizing outstanding public interest lawyers (2005), named one of the nation's 45 most outstanding public interest attorneys under age 45 (American Lawyer magazine, 1997), one of California's top lawyers under 40 years old (California Law Business, 1999), and one of Southern California's "Super Lawyers" (2006-09). She was commended by an official State Assembly resolution in 2004 for her work on behalf of the poor in California.
Pastore serves on the Board of Directors of the Wage Justice Center and the Steering Committee of the National Coalition for a Civil Right to Counsel, and is a member of the Los Angeles County Bar's Amicus Briefs Committee. She is a past member of the American Bar Association's Homelessness and Poverty Commission and the Professional Responsibility and Ethics Committee of the Los Angeles County Bar, and a former co-chair of the California Access to Justice Commission's Right to Counsel Task Force.
From 1989 to 2004, Pastore was a staff attorney at the Western Center on Law and Poverty, where she litigated many state and federal cases involving poverty law and disability rights. She received one of the nation's first Skadden Fellowships to begin her work there in 1989. She was also affiliated with the ACLU of Southern California as Senior Counsel from 2004 til 2007, and Of Counsel from 2007 until 2011.
Pastore holds a BA (Phi Beta Kappa) from Colgate University and a JD from Yale Law School, where she was a senior editor of the Yale Law Review. She clerked for Judge Marilyn Hall Patel, U.S. District Court for the Northern District of California. Prior to law school, she was a Fulbright-sponsored teaching assistant in a Paris public school.
Publications
"Edwards v. California: When Paupers Became People," in The Poverty Law Canon (forthcoming, University of Michigan Press)
Poverty Law, Policy, and Practice (with Brodie, Rosser & Selbin), Aspen Casebook Series 2014
"Gideon is My Co-Pilot: The Promise of Civil Right to Counsel Pilot Programs," 17 University of District of Columbia Law Review 75 (2014)
"California's Sargent Shriver Civil Counsel Act Tests Impact of More Assistance for Low-Income Litigants," 47 Clearinghouse Review 97 (July-August 2013)
"Email and Attorney-Client Privilege: Cautionary Tales for Employee and Employer," LA County Bar Update, April 2011.
"A Right to Civil Counsel: Closer to Reality?" 42 Loyola of Los Angeles Law Review 1065 (2009).
"Voices from the Underground Economy: The Experiences of Workers and Advocates Seeking Meal and Rest Breaks in Low-Wage Industries," (with D. Ballon, J. Kwan, & K. Kish), Bet Tzedek Legal Services, 2009.
"Caperton v Massey Coal Co: Floodgates Opening or Stating the Obvious?" LA County Bar Update, September 2009.
"Rescuing Legal Aid," Los Angeles Times, Feb 23, 2009.
"New Federal Rule of Evidence 502: Help is on the Way," LA County Bar Update, December 2008.
"What Advocates Need to Know After Recent U.S. Supreme Court Decisions in Individuals with Disabilities Education Act Cases," 41 Clearinghouse Review 345 (September-October 2007).
"Life After Lassiter: An Overview of State Court Right to Counsel Decisions," 40 Clearinghouse Review 186 (July-August 2006).
"The California Model Statute Task Force," 40 Clearinghouse Review 176 (July-August 2006).
CalWORKs: A Comprehensive Guide to Welfare and Related Medi-Cal Issues for California Families (principal author & editor), Western Center on Law & Poverty 2000.
Students & CalWORKs: A Guide to Educational Opportunities in the CalWORKs Program (co-author), Western Center on Law & Poverty 2003.
FACULTY IN THE NEWS
Inverse
April 20, 2018
Re: Jody David Armour
Jody Armour was quoted about the racist enforcement of marijuana-related crimes. "The 4/20 celebrations should be tempered by a sober recognition that many disproportionately black lives have been sacrificed on the altar of a failed drug war that was racist at its inception and in its execution," Armour said. "More than just a day of celebration, 4/20 should be a day of reckoning in which liberal and progressive politicians are called out for their many years of support for a racist and wasteful war on drugs."
RECENT SCHOLARSHIP
Robert K. Rasmussen
January, 2018
"Puerto Rico and the Netherworld of Sovereign Debt Restructuring," Workshop, Duke Law School, Durham, NC.
Edward Kleinbard
January, 2018
"The Right Tax at the Right Time," Florida Tax Review 21 (2017): 208.
Edward Kleinbard
January, 2018
"The Perversion of the Tax Policy Process," Keynote Address at the USC Tax Institute, Los Angeles, CA.