News
Largest Named Scholarship Established by a Law Firm at USC Gould
Friday, Dec 29, 2017
Generous $500,000 gift honors Phillip R. Nicholson (JD 1961)
Cox, Castle & Nicholson, one of California's most respected law firms, has established an innovative scholarship supporting top students at USC Gould School of Law with an interest in real estate law.
The generous $500,000 initial gift will launch the Phillip R. Nicholson Memorial Scholarship Fund for Real Estate Excellence, the largest named scholarship established by a law firm at USC Gould.
The scholarship honors the firm's founding partner and USC Gould alum, Phillip R. Nicholson '57, JD '61, who passed away in 2015. The fund, which has the ability to grow through additional support, will award annual scholarships to USC law students in their second and third years.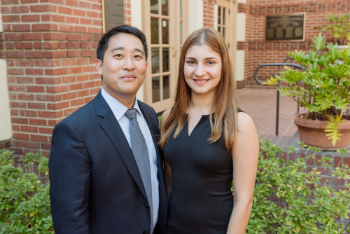 Edward Ji and Anna Karapetyan, Class of 2018, inaugural student scholarship recipients
"Scholarships are vital to attract and retain the best and the brightest student talent," explains Andrew T. Guzman, dean of USC Gould. "We are tremendously appreciative to Cox, Castle & Nicholson for pioneering this remarkable scholarship honoring Phil Nicholson, who possessed the integrity, expertise, and excitement for the law to which our students aspire."
Anna Karapetyan and Edward Ji, second-year USC law students, are the inaugural recipients of the new scholarship.
Karapetyan said the scholarship is especially meaningful since her interest in real estate began when she worked as an intern at Cox, Castle & Nicholson as an undergraduate student at USC.
"My legal exploration began with Cox, Castle & Nicholson, and I gained so much knowledge from this experience," said Karapetyan, a native of Glendale. "The firm's supportive and welcoming environment was the ideal place to begin my career. The power of the Trojan family and sense of community, which creates a tradition of giving back and supporting future Trojans, is inspiring and something I hope to continue."
Karapetyan, who is pursuing real estate law at Gould, is a first-generation college graduate and managing editor of the Southern California Review of Law and Social Justice. She is also a supervising clinical intern at the USC Intellectual Property and Technology Law Clinic.
A Los Angeles native, Ji chose to pursue his Gould degree after his experience working as a senior analyst in Commercial Lending at JPMorgan Chase & Co.
"Real estate drives our society and I am excited to be part of that process," said Ji, a first-generation college graduate. "Mr. Nicholson's extraordinary work ethic, respected reputation, and passion for everything he did shows me what it means to be a true Trojan, and I feel honored to receive a scholarship in his name."
Ji is earning dual degrees at USC – a law degree at Gould and master of real estate development at USC Sol Price School of Public Policy.
"Through our broad-based community efforts and professional support initiatives at local universities and bar associations, the attorneys at Cox Castle have always had a strong belief in the importance of supporting aspiring attorneys in our communities," said Mario Camara, senior partner on Cox, Castle & Nicholson's Management Committee. "This scholarship fund builds on this legacy while honoring our beloved founder Phil Nicholson."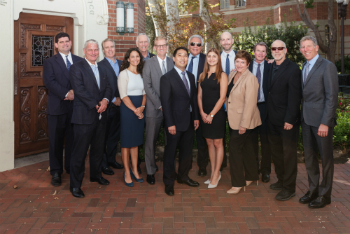 Dean Andrew Guzman, inaugural student scholarship recipients and partners and attorneys at Cox, Castle & Nicholson, the law firm that established the scholarship honoring late co-founder and dual-Trojan, Phil Nicholson
Whenever possible, scholarships will be awarded to those with a strong interest in pursuing a career in real estate law, with consideration given to those who are the first in their families to attend college or law school.
Cox, Castle & Nicholson LLP is actively involved in a host of legal and commercial real estate programs aimed at supporting the next generation of law students and attorneys. In addition to the firm's support of USC Gould School of Law, Cox, Castle & Nicholson also is involved with UC Berkeley School of Law and UCLA Law. The firm also has been instrumental in the California Bar Foundation Diversity Scholarship program, which now provides more than 60 scholarships annually.
Nicholson graduated with his bachelor's degree from USC Marshall School of Business in 1957, and earned his J.D. from USC Gould School of Law in 1961. The university remained a constant in his life through his involvement with the USC Lusk Center of Real Estate. In 1968, he partnered with George Cox and Richard Castle to form Cox, Castle & Nicholson LLP. As managing partner, Nicholson grew the firm to its current stature as one of the largest real estate specialty firms in the United States.
RECENT NEWS