News
Ready for Whatever Comes His Way
Monday, Dec 18, 2017
Top music lawyer Jason Karlov (JD 1995) takes holistic approach representing iconic talent
When Jason Karlov (JD 1995) received the platinum record for Bob Dylan's album "Time Out of Mind" — it hangs to the left of his desk — he felt a sense of gratitude that went beyond the moment. He remembers thinking: "How fortunate I am to work with such smart and creative people like Bob Dylan all these years!"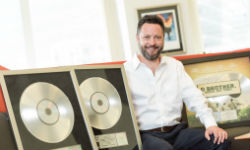 Jason Karlov (JD 1995) photographed in his Century City office.
Karlov began working with Dylan on day one of his law career, when he joined the office of respected music lawyer David Braun in Los Angeles. Now a partner and chairman of the Entertainment Group at Barnes & Thornburg in Los Angeles, through the years Karlov has represented many big-name clients including other icons like John Fogerty, Stevie Wonder, the Grateful Dead and T Bone Burnett, as well as entertainment-related companies like the NFL, Peloton, Samsung and the Olympic Games.
This year, Billboard magazine named him a top music lawyer.
Karlov, who grew up in Chicago, knew at 14 that he wanted to be a music lawyer, and he followed his passion Top music lawyer Jason Karlov '95 takes holistic approach representing iconic talent relentlessly. As a student in high school and then at Brandeis University, he booked concerts, worked at radio stations and managed long-since forgotten bands. "It was the best music business experience," he says, adding that the business of ensuring musicians get paid "is the same for Bob Dylan as it is for the musician off the street on the Sunset Strip."
As a law student, Karlov took jobs with Rhino Records and with the concert promotion company Nederlander. To round things out, he acquired an MA in communication management from USC along with his JD. The goal was always the same: to become a music lawyer "who understands the issues."
He did. And he expanded into all other forms of entertainment and into all sectors of industry law. In his career, first with Braun, then as a partner at Akin Gump and since 2011 with Barnes & Thornburg where he runs the firm's practice in transactional law in Los Angeles and entertainment law nationally. He has tackled almost every legal matter, including all forms of entertainment law; criminal investigations; corporate, healthcare, immigration, estate planning and intellectual property law; and litigation of all kinds.
In his experience, large law firms can best handle entertainment law because it is a holistic business requiring an interdisciplinary approach. He says: "When a major talent calls you because they trust you and asks you to take care of their estate or their child's problem, you'll want to say yes and be there for them in an efficient, cost-effective way. You want to help people and come through in the clutch when they most need it. Your client wants to know that you can address all legal issues in their life, especially as the entertainment business becomes more complicated to navigate. I'm lucky that I have the colleagues and firm to handle whatever comes our way."
RECENT NEWS