Washington Post Publisher Challenges and Inspires
Thursday, May 17, 2018
Gould alum Fred Ryan urges new lawyers to keep pace with "disruptive change"

-By Gilien Silsby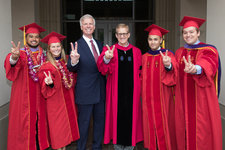 Fred Ryan and Dean Andrew Guzman (center) with graduating USC law students
In a speech that highlighted important parallels between the press and the law, Washington Post Publisher and USC Gould alum Fred Ryan returned to campus to offer words of encouragement and observations for the future lawyers.
While much of Ryan's career has been in media, he pointed out thorny challenges and urgent responsibilities facing both lawyers and journalists in today's "fake news" environment.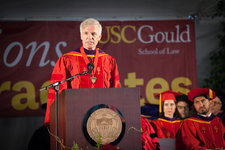 USC Gould alum Fred Ryan returned to campus to offer words of encouragement and observations to the Class of 2018.
"Both of these professions are essential to America's identity as a nation of laws under our unique Constitution," said Ryan, a member of USC's Board of Trustees, a 1980 USC Gould and 1977 USC Annenberg graduate. "Today, however, both of these noble professions are being tested— by the impact of advances in technology, as well as by people deliberately seeking to chip away at these institutions and disrupt our civic order."
The outcomes of these trials are unpredictable, yet consequential, he added. "It's no exaggeration to say that how you respond to these challenges—how you choose to practice the vocation you are about to begin—will be felt by your profession and by society for years to come."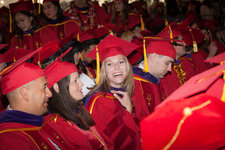 Grads at the ceremony
Since Ryan took the helm of the Washington Post in 2014, reporters have broken countless stories and served as the ever-present watchdog for representatives in Washington, and wonfive Pulitzer Prizes. The Post has also undergone a digital transformation with a big payoff — the publication has tripled its web traffic and gained a significant national and international presence.
"As new technologies emerge, we want to be on the front line," said Ryan. "So far, compared to other industries, the legal profession has been relatively shielded from technological disruption. But it would be naïve to assume that the status quo will remain forever. In fact, the legal industry is ripe for transformation."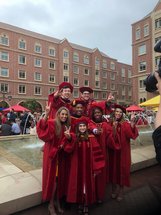 Grads gather in University Village to celebrate
Ryan also urged graduates to embrace opportunities and keep pace with "disruptive change" that requires innovation, and a willingness to experiment.
"(In) reality, most experiments fail. In these failures, though, lie important lessons that may become the seeds of future success," Ryan said.
Ryan addressed the 206 juris doctor recipients, along with dozens of faculty and hundreds of family and friends. He quipped that if the new lawyers had chosen journalism, they would be hearing Oprah Winfrey, who was delivering the commencement address at USC Annenberg, speak instead of him. "If any of you are live-tweeting these remarks, please use #BetterthanOprah," he joked.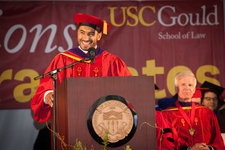 Amir Shakoorian Tabrizi, third-year class president delivers remarks
The commencement ceremony also featured remarks from Dean Andrew Guzman and president of the third-year law class, Amir Shakoorian Tabrizi, who reminded his classmates that they will always be part of the Trojan Family.
"The class of 2018 will fit-in perfectly with the larger Trojan Family because we have been, and continue to be, a tight-knit community; one that has been a rock when we needed stability and a soft cushion when we fell....Together we have woven a community through the soft, strong bonds of sharing, which weaving has also prepared us for the demands of our profession. A profession that needs lawyers tough enough to push through seemingly impassable barriers, (and) rigid enough not to bend under the weight of battle," Shakoorian Tabrizi said.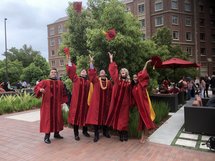 Happy 2018 law graduates toss their caps
Dean Guzman urged the graduates to be compassionate and aware of their impact on others.
"Recognize that you have an outsized influence on those around you. Recognize that you will often not even know how or when the ways in which you carry yourself and the ways in which you go about your business will find echoes in what others do. Be compassionate, and care for the less fortunate. Your actions will be multiplied by their effect on others."
In closing, Ryan encouraged graduates to stay true to the core values of their profession.
"Essential to both journalism and the law is an understanding that those who practice these professions occupy positions of immense public trust. We are expected to conduct ourselves honorably, to live and work with civility and integrity. It is incumbent upon both lawyers and journalists to always exhibit fairness—even to those who may not be fair to us."
Click here to watch Fred Ryan's speech.
Click here to watch the entire ceremony
Click here to access all photos
RECENT NEWS