Meet the Trojan trio behind an L.A. real estate empire

USC Gould School of Law
Tuesday, July 10, 2018
Each sibling runs a division of the family-owned company

By Diane Krieger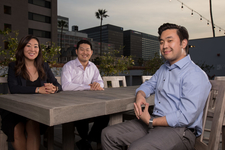 Jaime, Phill and Garret Lee on the rooftop of The Abbey, one of their company's recent apartment conversions.
Jaime Lee (BA 2006, JD 2009) is the literary one. Phill Lee (BS 2008, JD 2012) is the athletic one with a head for business. Garrett Lee (BA 2011, JD 2014) is the filmmaker and audiophile.
Yet different as they are, the three Lee siblings share some significant things in common: All are USC Gould graduates.
And all are senior executives at Jamison, the $3-billion real estate empire that owns, manages and leases more than 18 million square feet of commercial and residential properties in Los Angeles.
Each sibling runs a division of the family-owned company. Jaime is in charge of leasing and brokerage operations. Phill handles all the commercial property management. And Garrett oversees Jamison's newest branch, the multifamily development division.
"It's a very Korean way of running the company," says Jaime, CEO of Jamison Realty. The 33-year-old mother of two was recently elected to the USC Board of Trustees and is also immediate past president of the USC Alumni Association Board of Governors, the youngest Trojan and the first Asian-American woman to serve as president.
Here's a fourth Lee sibling, Brian (BA 2009, MBA 2014), who doesn't work at Jamison. A visual artist and entrepreneur, he runs a fine art gallery/wine bar in Koreatown.
ORIGINS
Jaime at Commencement 2018 with new Trojan Lawyer Olivia Hudnut.
Law school wasn't in the original master plan for the Lee offspring. "We were all supposed to be doctors," says Jaime.
As dutiful children of Korean immigrants, she explains, the siblings were expected to follow in the footsteps of their parents: Dr. David Lee, an internist, and Dr. Miki Nam (BS 1979), a dentist.
But sometime in the 1990s, the Lees started investing in what Jaime describes as a series of "random ventures:" a laundromat, a photocopy shop, a fashion modeling school.
Those early ventures didn't thrive, but things changed when the Lees started investing in the medical buildings where they were tenants. When dad asked 8-year-old Jaime what to name his company, she suggested her own nickname. And the Jamison enterprise was born.
FOUR DOUBLE TROJANS
It's no accident that all four Lee children are double Trojans. As graduates of academically rigorous Harvard-Westlake high school, they could have gone anywhere. But their father pushed them to attend USC. The family has strong Trojan ties. Mom, grandfather Andrew Nam (DDS 1972) and countless aunts and uncles were all alumni. Dad had gone to Northwestern and UCLA, but keeping his children in Los Angeles, close to downtown and Koreatown, was a top priority for the doctor-turned-real estate baron, and USC was the key to making it happen.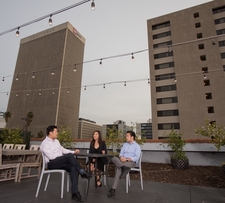 The three Lees are senior executives at Jamison, the $3-billion real estate empire that owns, manages and leases more than 18 million square feet of commercial and residential properties in Los Angeles.
They found that their USC Gould legal education laid the bedrock for understanding and eventually running a complicated real estate operation.
"It was more about getting into a mindset: how to approach creative problem solving, how to issue spot, and how to protect and advance the business," Jaime says. "USC Gould is the only law school I applied to. The education I received was phenomenal."
Jaime, who delivered the university greeting at the 2018 USC Women's Conference in March, is a capable multitasker, chairing several city and state commissions and directing the boards of various business and community organizations.
For Phill, whose undergrad major was business, USC Gould offered new insights into the family enterprise. "I had no idea how much real estate touches on legal aspects, even just contracts and negotiation tactics," says the 31-year-old, who oversees 150 employees as president of Jamison Services, the company's management side.
To stay connected with his alma mater, Phill serves on the boards of the USC Asian Pacific Alumni Association and the USC Athletics Board of Counselors. He also recently worked on his fifth-year USC Gould reunion. One of his classmates is his wife, Stephanie (Leonard) Lee (JD 2012).
Stephanie also works at Jamison — one of about 15 lawyers throughout the company, a dozen of whom are USC Gould alumni. Jaime's husband, engineer Matt Cheesebro (MSE 2009), runs the company's construction division.
Marrying into the family seems to come with an employment clause. "It's a clear warning to anyone who might be interested in Garrett," Jaime jokes.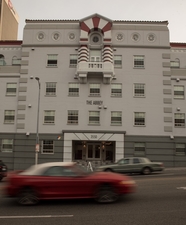 Exterior: The Abbey
For now, though, Garrett, 28, says he's married to the job. As president of Jamison Properties, he oversees the newest and fastest-growing division of the company — its development arm. When he graduated in 2014, Jamison's holdings were almost exclusively office buildings. Today, its pipeline of multifamily projects is poised to rival the commercial holdings.
Unlike his two oldest siblings, Garrett hadn't intended to work in the family business. He studied Film production as an undergraduate with the ambition of directing movies. His parents talked him into applying to law school. To his surprise, Garrett loved the intellectual challenges at USC Gould. He accepted many internships. He completed certificates in both entertainment and business law and won the Norma Zarky Memorial Award. The highlight of his Gould experience was working with documentary filmmakers in the Intellectual Property & Technology Law Clinic.
PARENTAL INVOLVEMENT
Though the siblings have big portfolios, their parents are still involved at Jamison. Their mother, who left her dental practice a decade ago, heads up the company's accounting department. Their father—who needs no title, everyone calls him "Dr. Lee" — has final say on everything.
The Lee children delight in telling tales of dad's work- fixated idiosyncrasies.
Like the time in middle school he left them without a car in Mammoth. A snowstorm had downed the ski resort's fax line, impeding his timely bidding on a real estate deal. Frustrated, he drove home.
"We joke that the company is his fifth child — arguably, his favorite child," Jaime says, playfully.
When they were children, he drilled them on business stories in the newspaper over breakfast — a habit he still indulges whenever they come to visit, which is often. All the Lees live in or within a mile of Koreatown.
FIRST GEN SHIFT
Lately, Dr. Lee has delegated the day-to-day decision making to his capable offspring.
"He feels like he can take a step back and observe what he's created," says Jaime. "We are navigating our first generational shift, which is a rare and complex process."
The siblings are hustling to prove they're up to the task of running Jamison on their own.
"His experience and instinct, we can't replace," Jaime says. "But we're learning how to look at all issues from his perspective and then synthesize that with our own judgment and expertise." She likens Dr. Lee's emerging role to "a speedboat, racing ahead, scanning the horizon for the next big opportunity. And we're back on the cruise ship, trying to keep up and making sure everything is running smoothly."
Photos by Brett Van Ort
Read More
RECENT NEWS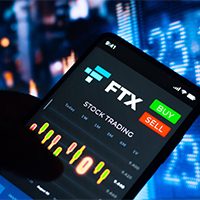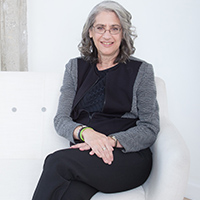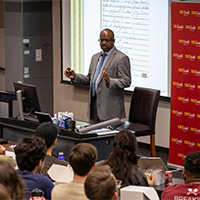 A message of hope
November 16, 2022
Judge Robert L. Wilkins chronicles family journey in 2022 Roth Lecture