Where Creativity Meets Order
Tuesday, November 20, 2018
A cybersecurity and privacy attorney chairs the OC regional USC Gould Alumni Association Committee
By Christina Schweighofer
Hand Brandon Reilly JD 2011 a blind map of the world, and he'll correctly identify nearly every country. Quizzed without a map, he'll rattle off all 195 independent states. And asked about the fictitious "Star Wars" galaxy, he'll name two-dozen planets far, far away. "I have more than a little bit of a nerd in me who likes that stuff," he says. "I like maps, geography and classifying things. I also like learning about new sets of rules and being imaginative."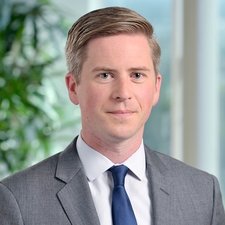 It is at the nexus of these passions, where creativity meets order, that the English major fascinated by science fiction has found his professional niche. Having thought for a while that he might become a journalist or a fiction writer, he decided to study law instead. Now an attorney with Manatt, Phelps & Phillips in Orange County, he specializes in data security and privacy and, more recently, in compliance. "I've always been a bit of a futurist and into technology and what it means for our society," he says. Being at the forefront of issues that technology brings for consumers and companies is a natural fit.
Reilly spent the past few years building a business unit for Manatt with attorneys and non-lawyer consultants who understand corporate operations and internal issues and know how to work with policies and procedures in a company. "We're trying to do a wrap-around professional services model as opposed to just legal services," he says.
He may identify as a nerd, but he is not single-minded. Among his favorite experiences at Gould were classes with a liberal arts feel such as History of American Law, and Law, Language and Ethics as well as the Hale Moot Court Honors Program, which he chaired as a 3L. "It got the competitive side of me going," he says.
Reilly, who grew up in the Sacramento area, has stayed involved with Gould by helping out with the moot court program every year as a judge. Additionally, he recently started a two-year term leading the USC Gould Alumni Association in Orange County where USC has traditionally had a strong presence. "You're always seeing USC hats and flags," Reilly says, adding that the demographics in the county have been changing toward an increasingly diverse, vibrant and young community.
For him, catering to the network of local Gould alumni means broad programming. "I want to engage the alumni with a wide range of programming for different interests, such as happy hours at bars, family-oriented events like beach cleanups and lectures.
Speaking of family, he and his wife, Shana, a behavior analyst for children on the autism spectrum, have a 17-month-old daughter and a 3-year-old son. His son already has an affinity for classifications and maps. Not to mention an obsession with "Star Wars" that, to his dad, feels familiar.
RECENT NEWS