A Lawyer Who Can Code
Wednesday, November 21, 2018
Jef Pearlman, interim director of the IP Clinic, brings a background in tech to his teaching
By Anne Bergman
While working as a software architect in the tech world, Jef Pearlman often heard the lament that there weren't many lawyers who understood technology. In other words, few lawyers could craft thoughtful policy, and even fewer could lead the charge through the multiplying challenges of adapting the law to the digital age.
So, he decided to become a lawyer.
With bachelor's and master's degrees in computer science from MIT and a JD from Stanford Law, combined with legal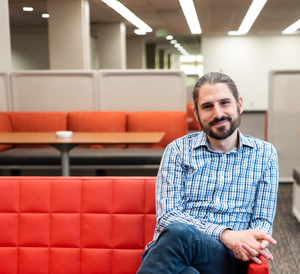 Jef Pearlman, interim director of the IP Clinic
experience on the IP policy side (advocacy group Public Knowledge) and as a litigator for an international law firm (Covington & Burling), Pearlman seems perfectly poised for the task.
He joined Gould this fall as interim director of the IPTLC, which provides pro bono intellectual property legal assistance to filmmakers, artists, game-makers and entrepreneurs. He arrived after four years as the assistant director of Stanford Law's Juelsgaard Intellectual Property and Innovation Clinic, where he supervised and trained law students to represent nonprofits, artists and entrepreneurs in the heart of the Silicon Valley.
Pearlman is enthusiastic about the transition to the Los Angeles area eager to continue the IPTLC's collaborative efforts with USC's student filmmakers and game developers. "There is a fantastic variety on the content creation side — from documentary filmmakers to studios making blockbuster movies and large publishers. Plus, there's the growth of Silicon Beach-based tech startups."
"Like all clinical teaching, the core of the student experience is representing real clients, whether they are creators or tech policy advocates," he says. "Legal practice is all about helping clients, and working for a client in a clinic gives you a real sense of what that means. In the IPTLC, students will get direct exposure to artists and entrepreneurs who aren't trained to fully think through legal issues, and will help them realize their own professional goals."
In addition to advising on legal issues related to fair use in copyright law, and helping small businesses obtain trademark protection, Pearlman plans to teach his students to understand the sometimes-competing interests of creators in controlling use of their works and of the public in freely participating in culture.
"If you're going to be a good advocate, you need to understand the other side's best arguments and what they want to accomplish. Why do they think you're wrong? What are the merits to their side? For the most part, I want to encourage my students to think critically about all sides of complex issues while still zealously representing their clients."
With both his public interest policy background as a staff attorney at Public Knowledge, and his corporate law firm experience at Covington, Pearlman hopes for opportunities to engage his students in policy work, such as participating in local government efforts to preserve "net neutrality," as well as filing amicus briefs on behalf of artists and entrepreneurs, and members of the media in cases that he says "will define IP law for decades to come."
Overall, he says, he's excited to be teaching at Gould, "I have seven excellent students who are prepared to accomplish great things!"
RECENT NEWS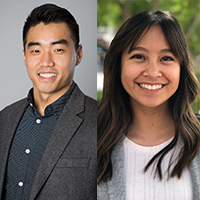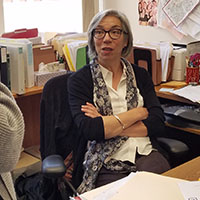 Justice Advocates
August 3, 2019
Led by Prof. Clare Pastore, practicum students work with nonprofits on civil rights, poverty, disability and access.