Her Curiosity Runs Deep
Wednesday, November 21, 2018
Professor Dorothy Lund explores untapped topics in corporate law
By Christina Schweighofer
When Dorothy Lund was still an associate with Sullivan & Cromwell LLP in New York, she would often question the rationale driving legal rules: Why do we draft a document like this? Why does this industry work the way it does? But her curiosity would invariably clash with the clock."You don't get a lot of time to slow down and think more deeply," she says about her one-year stint in private practice.
Lund, who this fall joined USC Gould as an assistant professor of law, has since found ways to satisfy her perpetually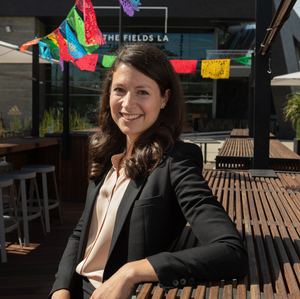 Prof. Dorothy Lund, who enjoys exploring L.A.'s diverse culinary scene, photographed at the latest gourmet food hall, Fields LA, located adjacent to the L.A. Coliseum.
inquiring mind. A cutting-edge researcher in the field of business and corporate law, she explores untapped topics, such as the corporate governance implications from the increasing role of institutional investors, or how corporate law may serve as a catalyst for social and organizational change.
A recent paper she co-authored, "Sexual Harassment and Corporate Law," examines the role of corporate and securities law in regulating and remedying sexual misconduct in the workplace. It looks at sexual harassment by CEOs or top employees as an issue for the corporation and not just for society, with repercussions for worker productivity and stock prices. Lund says: "We [argue], this is a problem that shareholders have something to say about and that the boards of directors need to be talking about."
Lund, who came to USC Gould via the University of Chicago Law School where she was a lecturer in law and Bigelow Teaching Fellow, received her JD from Harvard University and clerked for two years for judges on the Delaware Supreme Court and the U.S. Court of Appeals for the Seventh Circuit.
This fall, she has been teaching one of her favorite classes, Business Organizations. While it covers some of the theoretical debates in corporate law, her goal for the students is very practical: she wants them to leave "feeling they are ready to hit the ground running in any career in business law they choose."
Apropos of running — Lund is a passionate runner. "It's actually how I get ideas," she says. "If I get stuck on a paper, I'll go for a long run, and things fall into place." She and her husband, a chef turned corporate lawyer, also enjoy exploring L.A.'s diverse culinary scene, tasting their way through North African tacos and authentic Chinese food. "We have a long list of places we want to try," Lund says. A curious mind never rests.
RECENT NEWS