Transforming Criminal Justice
Monday, December 3, 2018
Philadelphia D.A. Larry Krasner, a former defense and civil rights attorney, talks reform
By Anne Bergman
Professor Jody Armour and Philadelphia District Attorney Larry Krasner dug into the topic of criminal justice reform at two events hosted in October by USC Gould.
Calling Krasner "the most transformational elected politician" in the U.S., Armour said that Krasner represents a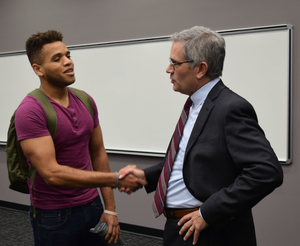 Philadelphia D.A. Larry Krasner meets Gould student Jalen Russell
"radical change" from prosecutors in years past. Krasner's visit to Gould, where he met with students and faculty, Armour said, reflected how the law school is striving to be a "school of justice."
As a former defense and civil rights attorney with no previous experience as a prosecutor, Krasner was the unlikely victor in the 2018 race to become Philadelphia's D.A. Now he's seeking to transform the criminal justice system from within.
Krasner, who was recently featured in the New York Times and The New Yorker, visited Gould as part of a recruitment tour of the country's top law schools. He aims to hire "people who want to be public defenders, the best and the brightest who haven't broken their moral compass."
"If you are pursuing criminal justice, I think the moral choice is to be a progressive prosecutor. People want to be public defenders are who I'm looking to hire," he said.
Krasner also discussed his goals as D.A.: fix the broken cash-bail system by eliminating cash bail for minor charges; address police and prosecutorial misconduct and end mass incarceration.
Prof. Armour asked Krasner if during his quest for a restoration model of justice, how does Krasner view his broader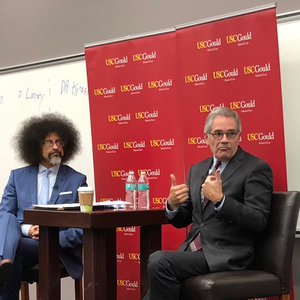 DA Krasner (right) and Professor Jody Armour (left)
obligation to the Philadelphia community as a whole?
Krasner replied: "The key to it is to not care if you get re-elected and do the things you believe are right, but that are also buttressed by data."
For instance, he said, sentencing guidelines have "zero criminal logic behind them. When you do a sentencing, you have to let the judge know how much it's going to cost. It makes lawyers, especially young attorneys, think about the way the money is being spent and the value of those expenditures. That money could be spent instead on housing and treatment."
"How do you personalize the progressive prosecutor?" Prof. Armour asked.
"A prosecutor is the main link to the family of the victim," Krasner said. "Victims also need justice and they need to understand why the crime happened. A history of being victimized can lead to the further victimization by the victims themselves. If you don't deal with people's trauma, you will see people deal with it on their own in violent ways."
"For me, properly caring for victims is the same as crime prevention," said Krasner in conclusion.
Later that evening, Prof. Armour continued the discussion with Krasner in Armour's home, attended by Gould alumni and students, as well as community activists and concerned citizens.
RECENT NEWS