The Next Chapter
Thursday, February 28, 2019
By Julie Riggott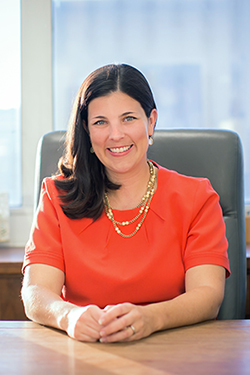 Jenny Farrell, JD 2011, is now executive director of Mental Health Advocacy Services (MHAS).
Jenny Farrell (JD 2011) didn't want to be a lawyer. Her parents had a small general practice law office in Montrose, Calif., and asked both her and her brother if either wanted to take over the practice some day. Both adamantly said no. So the Law Offices of Potter, Shanley and Shanley, started by her grandfather in the 1940s, closed its doors when her parents retired.
Five years later, Farrell decided to go to law school.
Now, a little more than seven years out of USC Gould, Farrell is taking on a major role in public interest law in Los Angeles. As executive director of Mental Health Advocacy Services (MHAS), she joins an organization that has worked to protect and advance the legal rights of people with mental disabilities through advocacy, education and impact legislation for the past four decades.
Something about law had obviously struck a chord.
"My parents were both very social justice-oriented, and my brother and I learned about that from an early age," Farrell says. "We saw how people with less money obviously didn't have the same opportunities and access to the same benefits as others. My parents charged very reasonable rates, but I remember getting sweaters or baked goods at Christmas from some of my parents' clients who couldn't afford to pay their legal bill and wanted to show how appreciative they were of my parents' help."
Farrell realized early on: "I always wanted to be a change maker and part of a greater social justice movement."
After studying government in college, Farrell worked in the nonprofit sector for five years doing communications and fundraising work for an environmental nonprofit and international health NGO. That's when she realized: to be a leader in the nonprofit world, she should become a lawyer.
Farrell took a tour of Gould, where her father Barry had been an undergrad at USC, class of 1972. "I liked everything about it." It turned out that the tour guide was the PILF president. "They said, and I found this to be very true, that USC isn't necessarily known for being a public interest law school, but the students and faculty who are dedicated to public interest are dedicated one thousand percent."
Throughout her law school career, Farrell clerked and volunteered with Public Counsel. As a 2L, she participated in the Post-Conviction Justice Project, earning parole release for two women who had each been in prison for more than 20 years. As a 3L, she was named Public Interest Student of the Year. She also earned the Mason Brown Award for showing promise in public interest and trial work.
Before taking the helm at MHAS on Jan. 2, Farrell was director of external relations at the Los Angeles Center for Law and Justice. She worked with pro bono attorneys, raised the profile of legal aid in L.A. and fundraised — all things she will do at MHAS. Farrell filled the role held by longtime Executive Director, and Gould lecturer, Jim Preis (JD 1979), who passed away in October 2018.
"I see MHAS as remaining that beacon organization that's committed to those core values that Jim stood for — for respecting everyone's right, regardless of their mental ability, to make their own legal and health choices," she says. "It's a wonderful organization, and I'm really honored that the board has entrusted me to lead it into this next chapter."
Barry and Sue Shanley are proud parents who say their daughter was made for this job. "She's always been a passionate person, and she cares about helping people. Helping people who can't access the legal system on their own is a perfect match for her."
RECENT NEWS