First Fellow
Tuesday, April 30, 2019
Immigrant Justice Corps selects its first Gould student for prestigious fellowship
By Kristy Hutchings
USC Gould School of Law 3L Rebecca Taylor was inducted into the 2019 Immigrant Justice Corps Fellowship Class,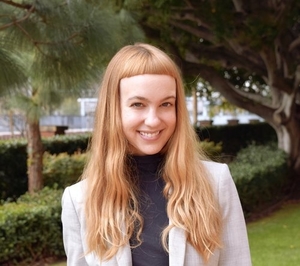 3L Rebecca Taylor, IJC Fellow
becoming the first Gould student to receive the highly sought-after honor.
Immigrant Justice Corps (IJC) is the country's first fellowship program dedicated to providing immigrants with high-quality legal representation.
This February, IJC selected 27 law graduates from top law schools around the country to participate in the distinguished Justice Fellowship. The IJC selected Taylor after meeting her this fall at a lunchtime talk with IJC's Executive Director Jojo Annobil.
IJC "trains Justice Fellows to become experts in immigration law and pairs them with leading non-profit legal services providers and community based organizations," according to their website.
Robert A. Katzmann, Chief Judge of the U.S. Court of Appeals for the Second Circuit who originated the idea for the IJC, noted the organization's "transformative impact on the quality of representation for immigrants" in a statement. Judge Katzmann added that because of the Justice Fellows, "immigrants will have a far better chance to realize the American dream for themselves and their families."
Personal Passion
Taylor is among the group of elite professionals chosen to continue to advance the legal rights of immigrants and asylum seekers in the United States.
Around 10 years ago, Taylor's path towards law school was kick-started when she began volunteering with immigrants from Mexico and Central American in her hometown of Des Moines, Iowa. Through her experiences, Taylor was exposed to the injustices and hardships that immigrants face. She developed a passion for immigrant's rights, and sought to build a career that would enable her to make a difference in the lives of marginalized and underserved communities. At Gould, Taylor was able to make that dream a reality.
With support from Gould's
Immigration Clinic
, Taylor represented detained asylum seekers in immigration court. Additionally, Taylor represented unaccompanied minors before U.S. Citizenship and Immigration Services with Esperanza Immigrant Rights Project during her time at USC.
"The projects I have worked on during my time in law school have allowed me to connect with clients from all walks of life," Taylor explained. "Listening to their stories, walking with them through remembered pain, and witnessing their continuous strength and courage have confirmed my commitment to immigration and human rights law."
Commitment to Systemic Change
Now, through Immigration Justice Corps, Taylor will serve as part of the Refugee Representation Team for Human Rights First in New York City, where she will be able to continue that commitment to the defense of human rights. Taylor explains that throughout the fellowship, she will "focus largely on providing legal representation for asylum-seekers in defensive removal proceedings."
Taylor plans to combat decisions that devalue and undercut basic protections for immigrants every day. "I will conduct administrative hearings in front of a judge in immigration court to argue for why my clients are eligible for asylum under national and international law," she explained.
Above all, Taylor hopes to be able to contribute to systemic change with the help of the many resources associated with the IJC fellowship. Taylor explained that having access to a network of experienced immigration practitioners, as well as a national base of legal resources and training, will provide insight into the avenues by which she can "help to improve legal representation of immigrants and fundamentally redesign our immigration system."
RECENT NEWS