Gould Admissions Expands Outreach Efforts
Friday, May 17, 2019
Law school exploration workshop opportunities extended to high school students
By Kristy Hutchings
In January, the Gould Admissions team in partnership with the Law School Admission Council's Diversity Matters Initiative, welcomed community college students to campus to experience as part of an outreach effort to make law school more accessible for everyone.
Prospective students were encouraged to participate in mock-classes, panel-discussions, and networking opportunities that Gould offers. Brenda Cortez-Martin, Gould's Associate Director of Admissions, expressed the university's desire "to be able to provide more of these Law School Exploration Workshops in the future and to expand the types of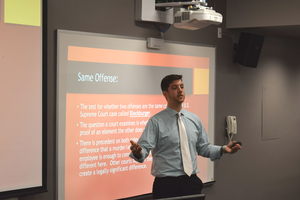 Michael Mottweiler (JD 2019) teaches high school students
experiences we can offer."
Now, Cortez-Martin and the Gould Admissions team delivered on that promise. As of March 2019, the workshop is available not only to community college students -- but to high school students as well.
On March 1, Gould hosted students from the Juan Rodriguez Cabrillo High School in Long Beach. The school is a participating academy in California Law's Pathways to Law School efforts to "To establish a pipeline of diverse students from high schools, community colleges, four-year institutions, and law schools into law or law-related careers so that the legal profession reflects the diverse population of the State of California."
As when the community college students visited, the high schoolers were able to sit in on a mock class. This time around, however, it was a little different. Conducted by Michael Mottweiler and Shelby Lindholm (both JDs, class of 2019), the day's lecture focused on two cases relating to the Fourth and Sixth Amendments -- which happened to be the same cases being argued later that day in the 70th Annual Hale Moot Court Finals.
Later, the students were able to attend the moot court final round of competition, and see the value of a legal education in action.
According to Cortez-Martin, the guiding principle of the high school exploration workshop is that it's never too early to beginning planning for college. "I determined that high school was an important and critical time for early-outreach,"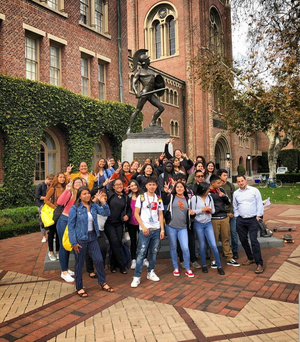 High schoolers "Fight On!" with Tommy Trojan
explained Cortez-Martin. "We must plant the seed of encouragement and empowerment early on."
Cortez-Martin also touched on the importance of reaching out to youth growing up in marginalized communities. "One reason why I selected Juan Cabrillo, is because there is a high number of Latinx students," she explained. "Outreach programs will always be very important, especially when we think of first generation students and/or under-represented minority groups."
Scott Newman, who teaches Social Science at Cabrillo, agreed that the students who attended the workshop came away not only with a better sense of what law school is like, but a realization that it might be an option for them. "The program allowed students to see that law school was attainable and that people from all walks of life and backgrounds attend law school," he said. "It's not only for those who knew they always wanted to be lawyers, or who grew up with money. My students saw that people like them attend a top- tier law school and know that they too can reach those heights through hard work and perseverance."
The efforts of the Gould admissions team are ultimately to continue building pipelines for underprivileged students. "My hopes are that we are contributing is some manner and helping students to think big -- to think about a career in law," said Cortez-Martin. "Their life perspectives are very important."
RECENT NEWS