Fifth Annual Wellness Week Features Panels and Puppies
Friday, May 17, 2019
Student Support Office, with Graduate and International Programs, promote wellness
By Kristy Hutchings
For as long as it's been around, the Student Support Office at Gould has worked to find the best ways to help students maintain a state of well-being, especially during high-stress times like finals week.
Established in the spring semester of 2014 by Dean of Students Kyle Jones and former Assistant Director of Student Services Debra Barnett, Wellness Week has been a key fixture of the Student Support Office's outreach efforts.
Although the week's events have evolved significantly over time, "the core of its programming is to remind Gould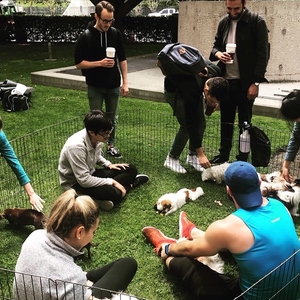 Gould students unwind with cute puppies!
students to take care of themselves as they prepare for final exams," said Yasmine McMorrin, Associate Director of Student Support.
In order to "continue to present the best-suited programming for students," said McMorrin, Student Support partnered with Graduate and International Programs to gather student input on the activities most effective to support them.
With feedback from students on what works best, Student Support and GI&P put together this semester's events. The activities, which took place April 1-April 4, included "Tea Tasting" and "Succulents, Pups, Arts & Crafts." Coupled with these light-hearted events were more serious panels, including a discussion about Sexual Assault Awareness Month and a discussion featuring Mindful USC.
Wellness Week is an essential tool that the Student Support Office uses to encourage campus-wide, collaborative work with other support offices to promote student awareness of resources available to them through the university. Throughout the week's events, the SSO is able to teach students about "Counseling and Mental Health Services at Engemann Student Health Center and mindfulness courses offered by Mindful USC, while also providing lighter content like bringing puppies to campus and providing breakfast," explained McMorrin.
Moving forward, the Student Support Office intends to find even more ways to promote awareness and mindfulness regarding student health. While the next Wellness Week will continue the tradition of panels and presentations that promote student wellness, the SSO is hoping to incorporate "mini-massages for students to drop in an experience," said McMorrin. Additionally, the office is hoping to develop a community service component into Wellness Week in the future.
"Our students truly respond and look forward to our activities at the end of the semester," explained McMorrin. "Our goal in the development of Wellness Week is to continue to expand on our well-being resources that are available."
RECENT NEWS