Allied in the fight for equality

USC Gould School of Law
Thursday, June 20, 2019
Gould alumni reflect on high points, challenges, and opportunities
By Christina Schweighofer
In 2012, OUTLaw students at USC Gould made history when they created a fund to endow the first student-run scholarship on campus. Designed to benefit LGBTQ+ students and students working towards LGBTQ+ equality through the law, the scholarship immediately drew support from law school alumni and the larger community; OUTLaw students along with Gould's Development and Alumni Relations team have so far raised more than $200,000 for the endowment. Fifty years after the Stonewall Riots launched the modern LGBTQ+ rights movement, with much to celebrate given the progress made but with the understanding that more work lies ahead, USC Gould alumni (plus one current student) reflect on milestones, challenges and their support for OUTLaw.
CHANGE FROM THE INSIDE OUT
SETH LEVY (JD 2001)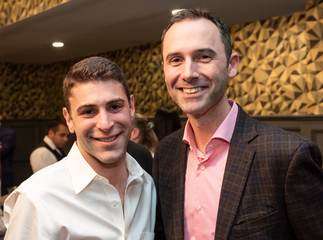 OUTLaw scholarship founder Elliot Rozenberg (JD 2013), left, pictured with Seth Levy (JD 2001), chairman and CEO of the It Gets Better Project
When Seth Levy JD '01 first heard about plans for an endowed OUTLaw scholarship, he knew he would support the project. Aside from benefitting individual students who face disadvantages and often lack parental support, it carried an innate long-term promise: to ensure, in his words, "a pipeline of lawyers who are going to change the profession from the inside out." But there was another reason Levy decided to back the student-run initiative. A partner at Nixon Peabody and current chairman and CEO of the It Gets Better Project, he remembers USC as a welcoming place for LGBTQ+ people from day one. "It was a comfortable, supportive environment," he says. More than a decade after his graduation, the creation of the OUTLaw scholarship provided Levy with a "relevant opportunity to give back" and to promote USC as a center for LGBTQ+ support. Already instrumental in setting up the scholarship, Levy more recently made a pledge — it is the largest individual gift to date — that pushed the fund to the $200,000 mark. Levy lauded USC Gould for its support of the student-run endeavor. "Students are only there for three years, and the consistency of the scholarship is only possible because it is institutionalized at the law school," he says.
SENDING A MESSAGE
JOHN HEILMAN (JD 1982, MPA 2007, MRED 2009)
John Heilman JD '82, MPA '07, MRED '09 knows from personal experience what a difference a scholarship can make. Coming from a single-parent home and lacking resources of his own, he worked during law school but still considered dropping out because of the financial pressure. In the end, a scholarship from the Irmas family — longtime supporters of USC and USC Gould — allowed him to complete his studies.
Heilman has used his law degree to advocate and fight for gay rights. Actively involved in the incorporation of the City of West Hollywood in 1984, he has since then served on the city council and is currently in his ninth term as mayor. He was instrumental in creating the domestic partnership registration program for city employees. Heilman is on the board of OutRight Action International, an organization that works on advancing LGBTQ+ rights globally, and his leadership on the issue of AIDS earned him the 1990 U.S. Conference of Mayors Award. An award-winning lecturer at USC Gould, Heilman thinks the OUTLaw scholarship sends a signal. "It shows how welcoming the law school is for the LGBTQ+ community. It helps us attract not only great LGBTQ+ students, but students who want to study at a school which is diverse, inclusive and on the cutting edge of legal education."
UNITING A COMMUNITY
ELLIOT ROZENBERG (JD 2013)
Elliot Rozenberg JD '13 feels a sense of awe when he reflects on the growth of the OUTLaw scholarship fund. "It is incredible to think that in just seven years this organization has raised over $200,000," he says. What's more, the endeavor has united a community far bigger than USC Gould around a single cause. Rozenberg, who is senior commercial counsel at e-commerce company FabFitFun, had the idea for a scholarship fund in 2011 while working on what was back then a small annual OUTLaw endeavor to raise a few thousand dollars that were spent right away on one-time grants for students. Rozenberg says that he wanted to create "something bigger and more impactful, something to help more people afford law school and take the civil rights jobs that often don't pay as much." The OUTLaw scholarship immediately drew the support of organizations like the Los Angeles LGBT Bar Association. Law firms from the area see the value in sponsoring the fundraiser in April and bring along lawyers and non-lawyers from USC and other schools. "That's one big difference between this scholarship and a lot of others," Rozenberg says about OUTLaw's broad appeal.
THE NEED FOR STRAIGHT ALLIES
LAURIE HASENCAMP (JD 1985)
With less than 5 percent of the U.S. adult population self-identifying as lesbian, gay, bisexual or transgender, the community needs allies. One such ally is Laurie Hasencamp JD '85, a member of the USC Gould Board of Councilors and a longtime LGBTQ+ rights advocate. Hasencamp has battled LGBTQ+ discrimination for nearly 20 years. In addition to volunteering at a number of LGBTQ+ nonprofits, she is also a current board member of Equality California, a former board member for Lambda Legal and a former acting director of strategic education and initiatives at the Williams Institute.
"In many states, it's okay to fire someone or make other adverse decisions based on their sexual orientation or gender expression and I want to work against that," she says. "It should be looked at as something that is not even up for debate."
A recipient of several awards recognizing her work as an ally, including the 2017 Ally Leadership Award from Equality California, she points out that allies sometimes find it emotionally easier than LGBTQ+ people to fight against discrimination because it doesn't affect them personally in the same way.
Hasencamp, a retired attorney who practiced at Latham & Watkins and Irell & Manella, encourages law firms to be very visible in their support of LGBTQ+ efforts like the OUTLaw scholarship, not least because it will help them attract clients who value diversity and the best and brightest lawyers, as well as show support for their LGBTQ+ attorneys and staff. "It's important for LGBTQ+ students, who are often at the top of the class, to understand that a law firm is going to be welcoming and supportive," she says.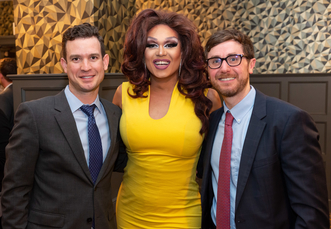 Nearly 100 supporters attended the 2019 OutLaw reception in April, and more than triple the funds were raised from 2018. The reception also featured keynote speaker Mariah Paris Balenciaga, pictured here with Ryan Guiboa (JD 2012) and Alex Menenberg.
WORKPLACE IMPACT
JOHN IINO (JD 1987)
John Iino JD '87 knows something about diversity and inclusion. As chief diversity officer at Reed Smith, he leads the global firm's inclusion efforts. "Study after study shows that diverse teams lead to better performance and results," he says. "Diversity of experience, thought and background — whether it be race, ethnicity, geography, gender, sexual identity, sexual orientation, ability, religion, age, social or economic background, or military service — all are critical ingredients to successful outcomes for our personnel and our clients."
As chair of Gould's Board of Councilors, he believes OUTLaw scholarships "send a strong and important message to the legal industry — that USC Gould believes in, supports and sponsors opportunities for students of diverse backgrounds. Students are encouraged to bring their authentic selves to the community."
Leading Reed Smith's diversity and inclusion efforts, Iino has seen the firm reap rewards in recruiting, retaining, supporting and promoting their talent pool. In addition, for the sixth consecutive year, the Human Rights Campaign has acknowledged the firm's institutional progress on LGBTQ+ causes with a perfect score on their Corporate Equality Index.
"That's really important to us," he says. "We want to do more than just pay lip service to these efforts. I want to ensure that we devote resources and support from the leadership level."
ARC OF CHANGE
KAREN LASH (JD 1987)
Karen Lash JD '87 tracks the arc of change for LGBTQ+ people by looking at the Department of Justice, where she worked for six years as a President Obama appointee. The official DOJ policy when she graduated was: "No gay or lesbian attorneys allowed."
She recalls: "I couldn't get a job with the Justice Department."
One and a half decades later, when John Ashcroft and Alberto Gonzales served as attorneys general, the DOJ Pride employee resource organization was tolerated but with constraints on how it could advertise and where it could meet. Under the leadership of U.S. Attorneys General Eric Holder and Loretta Lynch, the Justice Department fully celebrated and endorsed DOJ Pride.
Lash, who worked in the Office for Access to Justice starting in 2010 and served as executive director of the White House Legal Aid Interagency Roundtable, considers the six years at the DOJ her proudest professional achievement. One of her bosses, Associate Attorney General Tony West, played a pivotal role in the process that resulted in Holder and Obama withdrawing their support for the Defense of Marriage Act (the federal law that defined marriage as the union of one man and one woman). In 2013, the Supreme Court decided in United States v. Windsor that the federal government cannot discriminate against married lesbian and gay couples.
"It was exhilarating to work in that Justice Department," Lash says. "I could not be legally married with a kid but for my bosses West and Holder."
A NEW GENERATION
SAM FEIN, JD CLASS OF 2020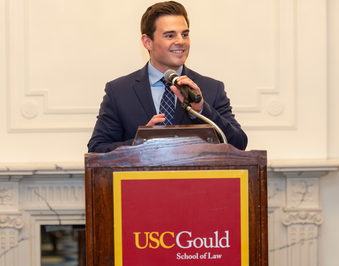 Sam Fein, JD Class of 2020
Third-year student Sam Fein, the outgoing chair of the OUTLaw student group at USC Gould, is well aware of the responsibility that comes with the scholarship. "I was lucky enough to be the recipient [in 2017]," he says. "By organizing the big reception this year, I was able to pay it forward and help a future student pursue a legal degree."
LGBTQ+ rights may have advanced significantly even in the short time of the scholarship's existence, but there is still much work ahead. Title VII of the Civil Rights Act of 1964 does not include protection of people identifying as LGBTQ+. So far only 21 states and the District of Columbia prohibit discrimination based on sexual orientation and gender identity, and a federal Equality Act introduced in Congress in 2017 is unlikely to pass the Senate.
Seeing himself as "part of a generation where a lot of the heavy lifting was done by the people before us," Fein believes the main task for his peer group is to be visible. "What's most important now is that people who are living their true selves be out and open and public and let people know that we aren't going anywhere."
Interested in OUTLaw? Contact: outlaw@lawmail.usc.edu or aedinger@law.usc.edu
Read More
RECENT NEWS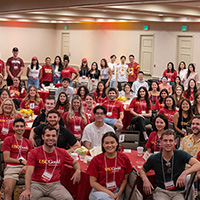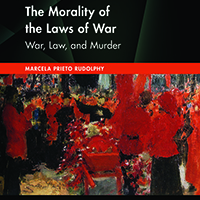 Facing the tragedy of war
September 13, 2023
Professor Marcela Prieto's new book, "The Morality of the Laws of War," argues for strengthening international law to el...