The legal rules of the game

USC Gould School of Law
Tuesday, July 16, 2019
USC Cinematic Arts student game developer gains creative stimulation from Intellectual Property and Technology Law Clinic.
By Carren Jao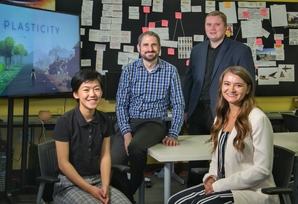 From left: Game developer and USC Cinematic Arts student Aimee Zhang with IPTLC Director Prof. Jef Pearlman and IPTLC participants Austin Stenberg and Christine Cheung
Imagine being able to travel in time to see how choices you made about the environment have impacted your world. That's the idea behind "Plasticity," a video game dreamed up by a USC Cinematic Arts student and currently under development by a multi-school team. With branded single-use plastics as the game's focus, intellectual property issues are a key part of its development. Enter the USC Gould School of Law's Intellectual Property and Technology Law Clinic (IPTLC).
While Interactive Media and Games Division student Aimee Zhang (2019) works to finish the game along with a 32-person team of students from various USC schools and Art Center College of Design, IPTLC participants Christine Cheung (JD 2020) and Austin Stenberg (JD 2019) are helping Zhang navigate the complex world of intellectual property rights.
"They've really given me more confidence in how copyright and fair use operate, especially within the context of a video game," says Zhang.
The USC Gould School of Law's Intellectual Property and Technology Law Clinic, directed by Prof. Jef Pearlman, gives 2L and 3L students two semesters of real-world experience preparing them for their legal profession after graduation. Participating students tackle most everything, from drafting contracts to advising award-winning filmmakers, game designers and entrepreneurs, among others.
Participating in the law clinic is a win for Zhang, but also for Stenberg and Cheung, who will walk away with valuable experience relevant to their careers.
"While a bit of a generalization, a lot of the legal positions that law students hold during their first- or second-year summers are less hands on," Stenberg says. "Oftentimes, law students are relegated to a more behind-the-scenes role, with the practicing attorneys understandably engaging in more face time with the clients. The frequent one-on-one communication that we have with clients is an incredible opportunity to develop our client relations and rapport-building skills, a special opportunity that most law students never get to have."
Zhang came up with the game's concept with fellow student Michelle Olson (2020) in January 2018. It places players in the year 2140 in a world overrun with plastic, leaving lifeless cities, flooded towns and widespread debris. "Our goal is to create a game that encourages others to be more sustainable," says Zhang. "We want players to say, 'I feel empowered to make a change. I feel introspective and reflective about my personal relationship to plastic. I made a mistake, but I can fix it.'" In the game, players are tasked with solving puzzles by creating solutions. Players then return to the same area 10 years later to see the impact of their choices.
Zhang says working with the law students in the clinic has improved her game. Because of the game's focus on single-use plastics, she needed to be really careful about how objects within the game appear — the shape, color, design and branding of packaging — but now she has gained the confidence to actually leave things in.
"Initially when I didn't have access to legal expertise, I self-censored content out of fear of facing a lawsuit or legal trouble," says Zhang, who aims to release the game by June. "Now I feel I have a better understanding of what my limits are, of what I can and cannot do."
Pearlman noted the value of this project not only for law students, but other schools at USC.
"Projects like this give our law students and students from other schools something they're unlikely to find in their other classes — the real-world experience of lawyers and clients working together toward a common goal," he says. "Our partnerships with the USC School of Cinematic Arts and its Interactive Media and Games Division are examples of the types of representation we do, inside and outside the school, giving our students hands-on opportunities to tackle challenges they'll face in their careers."
Read More
RECENT NEWS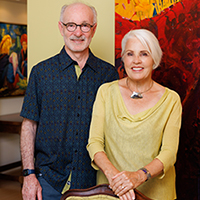 Shaped by education
January 23, 2023
Opportunity for future students motivates John (JD 1979) and Alaine Weiss to include USC Gould in their estate plans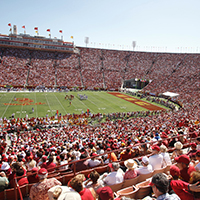 From torts to sports
January 20, 2023
Alums Richard Rosenblatt, Ted Russell team up on Autograph, a new venture bringing Web3 to entertainment and sports