Focused on hope

USC Gould School of Law
Tuesday, July 23, 2019
Wende Nichols-Julien (JD 2009), CEO of CASA-LA, works to improve the lives of foster children in L.A. County.
By Jill Barone
Wendelyn (Wende) Nichols-Julien (JD '09) does not do anything in a halfhearted way. As the CEO of Court Appointed Special Advocates of Los Angeles (CASA-LA), an attorney, a facilitator and a mother of four, Nichols-Julien is a passionate leader.
Originally from Flagstaff, Ariz., Nichols-Julien comes from a family dedicated to social service, and it was obvious she would follow in their footsteps. However, she did not take the typical path to law school. When she began at Gould, she already had a family and had spent nine years working as a community organizer.
"I was not the typical young law school student," Nichols-Julien says. "However, Gould offered an excellent education and provided a different perspective to my work. My time there was invaluable; I learned so much that I still use in my current role. Additionally, I had the opportunity to connect with brilliant lawyers, many of whom support my work today and vice versa."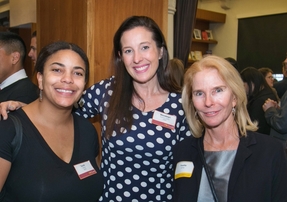 At the USC Gould Alumni Association's Graduating Student Reception, Wende Nichols-Julien JD '09, center, gave advice to the newest alumni.
During her 1L year, Nichols-Julien was seated with a public interest attorney at the Alumni Mentor Lunch who recommended that she gain experience at a firm and then move on to the nonprofit world. She took this advice to heart and began working as an associate at Manatt, Phelps & Phillips LLP after graduation.
Although she learned much from her time at Manatt, her passion for public interest work led her to an executive director role at the California Conference for Equality and Justice (CCEJ). There she oversaw education and conflict resolution programs that served more than 7,000 people annually before moving on to CASA-LA.
"CASA is the perfect blend of my personal and professional interests," Nichols-Julien says enthusiastically. "I have worked my entire life to help children thrive in adverse situations. The opportunity to work with youth who have experienced neglect and help to make a positive change in their lives is so rewarding. There's also the legal component of this work that both appeals to me and capitalizes on my education and past experience."
CASA-LA is a nonprofit organization completely serviced by volunteers, who are responsible for all direct work with abused or neglected children. These children have been placed into foster care under the protection of the Children's Court. Each volunteer works closely with a child, helping to comfort them through emotional trauma and transition, making sure they receive necessary health care, attending school meetings and court appointments and much more.
"Our volunteers are the most loving, energetic and diverse group of people," Nichols-Julien says. "They spend at least 15 hours per month on behalf of the children with no reward except for the knowledge that they are making a difference in a child's life."
Nichols-Julien's motivation to help children goes beyond her day-to-day work. She adopted her daughter at age six after she had spent four years in foster care. Her daughter is now 16, and Nichols-Julien remains determined to protect other children who are going through what her daughter experienced. Additionally, CASA's location in the Children's Courthouse makes it easy to stay motivated.
As Nichols-Julien says: "We are focused on hope."
RECENT NEWS