First Gen Family
Friday, July 26, 2019
Gould alumnus John Molina (JD 1989) endows First Generation Professionals Program, named after Molina's father.
By Leslie Ridgeway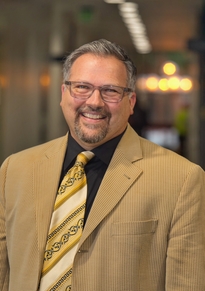 USC Gould alumnus John Molina JD '89
In March, USC Gould alumnus John Molina (JD 1989) made a substantial contribution to the advancement of Gould's First Generation Professionals (FGP) program, one of the first administratively run support programs of its kind among law schools nationwide. He presented the school with a $3 million gift to endow the four-year-old program as the C. David Molina First Generation Professionals Program — named in honor of Molina's father — and create the John Molina Scholarship Fund, supporting this vital effort in perpetuity.
Following the announcement, Molina engaged in a Q&A with Dean Andrew Guzman as part of a "Conversations with the Dean" event, discussing his education and work experience, why first generation programs are important, and his latest venture, Pacific6 Enterprises, which focuses on projects that positively affect people and communities, socially and economically. Below is an excerpt from their talk.
Q: What motivates you to contribute to this first generation program, and where did that come from?
A: It comes from my family. My father was the first one in my family who was sent to a professional school, and he always taught us that when you are in a position to help others, you should. I think it is something we overlook, being able not only to get into a good school, but then, how are you going to get through? If it's a first time for you, and then all of a sudden you have an opportunity to be in a professional school where the competition is light years above your experience, you need that additional help. And I think those students who get through that have such a great life experience that they deserve every opportunity to make it work.
Q: What would your advice be to first generation students?
A: When you have those moments of doubt like all students do, remember that you've got into law school at USC. When I got to USC there were students from UCLA, Harvard, Yale — I felt pretty intimidated. I remember the third day of my class in torts. I sat in the back and just prayed I wouldn't be called on. Of course the third day, I got called on. And so I started my reasoning as to the case, and before I got a few sentences out of my mouth, 15 hands shot up. I thought, "Wait a minute, you don't know what I'm going to say, and you're already ready to argue against me?" And so I kept my mouth shut the rest of the semester. My advice is to remind yourself that you're here for a reason, because the folks in admissions see something in you that you might not even see in yourself. That's pretty special.
RECENT NEWS