The Hollinger Program in Alternative Dispute Resolution: New Alumni Spotlight
Tuesday, July 16, 2019
Vikram Rajpurohit, LLM 2019, is an attorney who practiced law in his native India for several years before coming to USC. He graduated in May 2019 with a LLM degree in ADR from USC Gould.

By Andrew Culbertson, Graduate and International Programs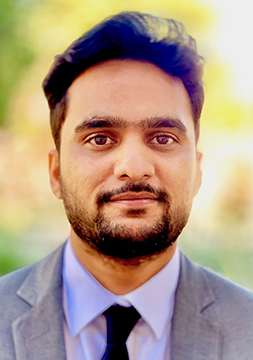 Vikram Rajpurohit, LLM 2019
Why did you choose to pursue your LLM at USC Gould?
A: Well, I was accepted to all nine US law schools I applied to. I considered every aspect of these schools in deciding which to attend. Ultimately, my top factors were net cost after scholarships, national ranking, international reputation, ADR curriculum and high profile professors. I chose USC because it scored highest for me among those factors, including offering me the most scholarship money. Other schools may be strong in their ADR curriculum, but USC has the international reputation that will benefit me when I return to India. Other factors lined up as well: USC's location, the Southern California weather, cultural diversity, metropolitan character and thriving ADR community were important in my decision.
Q: What led you to pursue the LLM in ADR degree specifically?
A: Practicing law in India, I came to see that ADR is preferable to hardcore litigation as a way to resolve disputes and help clients get on with their business. I always planned to pursue an LLM and once I committed my career to ADR, specifically international arbitration, an LLM in ADR was the clear choice. At USC, I knew I would have priority registration for ADR courses if I declared for the specialized LLM. This was crucial for me as an international student to be able to make the most of my time at USC and ensure I would get to take the classes I wanted.
Q: What have you found most challenging about your time at USC? Most rewarding?
A: To be honest, one of the biggest challenges has just been settling in a new country, a new city and a new school. I mean, I practiced law in India for over 5 years but suddenly had to relearn how to open a bank account and take public transit. The little logistical facts and assumptions that you are steeped in when operating in your native country can all be different when you relocate. Public speaking was a challenge, though not due to fear or shyness. I was concerned Americans would have a hard time understanding my English, or that I would talk too fast or too slow. It felt like a long time before I was comfortable in my ability to make myself understood just like everybody else. The Arbitration Moot Competition was incredibly challenging. Through the intense preparation and competition, my communication abilities and confidence greatly improved. It was also the most rewarding experience I've had at USC Gould so far. My teammates and I poured so much work into the preparation and we spent so much extra time outside of our regular classwork. It was exhausting but worth it. Marcio, our coach, taught us so much about research and analysis of disputes. I never would have learned his method of research charting, but now I'll use it my whole career. Also, it's been quite rewarding to notice my legal skills develop and improve, in particular writing and research.
Q: What do you plan to do next?
A: Well, I have to narrow my focus soon to the NY Bar exam. It would seem like a wasted opportunity not to pass a bar exam in the US while I have the chance. I don't know that it will make a great deal of difference in my career in the short term, but it can only open doors for me down the road. I plan to return to India and resume my career path toward international arbitration. Before I do that, I aim to utilize my 12 months of OPT to work for an American firm and get as much exposure as possible to their arbitration practice. I believe that arbitration empowers potential litigants. They get to choose not only their own judge, but the set of rules that will be used to interpret and ultimately judge their dispute. I am excited for the diversity of challenges and scenarios a career in international arbitration will afford me.
RECENT NEWS