View from the bench: USC Gould launches Jurist-in-Residence program

USC Gould School of Law
Thursday, August 1, 2019
New program gives students insight into judges' perspectives on profession of law.
By Anne Bergman and Leslie Ridgeway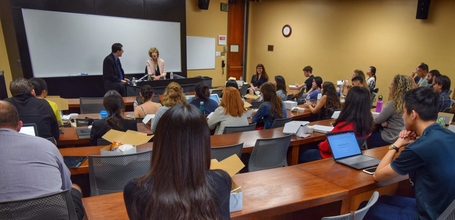 Judge Diana Gribbon Motz, speaking with Prof. Sam Erman, shares her experiences with students as part of the USC Gould Jurist-in-Residence program.
When Taylor Jones (JD 2021) met with Judge Diana Gribbon Motz as part of the USC Gould School of Law's new Jurist-in-Residence program, she found herself impressed by a story the judge told about keeping an open mind toward new career directions. Judge Motz in 1994 was nominated to the United States Court of Appeals for the Fourth Circuit, and described the life-changing call from an advisor to then-President Bill Clinton asking about her interest in becoming a judge.
"She told the story about how surprised she was – she actually thought they mixed up and meant to call her husband, who was already a United States District Judge for the District of Maryland," Jones says. "She was also honored to have the opportunity and decided to jump from a job she was very happy doing (Maryland State Assistant Attorney General) to try something new. She said it wasn't the easiest decision, but looking back she was so glad she accepted and continued to be open to new opportunities."
It's that type of exchange that makes Gould's Jurist-in-Residence program so rewarding, not just for students but for the jurists as well. Launched in 2018 by Dean Andrew Guzman, the program invites judges from geographic areas outside of Southern California to USC Gould to create an exceptional learning experience reaching beyond the classroom.
In the inaugural year of the program, USC Gould welcomed a total of five esteemed judges: The Hon. Rhesa H. Barksdale, U.S. Court of Appeals for the Fifth Circuit; the Hon. Kermit Victor Lipez, U.S. Court of Appeals for the First Circuit; the Hon. Jon O. Newman, U.S. Court of Appeals for the Second Circuit; the Hon. David Hamilton, U.S. Court of Appeals for the Seventh Circuit; and Gribbon Motz.
Candid Conversations
"This program gives students a personal opportunity to speak to a judge," says Prof. Laura Riley, program director. "They get a chance to have candid conversations about the responsibility of being in this position and hear a judge's perspective on the ethics of the profession in a unique setting."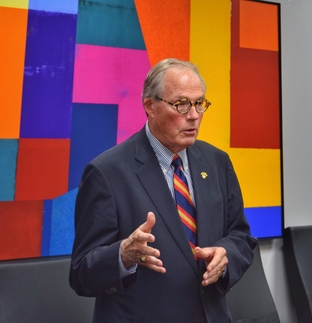 The Hon. Rhesa H. Barksdale of the U.S. Court of Appeals for the Fifth Circuit, was among the judges participating in the inaugural year of the Jurist-in- Residence program.
The program involves two three-day sessions, one in the fall semester, the other in the spring semester, providing an intensive experience for students and the judges, Riley said.
"The Jurist-in-Residence program allows students to hear firsthand from those who are interpreting and applying the law, providing a uniquely substantive point of view," Dean Guzman said. "At Gould, we've made it a priority to explore how we can enrich the overall learning experience. And we're excited to welcome and partner with prominent judges from across the nation, as they share their time and expertise with our students."
The sessions align with the judges' interests, Riley noted. Judges all spend time in the classroom, and sessions may consist of a lecture, or answering questions on topics that a class focuses on, or a lunchtime lecture, or all three. Judges also receive a tour of the law school and USC campus and meet with faculty and deans.
In addition, the Jurist-in-Residence program gives judges a chance to get to know a law school and the students outside of their region, Riley noted.
Judge Newman led a conversation on federal sentencing as part of his visit. He characterized Gould students as being "very smart and engaged." He also enjoyed meeting and speaking with Gould faculty members, calling it the favorite part of his experience.
Students are already responding positively to these opportunities to better understand the profession as they plot out their own career paths, Riley said.
"The students get insights into the judges' work and a sense of the pipeline to becoming a judge," she says. "All of the judges have been very open about their career trajectories. We hope the students find it inspiring."
Read More
RECENT NEWS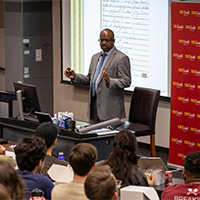 A message of hope
November 16, 2022
Judge Robert L. Wilkins chronicles family journey in 2022 Roth Lecture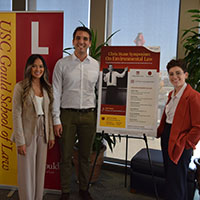 In his honor
November 7, 2022
Southern California Law Review symposium celebrating Professor Christopher Stone wins ABA award