USC Gould welcomes distinguished, distinctive, diverse – and record-setting – Class of 2022
Monday, September 23, 2019
Transform yourself, accept help, fight for the rule of law: 1Ls hear advice, encouragement at orientation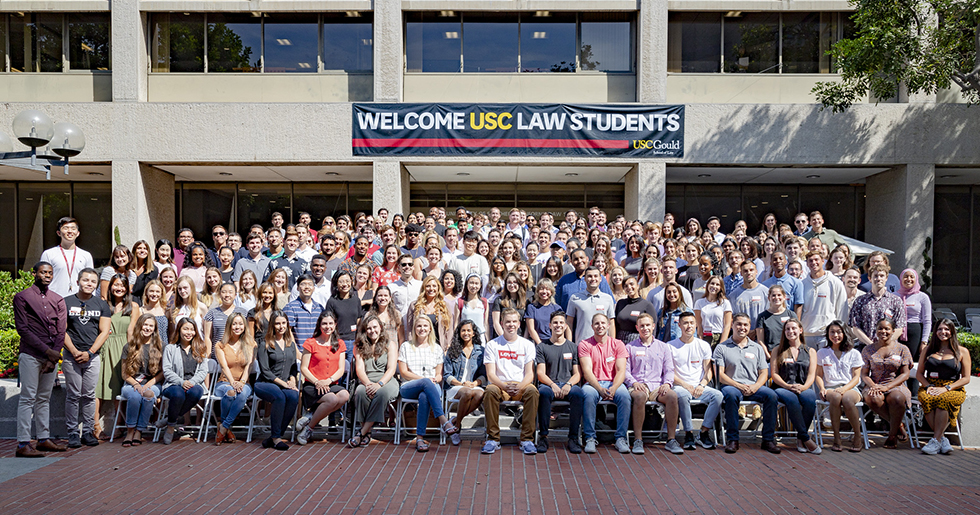 The incoming JD class of 2022 at the orientation ceremony. (Photo by David Kirschner)
By Leslie Ridgeway
The newest class of JD students has officially arrived at USC, and in many ways, the Class of 2022 is among the most distinguished, distinctive and diverse to study at the Gould School of Law.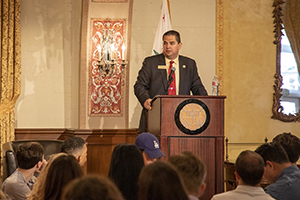 Admissions Director David Kirschner noted that the incoming class had the lowest acceptance rate at Gould since 1979. (Photo by Larissa Puro)
This year's impressive cohort brings with it the highest ever median GPA at USC Gould, at 3.80. The incoming class is also one of the most selective in law school history, with an admission rate of 17%, after having received nearly 5,700 applications.
"To put this in perspective, for each one of you here today, 28 applied to be in your place. This represents the lowest acceptance rate at Gould going back to at least 1979," said Associate Dean of Admissions and Financial Aid David Kirschner told Gould's newest JD students during orientation.
Notably, this fall saw the largest number of entering women students ever at USC Gould, comprising 57% of the class. Underrepresented minority student enrollment rose to 40%, two full percentage points over last year. In addition, Gould had a record enrollment of economically disadvantaged and first-generation students, at 17% and 13%, respectively. And, the law school saw the highest number of
Public Interest Scholars
ever (eight).
All of these defining characteristics were applauded recently by both Dean Andrew T. Guzman and Kirschner, along with the rest of USC Gould, as they welcomed 203 new 1L students who were beginning their law school journey.
Impressive Professional, Personal Backgrounds among Class of 2022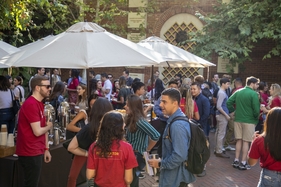 This year's incoming class has the highest median GPA at USC Gould, as well as high numbers of women and underrepresented minority students. (Photo by Larissa Puro)
The remarkable depth and breadth of the incoming class' backgrounds became apparent as Kirschner described a wide range of experiences among class members, from time working abroad in the Peace Corps to being a finalist for the Pulitzer Prize to playing violin in a video game orchestra. Many students came from established professional careers, including one student who is an ordained rabbi. Yet another was a helicopter flight paramedic, and another holds a patent on an amusement park ride.
Kirschner noted that a large number of the incoming class shows strong affinity for public interest and social impact work, having established themselves in projects including working with Syrian refugees in Denmark, founding a clinic in Haiti providing relief and translation services after the earthquake and working with the Global Health Brigade in Ghana. One student founded a fashion sock business benefiting the Los Angeles LGBTQ Center shelter, while another co-authored legislation in California requiring sexual abuse and sex trafficking prevention education in state public schools.
USC Gould recently strengthened its commitment to supporting students who choose public sector careers by reshaping its Loan Repayment Assistance Program, making it easier for students to qualify and expediting the timeline for loan forgiveness.
Entertainment backgrounds also stand out among incoming 1Ls. One student worked as an actress and model and appeared in a movie opposite actor Pierce Brosnan, while another sang lead in a band that had a song featured in an iPhone ad. Some worked for talent agencies, another managed a record label and one managed commercial theatrical productions in Japan, as well as a pre-Broadway tryout production.
As the students prepared to head into their first semester of classes, Kirschner urged them to be aware that doubts may arise during their years in law school. To counter them, he recommended turning to themselves for encouragement.
"Go back to your personal statement and read it over as it contains the reasons for why you have chosen to dedicate yourselves to the law school journey," he said. "While your emotions may change throughout the year, what you conveyed in your personal statement will not and you should rely on that to overcome any obstacles you may encounter."
Dean Guzman's Advice to 1Ls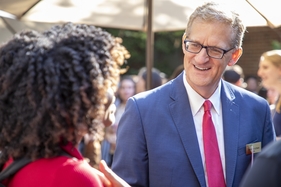 Dean Andrew Guzman visits with incoming students at the orientation event. (Photo by Larissa Puro)
Dean Guzman used his orientation address to encourage students to strike a balance in their approach to law school by following three important pieces of advice: "Transform yourself, but stay you; be strong, but accept help; fight zealously for your vision of justice, but make sure those who disagree with you can do the same."
"Do the things that make you who you are and who you have been," Guzman said. "It is possible to let the work drown out some of the unique wonderfulness that is you. Don't let it." He urged students to be willing to ask for help when the pressure of studying, classes, school-related activities and life in general becomes overwhelming: "There is never a bad time to ask for help, whether your needs are academic, personal, emotional, physical or mental," he said.
In these fraught political times, Guzman also stressed the critical need for students to protect the rule of law by holding fast to their views while leaving room for competing opinions. He exhorted students to recognize the very human tendency to fault others for violating the rule of law while overlooking similar infractions in those who share their ideological beliefs.
RECENT NEWS