Alumni Spotlight: Q&A with Justin Hoyt
Wednesday, November 20, 2019
By Andrew Culberson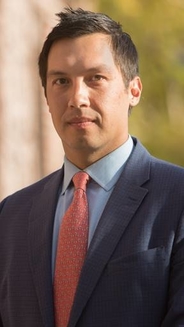 Justin Hoyt (LLM 2018)
Justin Hoyt earned his LLM in Alternative Dispute Resolution from USC Gould in 2018 and has successfully steered his career toward arbitration since then. Wearing a many hats, Hoyt is an arbitrator, discovery referee and mediator, a research attorney at JAMS Mediation, Arbitration and ADR Services, and a lecturer in law at USC Gould. In addition, he's an experienced litigator, who previously clerked for federal and state judges in California and New York before coming to USC.
Why did you choose to pursue your LLM in ADR at USC Gould?
In researching ADR programs, the faculty at USC stood out to me. I ended up choosing USC for the impressive group of renowned legal and ADR professionals teaching there. It was clear they were serious about preparing ADR students for careers in the field.
Also, I was excited to enroll in a program in which many of my fellow students were already established professionals in the field.
Finally, I have to mention the "Trojan Family" benefit. It's real!
Can you tell us about your current work?
In addition to teaching "Arbitration in the U.S." and "ADR Clause Drafting" at USC, I primarily serve as a research attorney to a select group of JAMS arbitrators and discovery referees. The work is great. JAMS is the leading domestic provider of ADR services, and the cases are all top-notch in terms of complexity and interest.
At the same time, I have my own growing practice as a neutral. Fortunately for me, my professional roles are all well-aligned. I enjoy meeting and getting to know people, hearing their stories, and building relationships and trust with counsel and disputing parties. I really enjoy the challenge of developing my reputation as a neutral, despite coming from what many would consider to be less conventional background. While students are frequently told that successful arbitrators are all retired judges or former BigLaw partners, I decided somewhat early in my legal career to steer toward ADR, and I don't regret it.
What has surprised you most about the LLM Program?
I was pleasantly surprised that courses featured a mix of students: LLM in ADR, JD and international students. Class participation resulted in hearing variations of these three different perspectives — it was a terrific opportunity to learn not just from the professors, but from my fellow students.
How has Gould prepared you professionally, both currently and for future prospects?
My degree from USC opened a lot of doors. Excelling in class while also getting to know faculty outside of class allowed me to build my network. It ultimately also helped me join the USC Gould faculty, as teaching was something I had long hoped to do. I've also benefitted from networking with classmates, many of whom continue to work in the field.
What advice would you pass on to fellow ADR students regarding their own career development?
I really made a point to get to know my professors outside of the classroom, regardless of whether or not they practiced in the exact fields I was interested in. Most faculty members at USC have in-depth experience in several ADR sub-fields; they all have "day jobs" and they teach simply for the love of helping the next generation. Also, our faculty is friendly and well-connected. You never know what is in store for you if you maintain an open mind, even if it appears someone works in a field you may not necessarily be interested in at that particular moment.
RECENT NEWS