Ninety years of paving the way toward justice

USC Gould School of Law
Monday, November 25, 2019
Legal Aid Foundation of Los Angeles celebrates connection with USC Gould
By Diane Krieger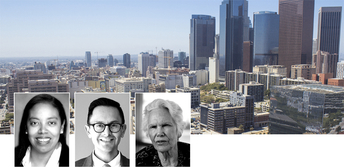 From left, Amber Finch, LAFLA Deputy Director Fernando Gaytan and Elena Ackel all share the passion for public service exemplified by the Legal Aid Foundation of Los Angeles (LAFLA).
LAFLA was launched at the law school in 1929. Then-Dean Justin Miller had recruited clinical education pioneer John S. Bradway, a practicing attorney and University of Pennsylvania sociologist, to design it. As the Legal Aid Foundation of Los Angeles (LAFLA) celebrates 90 years of public service, USC Gould alumni reflect on a long relationship with the region's oldest legal aid organization.
The Southern California Legal Aid Clinic Association (LAFLA's precursor) saw 1,400 clients in its first year and enlisted the entire third-year class—72 students—as apprentices.
Its first case, according to LAFLA Deputy Director Fernando Gaytan (JD 2002) was a cattle dispute between a small farmer and a large landowner. The city's topography has changed dramatically, but LAFLA's mission remains the same today —"to serve as many people as we can in seeking access to justice," says Gaytan.
By 1935, the organization had outgrown its headquarters in the original USC law building and relocated to downtown. Today, it operates out of five offices, four courthouses and dozens of community-based and virtual clinics, hospitals, public libraries and a call center. It employs 143 professionals, most of them attorneys and paralegals. It also enlists more than a thousand pro-bono volunteers, including Gould students and alumni.
A passion for public service
One private attorney with close ties is Amber Finch (JD 2002). Last year, she joined LAFLA's board and currently chairs its pro-bono committee.
"The most prized, heartfelt wins in my career have been pro-bono cases,"says Finch, a partner in Reed Smith's Los Angeles office. As a student at USC Gould, she was active with the Public Interest Law Foundation (PILF) and the Post-Conviction Justice Project.
Determined to "lead by example," Finch has ramped up her own pro-bono hours since becoming a LAFLA board member. "I make sure I'm out there," she says.
She participated in several LAFLA clinics last year, including the day-long Compton Veterans Stand Down, where her team assisted more than 30 veterans. She has helped clients convicted of misdemeanors clear their records at a LAFLA expungement clinic, and volunteered at a LAFLA Skid Row Clinic, where she met, among others, a woman who had been wrongfully evicted and reduced to sleeping in her car with her three kids.
Making a difference
Staff attorney Elena Ackel (JD 1972) was a USC sociology major when it dawned on her that to make a difference in the world, she would need to be a lawyer, not a social worker.
At USC Gould, she was inspired by the charismatic Gary Bellow and his transformative poverty law seminar. "Everything was changing. You had a sense that anything was possible," Ackel recalls. Bellow had spearheaded USC's clinical law program in 1968 before founding a similar program at Harvard Law School.
Ackel joined LAFLA in 1975, a year after Congress established the Legal Services Corporation, a turning-point for cash-starved legal aid programs.
In the 1980s, she advocated for South Central homeowners victimized by predatory loans and home-improvement liens designed to trigger foreclosures.
"Everybody was losing their homes, and there was no publicity," she recalls. "Once we exposed the pattern, we could get law firms to help us, because it was just so outrageous."
LAFLA was smaller then, and Ackel juggled a diverse portfolio. Today, she concentrates on complicated Medi-Cal disenrollment claims for gravely ill clients trapped in managed care contracts that withhold the tertiary-care services they need.
Asked why she never left LAFLA, Ackel replies:
"Because everything is still so decidedly unfair,and the stakes are very high.In private practice, it makes little difference who wins, because both sides can afford to lose. In public interest law, you can't afford to lose. I remember an immigration case I worked on. We lost and my client was beheaded when he was returned to his country."
A continuous pipeline
Connections between USC Gould and LAFLA remain strong, and Clare Pastore is a key conduit.The USC Gould professorof practice spent 20 years as a staff attorney with the ACLU and the Western Center on Law and Poverty before joining USC's full-time faculty in 2007.
"We have a fantastic and longstanding relationship with Professor Clare Pastore," says Gaytan. "She's a key partner we turn to for many of the issues we're engaged in."
Each spring, Pastore leads the Access to Justice practicum,supervising a handful of students in a real-world advocacy project. In 2019, her class partnered with LAFLA and the Alliance for Children's Rights to speed up California's administrative hearing process. The state has since promised improvements. If they don't materialize, says Pastore, LAFLA, the Alliance, and a new crop of practicum students are ready to go to court.
Pastore's frequent collaborations feeda pipeline of USC Gould interns and job seekers to LAFLA. In recent years, USC Gould has sent two Irmas Fellows—Luong Chau (JD 2013) and Jose Del Rio III (JD 2019) — to the foundation. They followed earlier LAFLA-based Irmas Fellows Theresa Villa-McDowell (JD 1991) and Laura Fry (JD 1992). Numerous 1Ls and 2Ls have accepted LAFLA summer internships over the years, according to Rachel KronickRothbart, USC Gould director of career services. Many Gould students also volunteer during the year through PILF.
"The great thing about USC is a lot of the initiative is student driven," Gaytan notes. He points to LAFLA's weekly Skid Row clinic. In the last five years, Gould students have made it "their own USC clinic. What's so special is that it happened organically, because USC students reached out to us, made a commitment and continue to make that commitment every Wednesday."
Read More
RECENT NEWS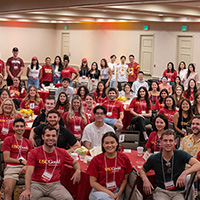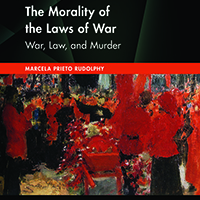 Facing the tragedy of war
September 13, 2023
Professor Marcela Prieto's new book, "The Morality of the Laws of War," argues for strengthening international law to el...