Life-changing experience

USC Gould School of Law
Tuesday, November 26, 2019
Veterans Law Practicum immerses students in issues affecting vulnerable veteran communities.

By Leslie Ridgeway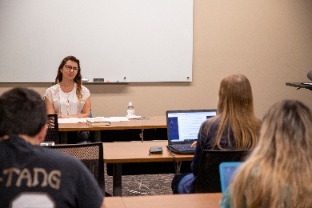 Laura Riley, director of experiential learning, co-teaches the Veterans Legal Practicum with Dwight Stirling (JD 2000), founder and CEO of the think tank Center for Law and Military Policy.
When military veterans are discharged involuntarily, often for trauma-related discipline problems, they become ineligible for health care and other important services. Students participating in the USC Gould Office of Experiential Learning's Veterans Law Practicum (VLP) have a chance to help some of these veterans achieve a discharge upgrade and gain back not just benefits but self-respect.
USC Gould is among only 10 percent of law schools offering a clinic where students take on discharge upgrades for veterans, says Prof. Dwight Stirling (JD 2000), a JAG officer in the California National Guard and founder and CEO of the think tank Center for Law and Military Policy. Four years ago, he and practicum co-instructor Prof. Laura Riley, director of experiential learning, developed the program, which students may enroll in for one or two semesters.
"We are still on the cutting edge," he said of the VLP. "It's a very practical way of providing assistance. It's not just a promise to support veterans. It's the fulfillment of that promise through the performance of a legal proceeding."
A chance to directly impact veterans' lives
The practicum came about after Riley and Stirling acted as co-counsel on some cases related to female veterans who experienced sexual trauma in the military.
"Unfortunately, sexual trauma is not being addressed effectively within the military," Riley says. "The numbers of assaults continue to be the same, and there's suspicion that more are not reported. We thought that if students knew about cases like these, they'd care and want to get involved."
That's what happened to Leonel Salazar (JD 2019), who enrolled in the VLP for two semesters to explore an area of law he was not familiar with. He was assigned to three different cases involving clients who received status downgrades resulting from issues related to post-traumatic stress disorder. In building and drafting their appeal petitions, Salazar had to develop compelling arguments for why their discharges were unjust, he said. One-on-one meetings with clients suffering long-term effects of trauma developed his interpersonal skills and provided a unique and unforgettable experience.
"The VLP gives students the incredible chance to directly impact the lives of some of our veterans, who have sacrificed so much in service to our country," he said. "Though it involves a somewhat niche area of the law, the practicum provides an excellent opportunity to gain valuable and practical experience in client advocacy that will be generally applicable to many other areas of legal practice."
Nearly 40 students have participated in the VLP since it began and have helped more than 100 veterans. Students typically complete two entire discharge upgrade applications, which are submitted to a discharge review board or board of corrections for military review at semester's end. On average, the review process takes a year but can take as long as three years, so students often don't learn the outcome of their petition until well after graduation, Riley said.
Veterans come to VLP through a local organization that conducts intake interviews for low-income veterans, as well as the Los Angeles County Bar Association, which has a veterans' project for discharge upgrades.
Exposing law students to obstacles veterans face
Courtney Ung (JD 2019), who also enrolled for two semesters and worked with three clients, said she appreciated the VLP's focus on careful examination of the legal obstacles veterans are up against. She said she found the instruction and guidance offered by Riley and Stirling invaluable and eye-opening.
"Laura and Dwight are both passionate about the subject and extremely knowledgeable in their field," she said. "They created an environment that pushed us to be analytical about a variety of legal issues veterans face while also being understanding that many of us had not served and were looking at the issues from a civilian perspective."
Exposing law students to the challenges veterans experience is one of the most important aspects of the program, Stirling says. Many veterans come from difficult family backgrounds, and when those are compounded by trauma from war or military sexual trauma, they may act out, leading to discipline issues and eventual involuntary discharge. For these constantly traumatized veterans, the discharge can be a last straw, leading to depression, homelessness and worse, Stirling says. And for the law students, most of whom have completely different life experiences than the veterans, it's a chance to help people who served their country make a new start.
"Law students and veterans have very little interaction with each other on a day-to-day basis, much like two ships passing in the night," he says. "The VLP is a forum where these two groups can meet and learn about each other—and a chance for law students to express their appreciation to those who guarantee their freedom. The VLP is the vehicle through which this gratitude is expressed."
For more information on the VLP, please visit: https://gould.usc.edu/academics/experiential/clinics/
Read More
RECENT NEWS