Dean Guzman leads Latino Growth Initiative

USC Gould School of Law
Wednesday, December 4, 2019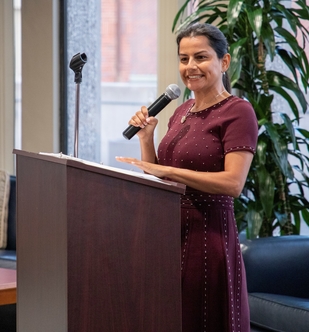 Congresswoman Nanette Barragán (JD 2005) delivered remarks at the LGI action gathering. (Credit: Larissa Puro)
USC Gould School of Law Dean
Andrew T. Guzman
is leading the USC Latino Growth Initiative, an innovative effort that aims to enhance vital pathways for Latino growth, advocacy and leadership at USC, in the community and beyond.
"The USC Latino Growth Initiative (LGI) aspires to amplify existing efforts to strengthen the bonds between the university and the largest ethnic group in California, advancing the long-term prosperity of both," said Guzman, the first Latino dean of USC Gould.
The mission of the USC Latino Growth Initiative is to engage alumni across the university, scholars, decision makers and community members, forging important connections between the Latino community and USC, along with providing support for key educational initiatives.
Its work is centered on four broad pillars.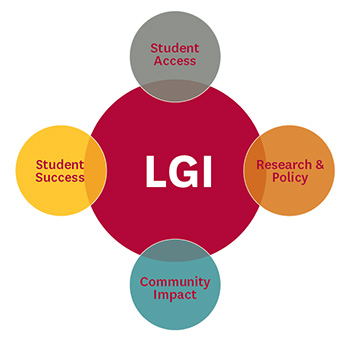 Student Access: Increasing Latino scholarships and enhancing K-12 educational partnerships.
Student Success: Focusing on support programs to bolster inclusion, retention, degree completion, full-time employment and graduate-level study.
Research and Policy: Furthering research and collaboration on significant policy issues affecting Latino populations.
Community Impact: Building relationships with local governments, citizen groups, alumni and friends to create strategic programs and opportunities.
In September, the initiative hosted an action gathering at the law school, bringing together more than 20 alumni who are leaders in business, government, nonprofits and academia to discuss near-term opportunities and long-term plans. Dean Guzman and Congresswoman Nanette Barragán (JD 2005) delivered remarks at the event.
This academic year, the initiative's focus is on scholarships and support for existing Latino students.
For those interested in joining this effort, please contact Margaret Kean, assistant dean of development, at: mkean@law.usc.edu.
RECENT NEWS