Roth Lecture features Hon. Karen Nelson Moore discussing technology and impacts on the law

USC Gould School of Law
Friday, January 10, 2020
By Leslie Ridgeway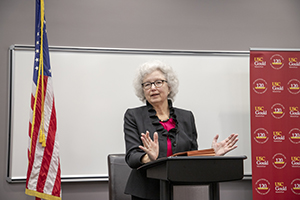 Judge Karen Nelson Moore
The Hon. Karen Nelson Moore of the U.S. Court of Appeals for the Sixth Circuit delivered the USC Gould School of Law's 2019 Lester W. Roth Lecture, titled "Evolving Technology and Changing Circumstances – Impacts on the Law and the Work of Judges."
Judge Moore, who visited USC in late October as part of the law school's Jurist-in-Residence program, also met with students and faculty interested in learning more about the federal judiciary, how federal courts handle cases from the beginning of the process in district courts, and how cases are handled at the U.S. Court of Appeals.
"I hope the students I talked with get a deeper understanding of litigation and civil procedure to be effective advocates in their work after law school," Judge Moore said.
During his introduction, Dean Andrew Guzman called Judge Moore "a path-breaking leader in the legal field." She was the first woman to clerk for Judge Malcolm Wilkey of the U.S. Court of Appeals for the District of Columbia, and for U.S. Supreme Court Justice Harry Blackmun; and she was the first woman professor to earn tenure and, later, to hold an endowed chair at Case Western Reserve University law school, Guzman noted.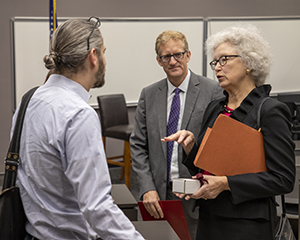 Judge Moore with Dean Andrew Guzman (center) and IPTLC Director Jef Pearlman
Analyzing two legal frameworks
The Roth Lecture focused on the ever-evolving nature of technology and its impact on the law and judges. "I want to raise what I hope are thought-provoking questions about how judges are responding to new technology developments in legal decision-making," she said in her introduction.
Judge Moore covered the benefits and downsides to two different legal frameworks – adaptation and conservation – and used two cases decided by the U.S. Supreme Court as examples of how the frameworks were applied. The cases, Carpenter v. United States and South Dakota v. Wayfair, covered government access to cell phone history and states charging taxes on sales from out-of-state sellers via the internet.
Highlighting the work of Gould IP clinic
As part of the lecture, Judge Moore highlighted a brief filed this year in a SCOTUS case by Gould's
Intellectual Property and Technology Law Clinic
(IPTLC). Judge Moore praised the IPTLC and the students for developing a persuasive document as a friend of the court.
"I thought it was a great illustration of a law school addressing through a clinic a current problem and having students take part in trying to obtain the best legal result," she said. "This coming June we'll see how influential the brief was and what SCOTUS decides."
Judge Moore, who previously taught at Harvard University in addition to Case Western Reserve, said she was grateful for the opportunity to work with students again and was impressed by those she met.
"I noticed that students were really engaged," she said. "They had excellent questions and seemed to be eager to learn. Most of the students I talked with were first-year students so that was particularly exciting. It was a wonderful opportunity to be back in the classroom and interacting with students informally and in class."
Educational enrichment

It was Judge Moore's first experience with the Jurist-in-Residence program, which she called "very valuable" and praised the program for exposing students to various career options.
"I think it's important for law students to have a chance to see the legal profession in a variety of different roles so they can learn about opportunities they may have and broaden their horizons," she said.
The Jurist-in-Residence program, launched by Gould Dean Andrew Guzman in 2018, brings judges from geographic areas outside of Southern California to USC Gould to create an intensive learning experience reaching beyond the classroom. Six judges have participated since its launch.
The Roth Lecture Series was established in 1979 by the Louis and Florence Cohen Philanthropic Fund of the Jewish Community of Los Angeles. The lecture series honors Justice Lester W. Roth, a 1916 graduate of USC Law and presiding justice of the California Court of Appeal, Second Appellate District, from 1964 until his retirement in 1992.
Read More
RECENT NEWS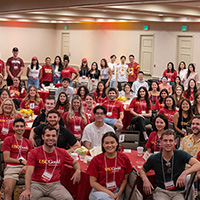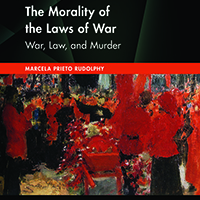 Facing the tragedy of war
September 13, 2023
Professor Marcela Prieto's new book, "The Morality of the Laws of War," argues for strengthening international law to el...