Winter Break Pro Bono Project supports skill-building, giving back to those in need
Wednesday, February 5, 2020
Winter Break Pro Bono Project gives students opportunity to gain hands-on skills while serving the community.
By Matthew Kredell
USC Gould School of Law students got the opportunity to serve those in need while gaining skills relevant to their own educational objectives over the winter break.
Through the Winter Break Pro Bono Projects offered by the Office of Experiential Learning, 20 students volunteered for three important advocacy organizations.
The students each committed 30 to 40 hours of volunteer work for Mental Health Advocacy Services (MHAS), The Justice Collaborative or The Refugee and Immigrant Center for Education and Legal Services (RAICES).
This was the first year that the program was offered by the USC Gould Office of Experiential Learning.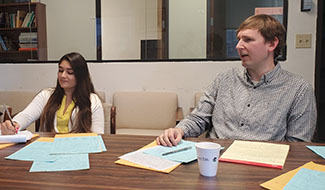 Nicolette Karanfilian and Eli Griffen participate in a meeting at Mental Health Advocacy Services as part of the Winter Break Pro Bono projects.
"The idea behind it is to support students' desires to do pro bono work and get involved in community efforts and organizations," said Laura Riley, director. "We also recognize that students are busy, so the hope in creating this program is to provide something they can jump into for a finite period of time but still enough of a commitment to have a meaningful impact for these organizations and their clients, and also the students in their own learning experiences."
Collectively, the students contributed between 600 and 800 hours of time to the organizations, choosing from a range of volunteering experiences depending on their area of interest.
MHAS is based in Los Angeles and run by a USC Gould alumna, Jenny Farrell (JD 2011). Students Eli Griffen and Nicolette Karanfilian worked at the organization's office in Koreatown.
Valuable experience translates into valuable services for organizations' clients
Pam Marx, an attorney with MHAS who supervised the students, said the organization was extremely happy to host two USC law students as volunteers over the winter break.
"The students, Eli and Nicolette, provided valuable services to our clients under the supervision of MHAS attorneys," Marx said. "They interviewed multiple clients over the course of the week, engaged in legal research to support our housing and government benefits work, and provided much-needed information that MHAS staff and volunteers used to provide information and consultation to clients during our monthly community legal clinic."
Griffen indicated that he had little familiarity with mental health law when he volunteered, but found the work incredibly rewarding.
"The clients are often in desperate need of legal assistance, and MHAS is one of the only organizations able to provide that to them," Griffen said. "I was assigned more than just busy work. I could tell my research and interviewing tasks really contributed to the MHAS attorneys' ability to help their clients. My experience made me appreciate the value of public-interest attorneys even more, and particularly those working in the important area of mental health law."
Opportunity to perform advocacy work and develop lasting relationships
The Justice Collaborative operates with attorneys throughout the country working on criminal justice reform, making it the perfect fit for students who returned home or went out of town during winter break.
Hosting 17 of the 20 student volunteers, The Justice Collaborative offered the choice of working in one of its seven focuses.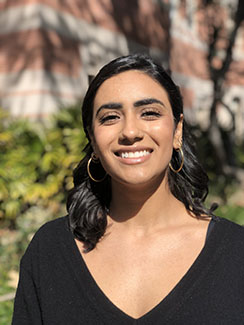 Sophie Maline appreciated the opportunity to refine her research skills and do advocacy work as part of the Winter Break Pro Bono projects.
Sophia Maline chose the area of treating addiction like a medical issue. She spent the week researching current state laws related to addiction, new legislation and any ongoing litigation. She ranked current state policies as negative, positive or ideal, based on the organization's parameters.
"It's nice to be able to do some advocacy work before we're fully trained," Maline said. "I learned valuable research skills, how state governments are passing laws, how policies from one state trickle throughout the United States, how we're learning to reform our policies from what is being done in other countries, and issues communities of Los Angeles are dealing with on a regular basis. I want to continue doing more research on it."
Riley noted that an added benefit of connecting students with these organizations is that a lot of the organizations are very open to having students continue on with them.
That is the case for Maline, who plans to continue volunteer work for The Justice Collaborative throughout the spring semester.
Griffen, in his first year of law school, is excited to apply what he learned into the classroom.
"My brief volunteer experience improved my ability to manage multiple tasks and potential clients on a deadline, skills that will help me in law school and beyond," he said.
Riley indicated that the Office of Experiential Learning hopes to offer the program again over spring break in March, perhaps with additional organizations if more students want to participate.
"A lot of students tell me they want to go into law school to do pro bono work," Riley said. "At USC Gould we recognize it's an important part of our ethical duty or why we want to be part of this profession, to be able to give back and provide our legal services to those who need it most. This is part of the equation to teach students how to be successful attorneys."
RECENT NEWS