Change agents

USC Gould School of Law
Wednesday, January 6, 2021
Gould offices embrace disruption and discover new opportunities amid pandemic
By Leslie Ridgeway
It was March 11, 2020, and USC Gould's admissions office was preparing to welcome admitted JD students to their first on-campus event of the year that Friday. Everything was running smoothly, and then the rumblings about the coronavirus became a thunderclap as most USC employees were directed to pack up and work from home indefinitely.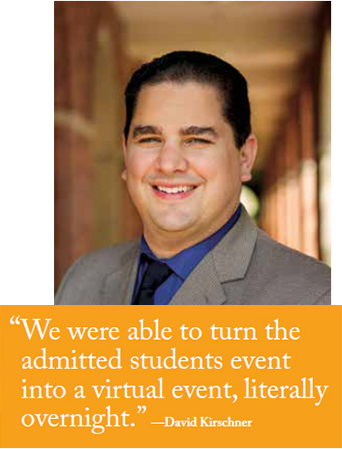 "There were students in the air on their way to campus," says David Kirschner, associate dean of JD admissions and financial aid. "We were able to turn the admitted students event into a virtual event, literally overnight."
While many may remember 2020 through the dim lens of the coronavirus, at USC Gould it will also be remembered as a year of change, capability and creative thinking. The law school's Admissions and Financial Aid, Career Services and Graduate & International Programs offices, not to mention all the Gould departments supporting them, embraced the shakeup of business as usual, discovering silver linings in the process.
Shifts in the Professional Landscape
Career Services, for example, helped to lead a re-evaluation of a troubling national trend in recruitment, in which firms eager to nab the best and brightest started engaging students earlier and earlier — in their 1L year, sometimes even in summer before school — a practice known as "pre-cruiting." But with business uncertainties owing to COVID-19, firms were reluctant to commit so early to interviews, opening a door for change, says Betsy Armour, associate dean and dean of career services.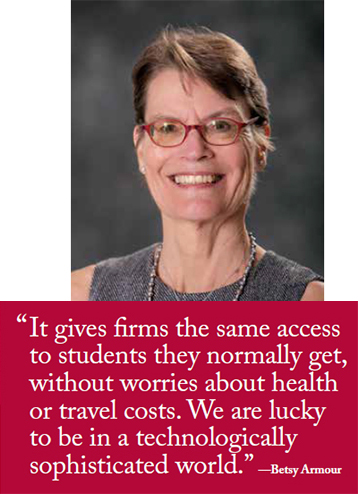 "It relaxed the situation, and gave everyone license to say, 'Let's see if we can do recruiting at a later time,'" she says. "January became the target because the move to credit/no credit in spring 2020 meant that students would not have another semester of graded courses until winter 2021. It was the right thing to do for the school and our students. Employers expressed enthusiasm too, since a later recruiting season allows them to forecast their hiring needs more accurately. We made this decision courageously, and most law school peers made similar decisions."
Another benefit came from moving the on-campus interviewing (OCI) process to a digital platform, a cost-saver for law firms and easy for candidates, interviewers and Career Services to use and monitor. Students give up less class time to travel to interviews, and firms are more encouraged to interview nationally, expanding opportunities for students, Armour says.
"During what we have rebranded as 'Winter OCI,' we have contracted with a new company which offers video-enabled interviews that closely mimic the in-person OCI experience," she says. "There's a virtual 'knock-on-the-interview-door' feature when the next recruit is up, and participants can easily send or receive application materials electronically. It's pretty amazing technology, and it gives firms the same access to students they normally get, without worries about health or travel costs. We are lucky to be in a technologically sophisticated world."
Career Services tested a similar platform at a fall recruiting program with smaller law firms, as well as public interest and government agencies, and plans to use Symplicity's Virtual Career Fair module to host signature networking events such as the Public Interest Career Fair and Meet the Firm Night for students, employers and alumni in November, Armour says. There are also plans to continue to hold job fairs featuring employers in New York; Washington, D.C.; Chicago; and Texas in partnership, virtually, with other law school partners, and to leverage resources from the National Association for Law Placement, she says.
Engaging and Embracing a Virtual Classroom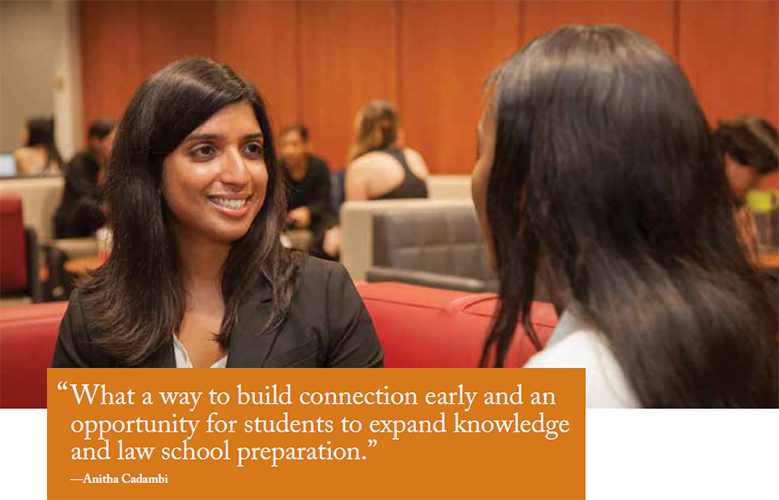 For Anitha Cadambi, associate director of graduate curriculum and instruction and adjunct professor of law, an initial, emergency curriculum plan in the spring transformed into long-term planning as the reality of a fall semester online began to set in. With five years' experience working in online academic programming and three-and-a-half years of curriculum development, she was certainly qualified for the challenge.
"That was basically my summer — thinking of ways to engage with professors, getting them up to speed and offering our guidance," she says. "It was a rocky start but that's the case with any new technology."
She and her team surveyed more than 200 students and faculty about what worked and what didn't in the spring, and used the data to develop a series of workshops serving as basic and advanced resources for faculty, many of whom had never taught on Zoom before. Those with experience on Zoom provided valuable perspective for their peers, she says.
"One thing that was new to many faculty was asynchronous teaching — having students do things on their own time like watching a short, interactive video, or responding to a discussion board prompt and using class time to discuss issues related to each of these learning activities," Cadambi says. "It makes the class more interactive. We also held a workshop on how to create discussions to get student opinions and feedback and use these discussions in class."
Workshop hosts were all subject matter experts, from IT to pedagogy, and some workshops were hosted by the USC Center for Excellence in Teaching. Cadambi was particularly impressed by a six-week intensive workshop that the center offered, including faculty from across the campus.
"It was interesting to see how other disciplines teach," she says. "The community exchange was superbly beneficial. I've been doing this for a while and felt I learned a lot of new things."
The team also developed a teaching guide, synthesizing best practices into bite-size, accessible tips and sample language that could be adopted into individual curricula, Cadambi says. They also included knowledge gleaned from a series of roundtable, online discussions hosted by the Association of American Law Schools. Vice Dean for Curriculum Lybby Carroll also reached out to adjunct professors to ensure that they were comfortable with Zoom and had opportunities to meet together and learn from each other, she says.
The online format underscored the value and power of communication, which Cadambi sees as improving as professors and students engage more digitally. She also sees more effort towards outreach before students even arrive for their first year of law school.
"What a way to build connection early and an opportunity for students to expand knowledge and law school preparation," she says. "A lot of students don't know what to do when they get here. I like the idea of building community online."
That was the goal when the JD admissions office focused its efforts on developing regional groups and summer reading groups, many of which extended into the fall. Erin Van Dorn, director of JD admissions, helped to oversee the regional groups, which Kirschner says were designed to help 1Ls get connected with each other in the areas where they live, and returning 2Ls and 3Ls as well, some of whom led the groups, he says. The plan is to eventually include alumni, he says.
Faculty reading groups for 1Ls were something of a hit this summer. Professors Abby Wood and Tom Lyon helped Admissions circulate the idea among faculty, many of whom stepped up to lead reading groups like "Race, Rap and Redemption in Criminal Law" (Professor Jody Armour) and "Money in Politics" (Wood). Students appreciated the opportunity to meet fellow students and professors in a casual setting while becoming comfortable with their experience levels in law school.
Adding a new digital dimension to engagement, Professor Sam Erman developed an idea for noontime "Zoom Pop-Up" sessions, in which faculty schedule up to one-hour discussions about current events within their expertise.
Once the pandemic is over, Kirschner, Armour and Cadambi all see digital learning and engagement finding a home within the Gould School.
"This has, to an extent, reshaped the way law schools will interact with candidates," Kirschner says. "Nothing can replace the sense you get when you can visit the law school and meet members of community in person, but there will be a place for virtual events to fill in the gaps."
Cadambi looks to the NBA "bubble" as a sign of the future of engagement, with fans logging in to interact with their favorite basketball stars. The new model could be a hybrid, and it may require more creativity and energy from professors and those in curriculum development, but the dividends could be immeasurable.
"You won't be constrained to just a classroom. You could reach the world if you needed to," she says. "That's why we started online programs: to take the Gould brand of education to the world."
While the experience of the pandemic has been a shock to the system, Armour, Kirschner and Cadambi say it has highlighted the skills, aptitude and pragmatism of students, faculty and staff at the Gould School.
"In an odd way, this has been a huge disrupter but also a challenge and a learning experience," Armour says. "At Gould, people have stepped up and made the most of a new reality with a lot of creativity. It speaks volumes of our dean, and our community."
RECENT NEWS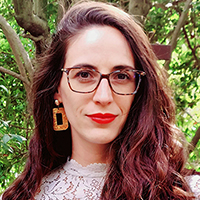 Her dream job
July 25, 2021
Background as prosecutor informs Prof. Marcela Prieto's scholarship and teaching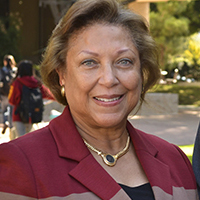 Service is in her DNA
July 25, 2021
Aulana Peters (JD 1973) continues to open the way for the next generation