USC Gould National Moot Court team places well in the American Bar Association's National Appellate Advocacy Competition

USC Gould School of Law
Tuesday, March 23, 2021
3L students Nikki Long, Danielle Luchetta, Kelly Butler, and Charlene Smith receive honors.
By Yulia Nakagome
The USC Gould National Moot Court team, comprised of 3L students Kelly Butler, Nikki Long, Danielle Luchetta and Charlene Smith, finished strongly in the American Bar Association's recent National Appellate Advocacy Competition (NAAC), the largest, most prestigious moot court competition in the country.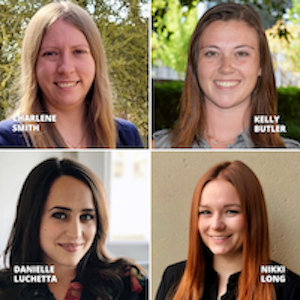 3L students Charlene Smith, Kelly Butler, Danielle Luchetta, and Nikki Long
Long and Luchetta won third place in the best brief competition, with Butler and Smith taking fourth place. Gould was the only law school in the competition to have two briefs place in the top 10. In the oral argument competition, both Gould teams made it to the final round. Gould's teams competed in the NAAC San Francisco Region, including 31 teams hailing from law schools throughout the western United States.
Long also was honored among the top 10 best advocates among all competitors, earning a spot as eighth best advocate. She spoke highly of her experience in the competition and working with Gould faculty members, who coached this year's teams.
"Professors Rebecca Lonergan, Rebecca Brown and Sam Erman were integral to our preparation, and their support and invaluable coaching was absolutely the secret sauce to our success at the competition," Long said.
Butler also felt supported by her teammates and her coaches, as well as her father, who served as her team's bailiff, sitting in from Texas.
"The whole process was very intimidating, but I had a great teammate with me the whole time who was amazing and who I could rely on, and that really made the experience better," she said. "My dad — who is extremely interested in the law and wishes that he went to law school — is also very proud of me, and I knew he'd love watching me perform."
The online format of this year's competition posed special challenges for the Gould team, Butler said. "Preparing for this online competition was definitely different than preparing for Hale Moot Court, which was in-person when I competed," Butler said. "I feel like I have a lot more experience with Zoom arguments, which are very likely going to be a part of my future. Before the competition I was really nervous to talk in front of everyone, but now it's so much easier than it was before."
Long took encouragement from her environment and team spirit while engaged in the many hours of planning, research, writing, editing and re-editing that went into preparation. Teammates Long and Luchetta worked together on the brief in person at outdoor parks overlooking the Pacific.
"In the days leading up to the competition, the coaches and two USC teams rallied around each other in a way that made a remote experience feel remarkably personal," Long said. "The 'team' atmosphere was quite tangible, making the experience a truly special one."
Professor Lonergan praised the team's efforts.
"Our students showed such incredible maturity and poise preparing for this new kind of competition in isolation in their separate locations. We should be quite proud," she said. "I am certain that they will all become exceptionally talented attorneys."
Read More
RECENT NEWS