Two Extroverts, One Team

USC Gould School of Law
Thursday, May 13, 2021
By Christina Schweighofer
Lisa Harrington (JD 1993) is the general counsel and corporate secretary at ChromaDex, a global bioscience company. Her office is in Irvine. Janani Rana (JD 2009) is a family law attorney at Minyard Morris LLP in Newport Beach. The two women co-chair the Orange County USC Gould Alumni Association committee, and they talk about engaging alumni during a quarantine, how they met and what USC Gould means to them.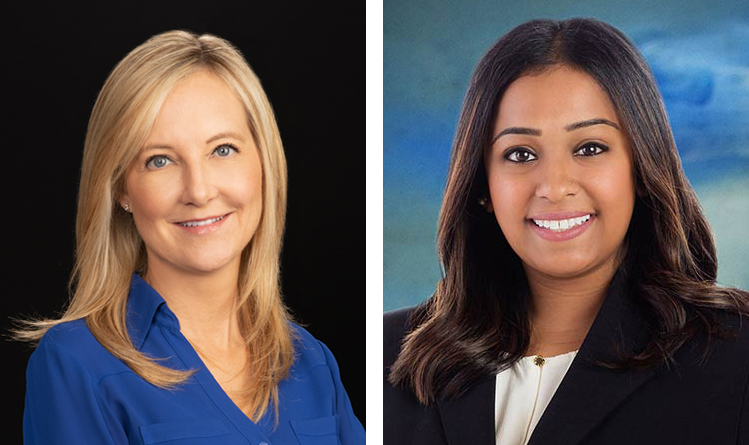 How did you become co-chairs?
Lisa: We didn't know each other before we became co-chairs. We both belong to another OC legal networking group, and Janani posted that she was looking for a co-chair. I expressed my interest.
Janani: We met for lunch, hit it off, and the rest is history, I suppose. Lisa and I are both extroverts, so we make a great team. Having a co-chair to help bounce ideas around during such an interesting time is essential.
Janani, can you tell us more about your personality?
Janani: I love to be around people, I feed off the energy of others. Family is important to me; I spend my weekends with my husband, our daughter, and a little quarantine unit of cousins, nieces and nephews. I love to travel, try new restaurants, be outdoors. Life can be pretty serious whether or not you want it to be, so it's important for me to infuse it with levity and laughter as often as I can.
How has the programming worked out for you during the quarantine?
Janani: We were initially really concerned about the inability to host in-person events. But our committee has gone above and beyond in helping us plan engaging virtual events.
Lisa: It has been difficult to get people excited about online events as the pandemic continued, but we still had several fun events with a great turnout. The virtual wine tasting was my favorite. Fortunately, I live in Newport Beach close to Janani's office. This makes it easy to meet for planning sessions.
What do you enjoy most about your field of law?
Lisa: I'm general counsel and corporate secretary of a SoCal-based public company. I really enjoy being a GC, as you're both a lawyer and a businessperson.
Janani: I truly enjoy the diversity of being a family law attorney. Each day brings new issues, from tax to custody to real estate to business valuation to executive compensation. I'm in court often, and clients often become real life friends.
What does USC Gould mean to you?
Janani: Gould is a family. Some of my dearest friends are Gould alumni. I know that no matter where I go or how long it's been, the Gould family will be there for me if I need it.
Lisa: I have gotten so much out of my Gould education, and even more out of the connections I've made through the law school. It's great to be able to give back through the alumni board.
RECENT NEWS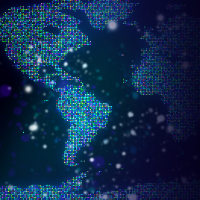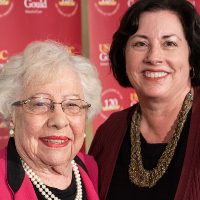 School's in for this alum
June 10, 2021
Lisa Kloppenberg (JD 1987) follows influence of Judge Dorothy Nelson to career in academia