A family reunited

USC Gould School of Law
Tuesday, July 13, 2021
USC Immigration Clinic represents mother separated from seven-month-old baby as part of poultry plant arrests
By Leslie Ridgeway
Ana Gomez Gomez, an immigrant from Guatemala, was working in a poultry plant in Morton, Miss. in 2019 when she was detained in one of the largest workplace sweeps conducted by Immigration and Customs Enforcement. Still breastfeeding her seven-month-old when detained, Gomez Gomez was moved 300 miles away to a detention center in Basile, La. The baby became malnourished and developed a rash and a fever, and her husband Juan had to rush him to the emergency room. Ana, meanwhile, was frantic over being separated from her child.
"We all suffered," she said through an interpreter. "I cried day and night. I wanted to be with my baby. My husband didn't know what to do."
That's when the USC Immigration Clinic got involved. Since 2013, the clinic had been representing Juan and two other clients in Morton after joining with pro bono clinics, other law school immigration clinics and organizations in 2012 to represent more than 100 abused poultry plant workers. 3L Cameron MacGregor was assigned to free Ana from detention; 3L Marisa DiGiuseppe represents both Ana and Juan. With the clinic's help, Juan successfully obtained a U visa, which enables immigrants to apply for a green card after a three-year wait. DiGiuseppe took Ana's case in January, and is now working to obtain lawful permanent resident status for the couple.
"It's a constant reminder of how easy my life is, as someone lucky enough to be born in the U.S.," says DiGiuseppe, who worked in the clinic for more than two years. "For [Ana and Juan's] case in particular, it's a reminder of how these laws govern an immigrant's life, and how living in the U.S. without lawful immigration status carries harsh consequences. Most of our clients are affected by violence, poverty and language barriers, compounded by not having immigration status."
MacGregor signed up for the clinic for a year and found the practical experience invaluable.
"[Professors Niels Frenzen, director and Jean Reisz, co-director] expect you to be the lead attorney on every case," he says. "You don't feel like a student; you feel like an attorney. You are in charge of the facts and they expect you to fill them in. Obviously they're there to help guide you, but I felt like I was in the driver's seat, not just taking orders and carrying out actions."
MacGregor's work included locating Gomez Gomez in Louisiana and trying to convince ICE to release her on humanitarian grounds, which was denied. MacGregor also had to determine which immigration court had jurisdiction over his client's case, petition the court for her to be released on bond, and persuade the judge that she was not a flight risk nor a danger to the community. The process led to some perplexing moments, says Frenzen.
"The immigration court with jurisdiction over cases involving immigrants detained in the South Louisiana Correctional Center is the San Juan (Puerto Rico) Immigration Court," he says. "It sounds bizarre and it is bizarre. We were finally able to get an immigration judge in San Juan to set a bond and Ana was released and is currently waiting for an immigration court hearing in the New Orleans Immigration Court, which has been delayed due to COVID."
DiGiuseppe's work includes helping her clients answer a dizzying array of questions about hometown, employment experience, criminal history and more to become eligible for permanent resident status. She spent many hours carefully explaining the complex questions and qualifications to her clients, she says.
Reisz said Gomez Gomez' case demonstrates the skills and perspective students gain when working in the clinic.
"We try to teach them to look at the bigger picture of the fairness or justness of legal systems they will work in and how that critical thinking can help them be a zealous advocate for their client," she says.
While Gomez Gomez awaits her hearing date in New Orleans, she is reunited with her family and grateful for the Immigration Clinic's work on her behalf.
"Because of them, I am free from jail, and the baby is happy and healthier now that everyone is together," she says. "I thank them for supporting me."
Read More
RECENT NEWS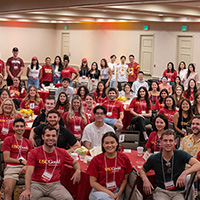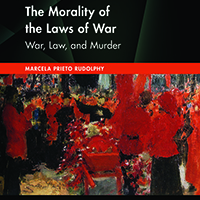 Facing the tragedy of war
September 13, 2023
Professor Marcela Prieto's new book, "The Morality of the Laws of War," argues for strengthening international law to el...